Stationary electric scissor lift

Stationary electric scissor lift introduction
Stationary electric scissor lift is a fixed hydraulic scissor lift platform,it is mainly used to transport goods from floors. But there also are other different models have other different usage. Suck like cargo scissor lift, car scissor lift, stage scissor lift, double scissor lift, heavy duty scissor lift, special scissor lift and etc.
This electric hydraulic scissor lift is also a customized product, we can produce it according to your requirements. There are 3 basic parameters: lifting height, load capacity and platform size.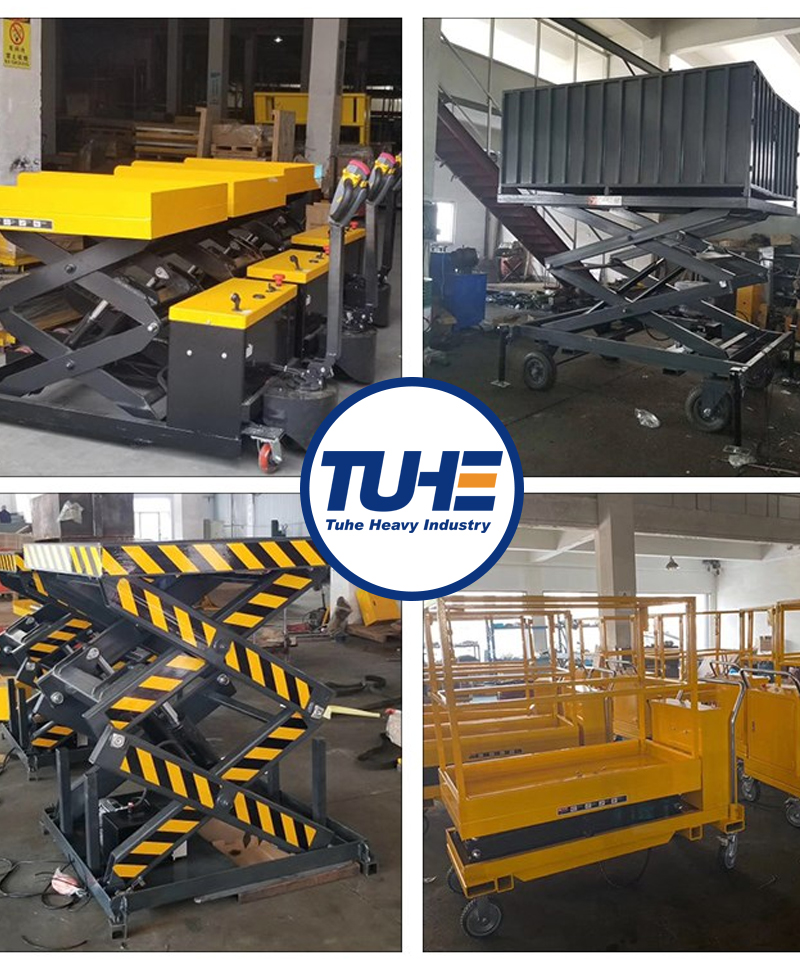 Stationary electric scissor lift models
Here, I'm going to introduce you more details about different models of stationary scissor lift.
1. Cargo scissor lift
This model is divided into scissor lift table, double scissor lift,heavy duty scissor lift and etc. Generally speaking this lift is used to transport goods from vertical floors,so all kinds of scissor lift that is used for carry goods can be called as stationary electric scissor lift The power of hydraulic scissor lift comes from the hydraulic oil cylinder, different cylinders mean scissor lift has different load capacity, and that's why we call this products is customized. No matter you want to lift small goods like pallet, or heavy goods like cars, you will always find a solution with stationary electric scissor lift.
2.
Double scissor lift
This scissor lift has two scissor parts to enlarge the length or width of the platform if you need a lift with large length and small width, this model of hydraulic scissor lift will meet your requirements.
3. Heavy duty scissor lift
This scissor lift has large platform size and heavy load capacity, it is designed to load and transport heavy goods But because of that,this big scissor lift couldn't go up too high.
4. Car scissor lift
Car scissor lift is specialized designed for cars or trucks. This product has too many different models, in general, it is divided into car lift for maintainence and car lift as an elevator. Car lift for maintainence can lift car up to 1.2-1.8m for worker to maintain or clean the car, you can click the other informations on our website to know more. Car elevator is used to lift cars from understand garage to the ground, or to lift cars to different floors for show.
5. Stage scissor lift
This kind of hydraulic scissor lift is only used on stages, it can lift performers or stage properties to specified height for a better performance. And, it can use a rotatable platform to achieve different performance effects.
6. Special scissor lift
This is a generic term for all special customized lifts. For example, scissor lift with a turnover platform, scissor lift with a mobile track, scissor lift platform with roller or roll ball. If you only have an idea or a plan about hydraulic electric scissor lift, but don't know realize it, welcome to contact us to help you make your plan be true.
Stationary electric scissor lift structure details
The stationary hydraulic scissor lift is made of two main parts scissor lift and control box.
1. Scissor lift part: this part is made of top platform, middle scissors support and bottom chassis. Top platform and bottom chassis is made of channel steel, we can add guardrail, riffled plate, rollers, wheels or other parts according to your requirements. And there will be support bars on bottom chassis to hold the platform when it's folded. The platform size and shape depend on your needs, no matter you want a square platform or a round platform, we can make it for you. The pump station normally is on the chassis, but sometimes it will be put outside of scissor lift when the pump is too big.
Scissors support is made of high quality manganese rectangular steel tube. The hydraulic oil cylinder is in this part, the cylinder will prop up the scissos and make the whole scissor lift go up. For going down, it relies on its own weight. When you push the descend button, the hydraulic oil will get back to oil tank from the tube, and the stationary scissor lift will go down because of the gravity and weight.
2. Control box part: the control system and buttons are all in the control box, normally there will be three buttons: up, down and emergency stop. We will connect the wires in advance for you, so you just need to connect the local power source with the control box, it is easy but please check and confirm what voltage, phase and hertz do you need before you order a stationary electric scissor lift.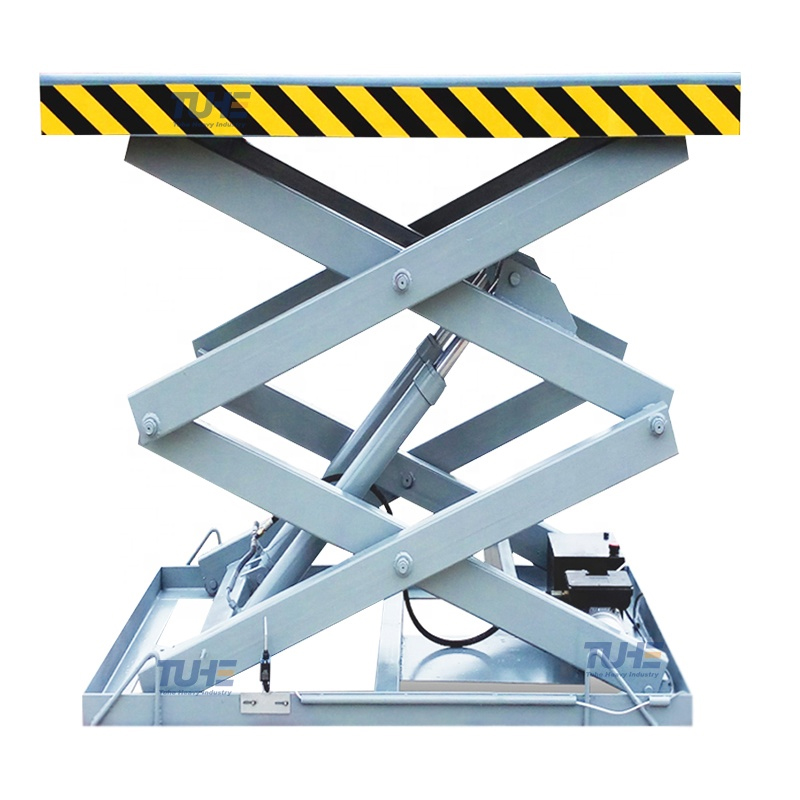 Installation and maintainence for stationary electric scissor lift
1. Installation. The ground requirement for scissor lift is that it needs to be at least 150mm concrete, the pit is not necessary, pit is just used to make the scissor lift be level with the ground, if you don't want to make a pit, we can provide you a ramp to make it easy for loading and unloading. If the scissor lift you need is not too big to put in the container, we will preassemble the whole scissor lift and deliver to you, you just need to install it on the ground and connect it with local power source. If the scissor lift is too big, we will cut it into pieces and teach you how to install it.
2. Maintainence. For hydraulic oil, please remember to change it after you use scissor lift half a year and then change it every 1-2 years according to the operating frequency. And please remember to add lube for axle pin on the scissors and sliding blocks in the platform and chassis.
If you have any interest about TUHE stationary electric scissor lift, welcome to contact us.