You may have some questions about custom home lift, we will answer them one by one.
1. How big is the custom lift car?
We are custom-made products without standard size. We will tailor them to you completely according to your reserved opening plan. In short, we will provide you with lift equipment of corresponding size according to the size of your opening. However, it is recommended that the car size should not exceed 1 * 1.2m
2. What is the load of the custom home lift?
The rated load is 400 kg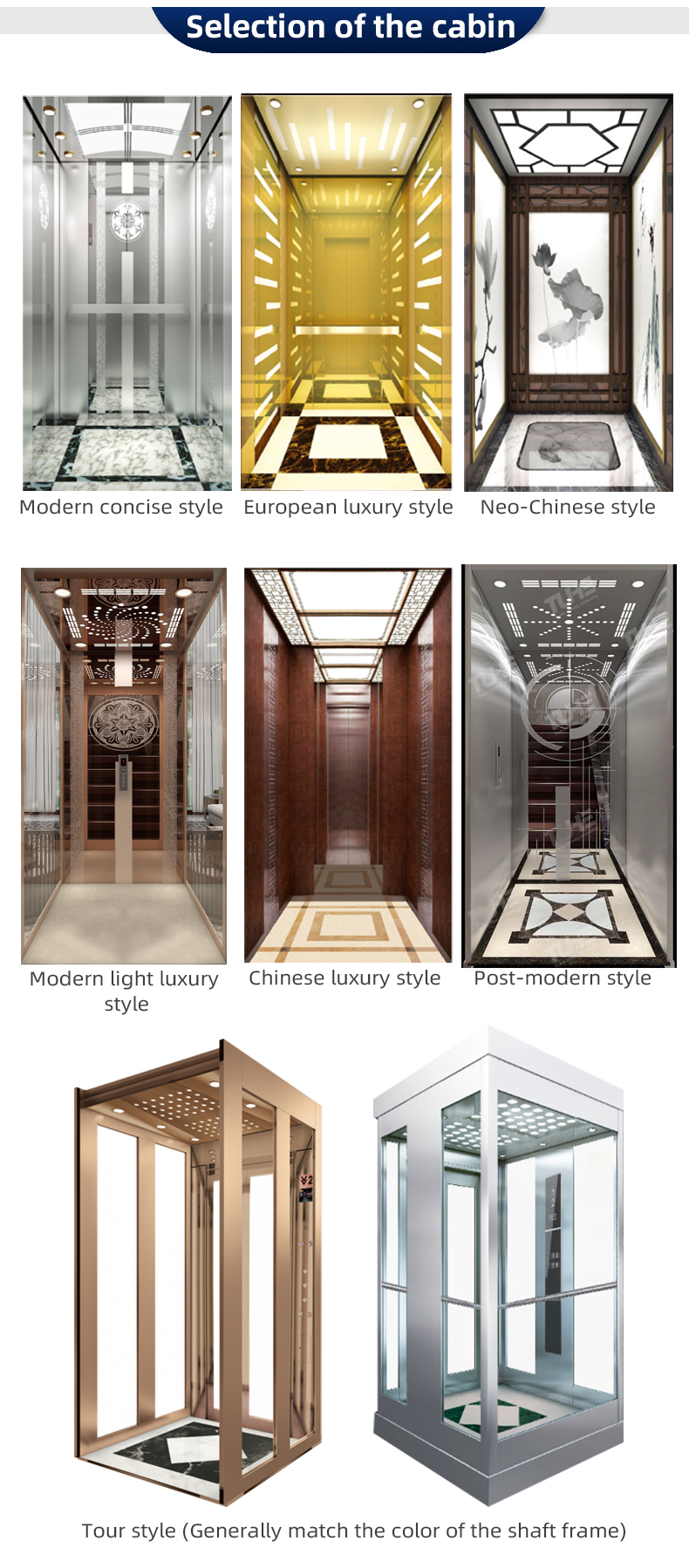 3. Do I need to make steel structure to fix the custom home lift?
No, hydraulic lifts can be installed without well. There are many fixing methods, such as wall, ground, floor and ceiling. You can also send us the photos of the site. After seeing the site, we will give you a plan to see whether it needs to be reinforced with steel structure.
4. Can I install the custom home lift outdoors?
Yes, we can customize professional aluminum alloy frame and toughened glass shield. It's no problem to install it outdoors.
5. Does the custom home lift need to reserve a pit?
The hydraulic lift can be installed without a pit, but if you want the lift to be flush with the ground on the first floor, you can leave a 10 cm shallow foundation pit, because the thickness of our car bottom is 7 cm.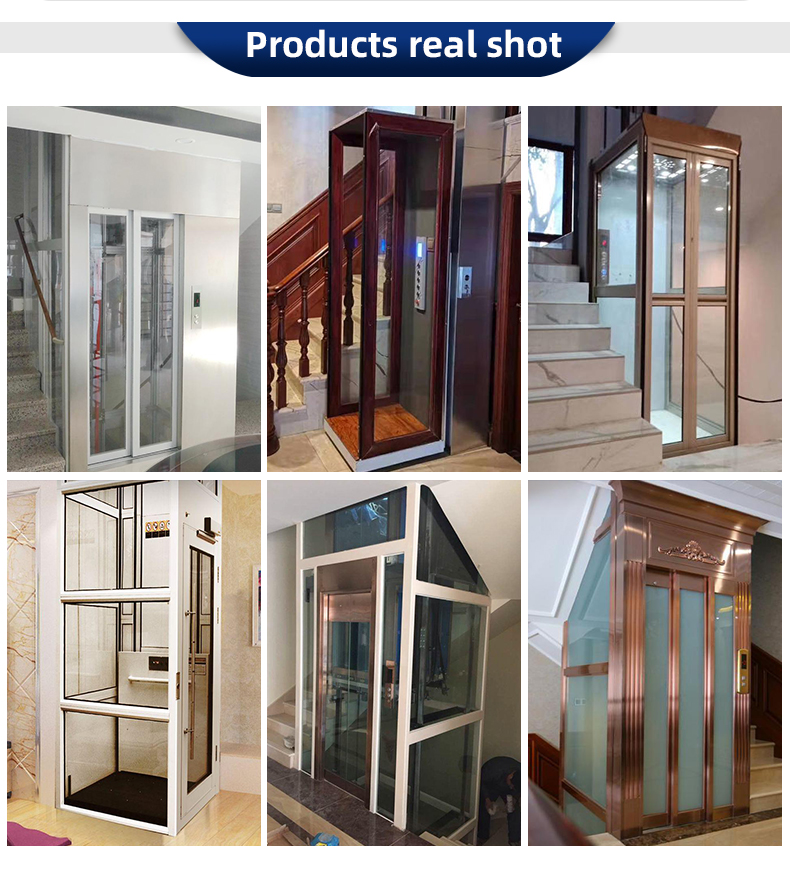 6. What voltage does the custom home lift request?
Single-phase voltage or three-phase voltage can be customized according to your home power supply
7. Does the custom home lift need a machine room?
No
8. What material does the custom home lift car use?
Mirror stainless steel and tempered glass. Mirror stainless steel has more than 40 patterns and colors for you to choose from
9. What is the running speed?
We have upgraded the power system, and the lifting speed can reach a maximum of 0.25 meters per second.
10. When will the custom home lift be installed properly, after decoration or before decoration?
It is better to install before decoration, mainly considering that it may damage the decorated parts in the process of lift installation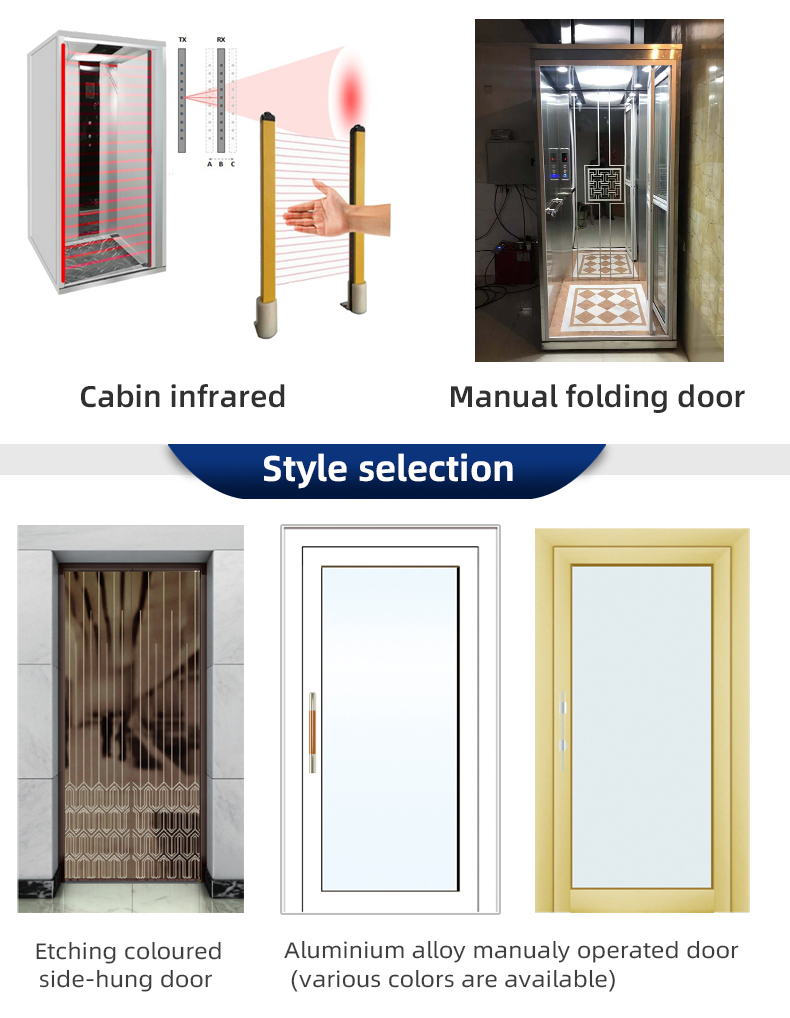 11. What is the minimum installation space?
The minimum floor area is 0.7 * 1m, and the custom home lift car installed in this size is 0.6 * 0.7m
12. How to custom my own home lift?
If you are considering install a custom home lift, please contact us freely, our tram will provide you a customized solution within 24 hours, most importantly, the design is for free.
13. Which parts of the custom home lift can be customized?
Every part, car size, lifting height, entrance and exit direction, door opening mode, car color, car pattern, floor style, ceiling, that's we called the custom home lift 100% customized product.
14. What is the custom home lift price?
It's a 100% customized equipment, please contact us we'll provide you a detailed offer based on your measurement.