1. What is mobile loading ramp?
The hydraulic mobile loading ramp is an auxiliary equipment for loading and unloading goods used in conjunction with forklift. Mobile loading ramp can be adjusted according to the height of the car compartment. The forklift can directly drive into the compartment through this equipment for batch loading and unloading of goods. The mobile loading ramp only needs one people use to work. Realize the fast loading and unloading of goods. Mobile loading ramp enables factory to reduce a lot of labor, improve work efficiency, and obtain greater economic benefits.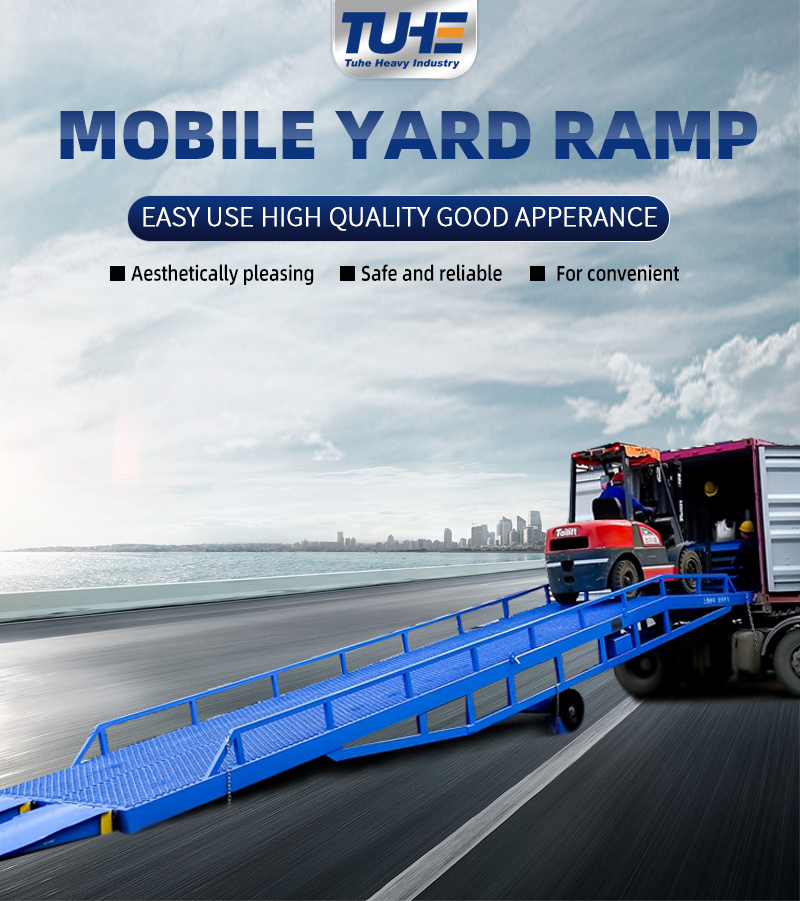 2. What is a price of the mobile loading ramp?
Due to the different loading weight of the mobile loading ramp, its price is also different, greater load means higher price. Common mobile loading ramp on the market have a loading weight of 6-15 tons, in Europe, America and other regions, the market price usually ranges from $6000-$10000. Under the condition that the loading ramp parameters and materials are the same, our price is usually only $3000-$6000. In addition to the difference in loading weight, different countertop styles are also have different price. There are usually two styles of mobile loading ramp countertop, diamond-shaped grid countertop and hollow grid countertop. In the case of the same loading weight, the price of the hollow grid countertop is usually about $300-$600 more expensive than the diamond-shaped grid countertop. If the load of the existing loading ramp model cannot meet your requirements, we also support customization. Just need tell us the load and platform size you need, we will provide you with a quotation as soon as we receive the news.
3. How much cost to rent a mobile loading ramp?
Renting a ramp costs at least $80 a day and $1,400 a month, and this cost is not include shipping cost. Because of the large size of the ramp, it can only be transported by using a 40ft container, resulting in a relatively high transportation cost for the ramp, usually more than $900. So when you plan to rent a ramp, at least need cost $1,000.
4. How much cost of the used mobile loading ramp?
Used mobile loading ramps are usually only two thirds the price of a new one. In Europe and America regions, the second hand price of a 6-15 ton loading ramp that has been used for no more than 3 years is usually $4000-$6000. Prices may be lower if used for more than 3 years. The price of a 6-ton loading ramp is usually only $3000-$3500 after more than 3 years of use. However, we do not recommend buying a second hand loading ramp that has been used for too long, because you don't know whether the previous buyer used and maintained it with the regulations. If you don't know its condition, there may have some security risks in later daily use, so we recommend you to buy brand new or provide after-sales and warranty mobile loading ramps.
5. How many tons of ramps do you provide?
At present, our hot-selling mobile loading ramp models are as follows:
THLT-6 (6 tons)
THLT-8 (8 tons)
THLT-10 (10 tons)
THLT-12 (12 tons)
THLT-15 (15 tons)
Don't have the load capacity you need? Our ramp supports customization, if you need a model with a larger load, please contact us for more details and quotation.
6. Why I choose your mobile loading ramp?
(1)We are a manufacturer, our mobile loading ramp can support customization.
(2)Our price is cheaper for loading ramp with the same configuration and specifications in the market.
(3)We provide after-sales service:
One-year free warranty, apart from man made fault.
Free spare parts during warranty.
Lifetime technical support.
(4)Our ramps have CE and ISO certification, and we have very rich experience in exit ramps.
(5)We have forwarder and can arrange it delivery to your port.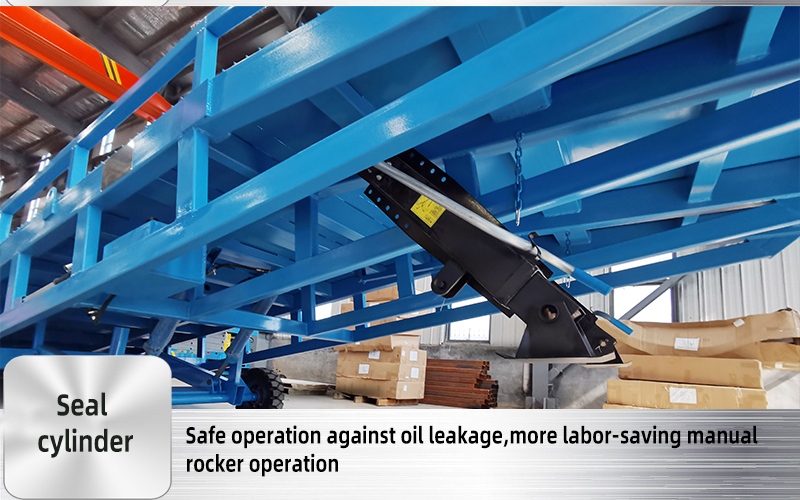 7. Which mobile loading ramp model is more suitable for me?
Choose the mobile loading ramp according to your usage and the weight of the loaded goods. Usually, mobile loading ramp with a load of 10 and 12 tons can meet the needs of most people. If you need a cheap price, then the load of 6 tons may also be a good choice.
8. What are the characteristics of your mobile loading ramp?
(1). Our mobile loading ramp used full hydraulic drive, easy to operate and reliable in operation.
(2). Loading ramp lip and platform are connected by the entire long axis, which has high strength and good reliability.
(3). Loading ramp used imported seals are used to ensure that the hydraulic system has excellent sealing performance.
(4). The loading ramp imported overall modular hydraulic station is adopted, which has good sealing performance and long service life.
(5). The loading ramp used high-strength "U"-shaped beam design can ensure that it will not deform when it runs under high load for a long time.
(6). The loading ramp countertop adopts a special diamond-shaped grid plate with reliable strength, which can ensure long time use without deformation. Its diamond-shaped mesh structure fully guarantees excellent anti-skid performance, making the forklift have better gradeability and maneuverability. Even in rainy and snowy weather, normal use can still be guaranteed.
(7). The loading ramp have support bars to ensure the safety of maintenance personnel entering the interior of the loading ramp for maintenance.
(8). The loading ramp equipped with a parking wedge to ensure that the loading ramp will not move freely when in use.
9. How to maintain the mobile loading ramp in daily use?
(1). The mobile loading ramp needs to be maintained regularly after use, and maintenance records should be kept.
(2). When it is necessary to enter under the working platform of the mobile loading ramp for maintenance, the outriggers must be fixed.
(3). Check all hydraulic pipes and joints. Pipes must not be damaged, joints must not be loose, and all joints must be tightened.
(4). Non-professionals are not allowed to disassemble at will.
(5). Check the oil cylinder pin shaft and bearing, boom shaft and bearing for wear or not.
10. How can I get the quote?
Please leave us a message or send an email, and we will contact you to send a quotation as soon as we receive your message.
11. How much total cost a mobile loading ramp?
With the development of social science and technology, mobile loading ramp have spread to every corner of social life, and are used more and more widely. Whether it is construction, civil engineering, or warehousing and logistics, as well as people's daily life, mobile loading ramp are inseparable. So how to choose the mobile loading ramp is also a thing worth thinking about. Usually, 10 ton and 12 ton mobile loading ramp can meet the usage scenarios of most people, and the price only needs to start from $5000. If you need a cheaper price, then the 6 ton and 8 ton mobile loading ramp are also a good choice, and the price starts at only $3000. Whether it is renting, buying used or brand new mobile ramps, the price required both will be more than $1000. If you want to get more details and quotation, please leave us a message.