TUHE Hydraulic Electric Self Propelled Scissor Lift Price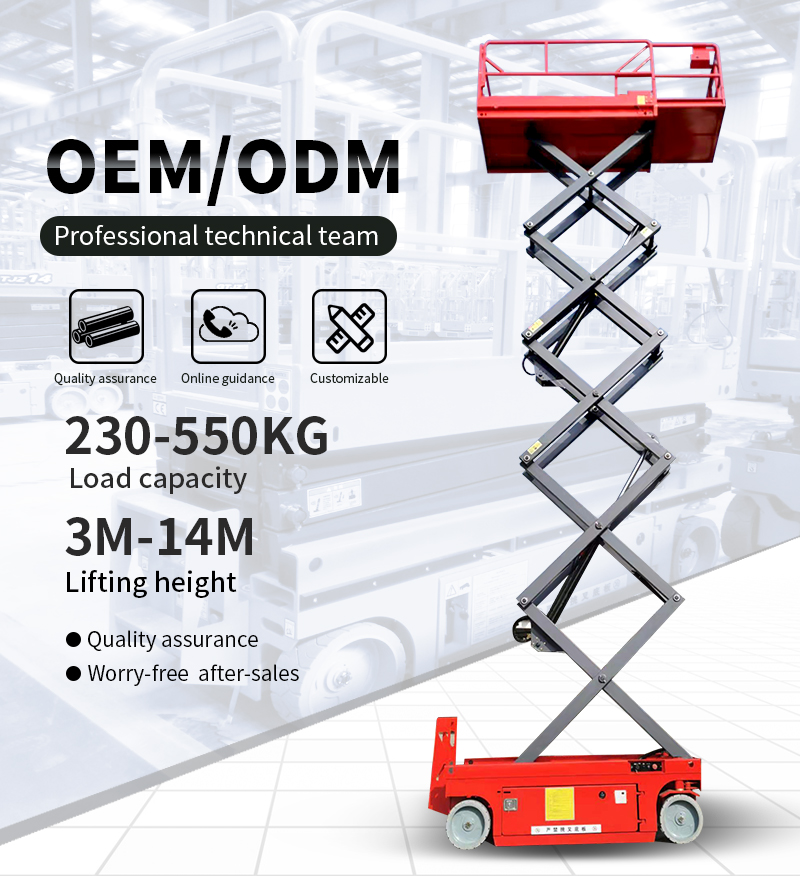 Self propelled scissor lift price introduction
Self propelled scissor lift is also called electric scissor lift, it is a full automatic aerial work platform, it is battery powered and it uses hydraulic power to lift. There are four rubber traceless tires, the front two are hydraulic turning tires, and back two are moving tires. This scisor lift can be driven to move around, it is convenient to work in difference sites. Electric scissor lift is widely used in building constructions, street lamp maintain, roof repair and other works at height. This machine reduces labor costs and increases work efficiency, it is the best choice for aerial work.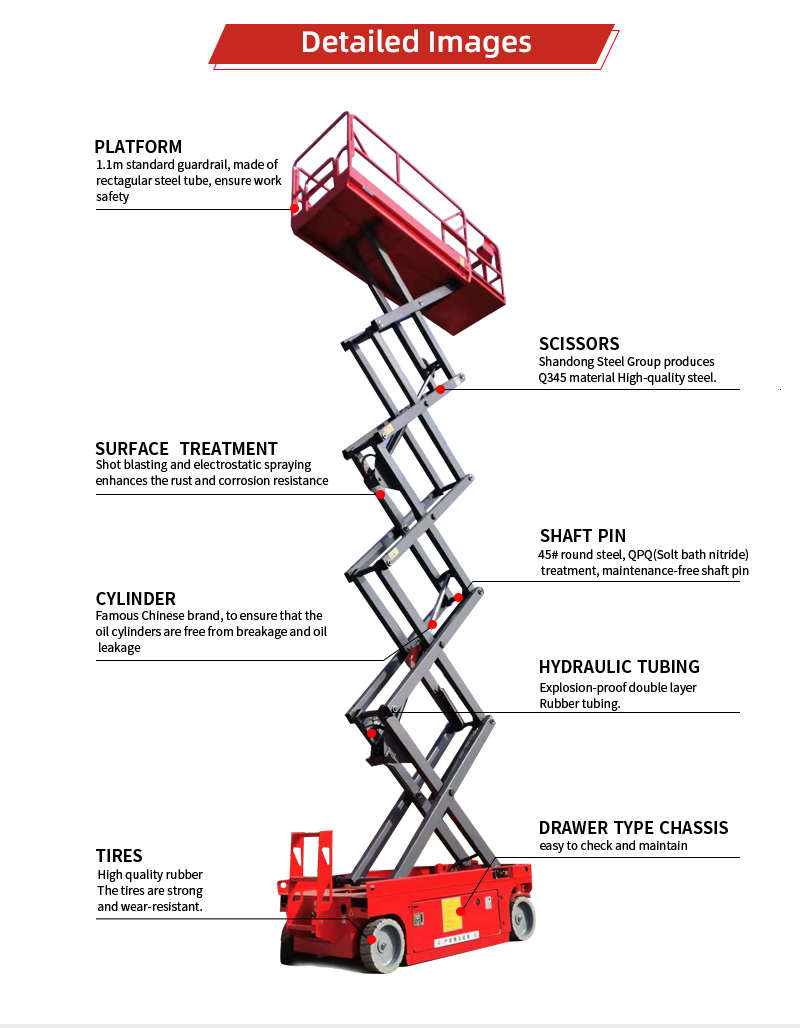 Self propelled scissor lift price details
Electric scissor lift is made of many parts, roughly divided into three parts: platform, scissor support and chassis.
On the platform, there's a PCU control joystick, you could drive and operate the scissor lift with it. The standard height of guardrail is 1.1m and it can be folded to save storage space. Also, the extendable table gives you a larger working space on the platform, you could reach to a 900mm far place.
About the scissor support, we adopt chrome-plated cylinders, Q345 high quality rectangular steel tube, Double-layer steel mesh explosion-proof tubing and maintenance-free shaft pin to guarantee the service life and safety. If something dangerous happens, the scissors will be locked immediately to protect the platform from falling.
In the chassis, there are the main electronic control system and batteries. On the one side, there are oil tank, pump station, valve system, hydraulic oil filter, buzzer, trumpet, working timer and ECU main control. One the other side, there are four batteries, which are the main power of the scissor lift. Also, there's control and main power switch on the chassis, you can operate the lift by this control too.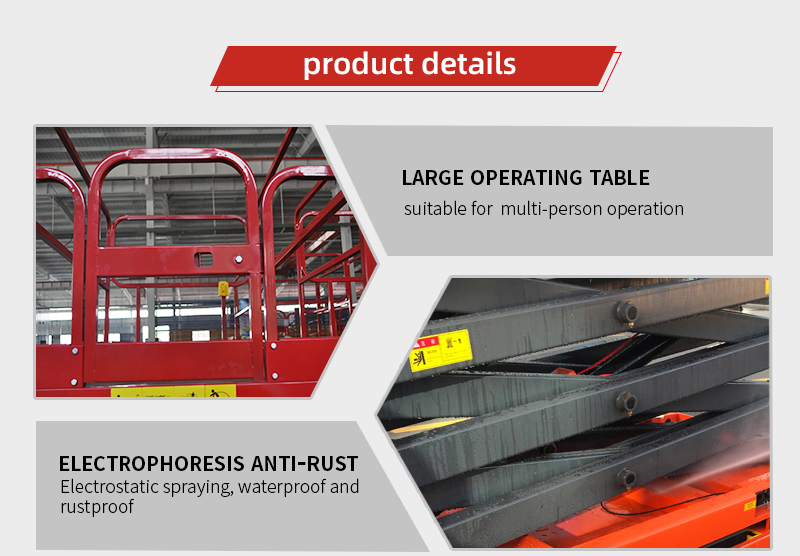 Self propelled scisor lift price platform and scissor support
The platform is equipped with anti-slip diamond pattern steel plate, and baffle plate to protect the tools from dropping. Self-locking door makes it easy to work. The guardrail is 1.1m height and made of 35x35mm rectangular steel tube. An extendable table helps you to reach a longer working distance.
The scissor support is made of Q345 high quality manganese steels, with electrophoretic technique, it is waterproof and rustproof. Also, we have another model which uses shot blasting and electrostatic spraying techniques to remove the rust. You can choose either of the models you like.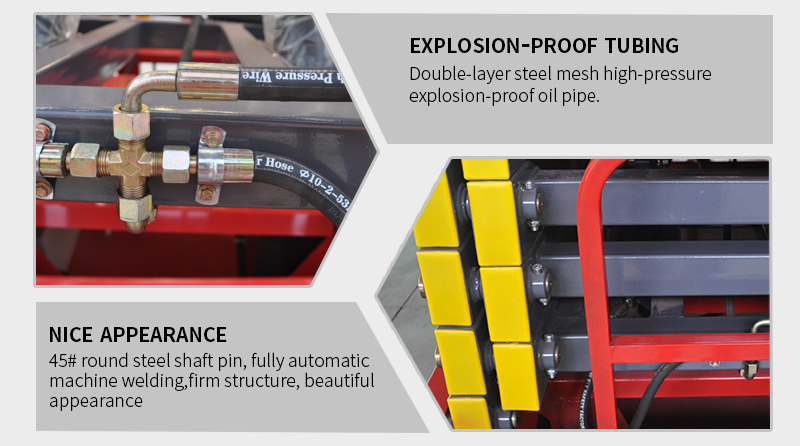 Self propelled scissor lift price oil tube and shaft pin
High-pressure explosion-proof double-layer steel mesh oil tube and oil return tube guarantee there will not be oil leakage or danger, and maximize the use of hydraulic oil. It is economical and environmental.
We use maintenance-free and salt bath nitriding treatment shaft pin to connect the scissors, which is durable and can save maintenance cost.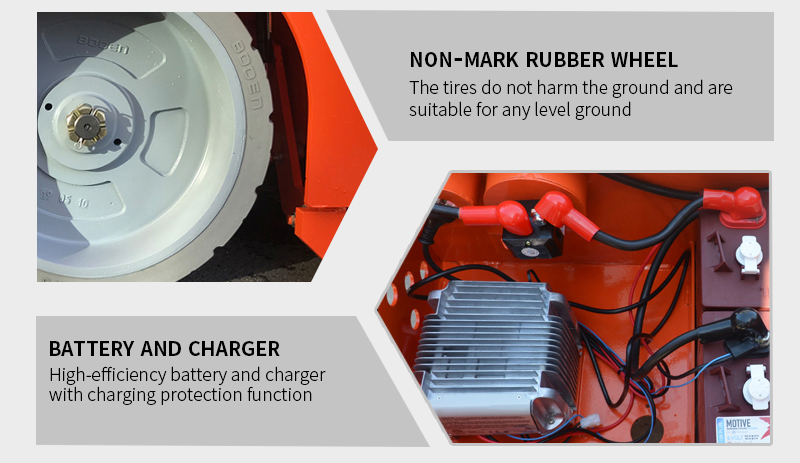 Self propelled scissor lift price wheels and batteries
The imported rubber wheels are adopted to be use with no trace and no break to the floor, the wheels move and turn smoothly with no noise and no stuck.
4 batteries are needed for electric scissor lift, total 24V, Chinese famous brand Mingtai battery or Trojan battery for your choice. With charging protection charger, you can charge the lift in the evening and use it at daytime.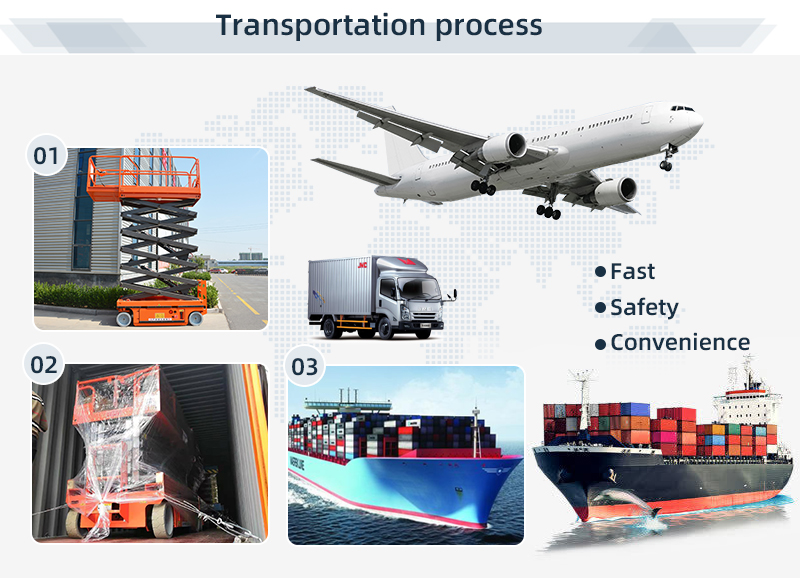 Self propelled scissor lift price package and transportation
We use plywood case to pack the electric scissor lift, it is strong and it can protect the scissor lift well. We have professional cooperative shipping agents who can transport our products to you by air or by sea, we can deliver the products to the nearest port to you or directly to your address.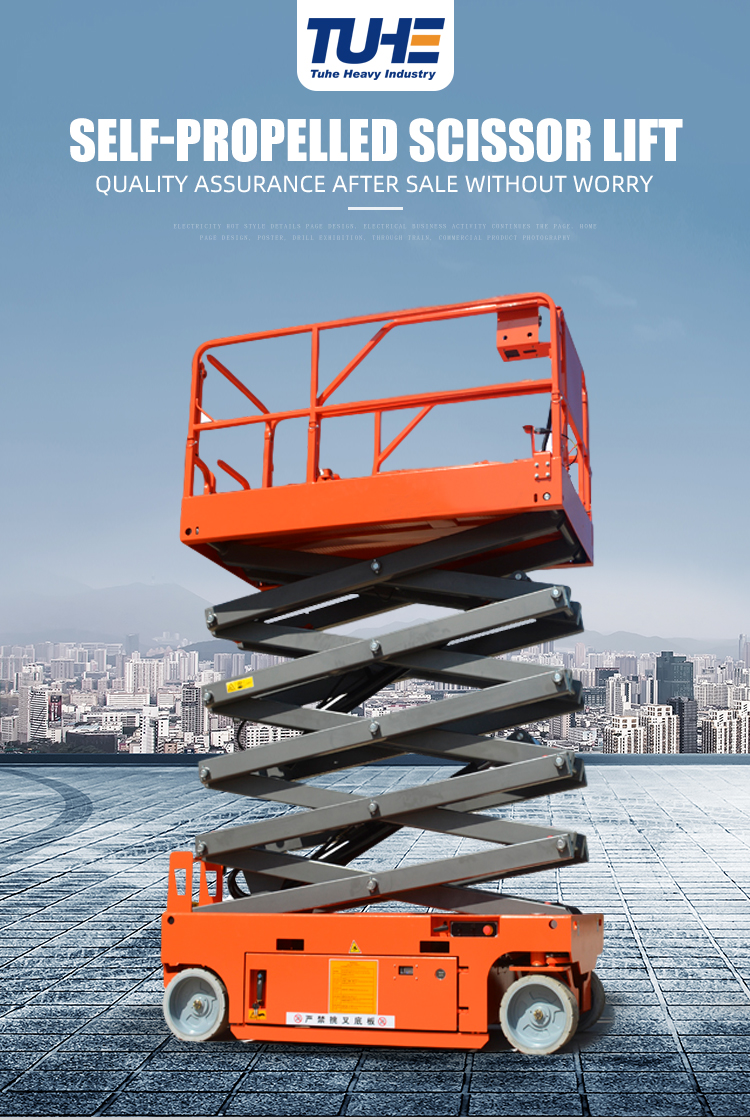 Self propelled scissor lift price operation manual
1. Make sure that the batteries are full charged, the operator is well trained, and the working space are safe for aerial work.
2. Turn on the main power switch and two emergency buttons.
3. Confirm you will control it from the ground or platform, and turn the switch to the right side.
4. Operate the scissor lift up, down and move as standards.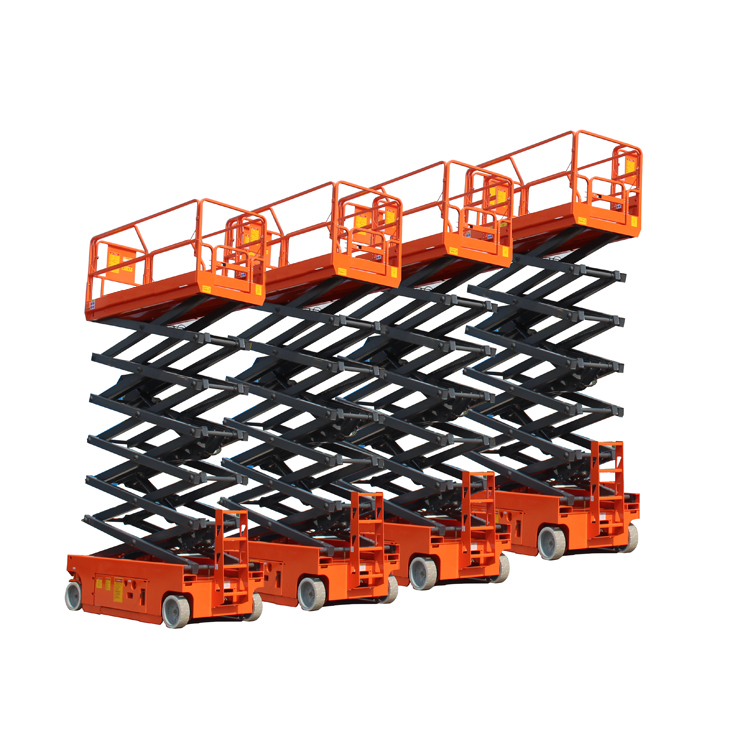 Self propelled scissor lift price maintainence
1.Check every time before using scissor lift to see if there's any abnormal sound.
2.Check the sliding blocks on the platform and chassis to see if there's enough lube.
3.Change the hydraulic oil after half of a year since you first use the lift, then change it every 1-2 years depending on frequency of use.
4.Check the hydraulic system, electrical system and oil cylinder every month to see if there's any damage.
5.Store it indoors and operate it at least once a month to ensure the life of the battery when not in use for long periods of time.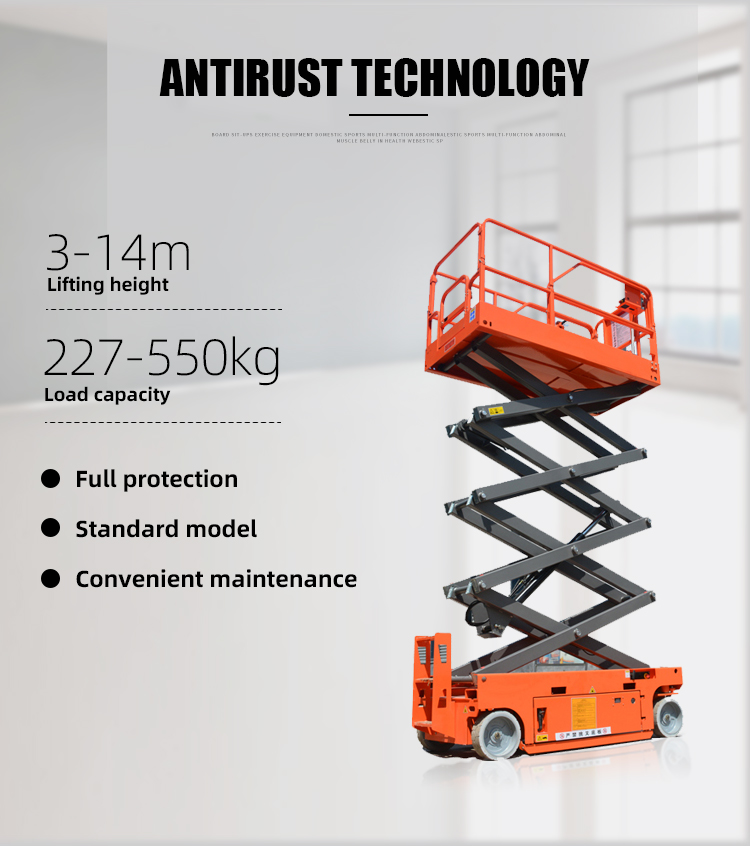 FAQ
1. What 's our delivery time?
Normally we have inventory of the standard products, if not, we need 7-15 days to produce the standard products and 10-20 days for the customized products.
2. What's our guarantee?
We have one year guarantee for you, during this time, we will provide you with non-human damaged parts for free. And we provide24h online service.
3.Do we accept customization?
Sure, we can customize a product according to your requirements. And we can do OEM&ODM for you.
4. Why should I buy from you not from other suppliers?
We are professional in producing the hydraulic lift equipment for logistics, warehouse, factory and construction using.
We are a large-scale group enterprise integrating R&D, production and sales.
5. What's our MOQ (minimum order quantity)?
It is one unit. But we have a good discount if you order more.
If you have interest in self propelled scissor lift price, welcome to contact us!