In Australia, industries ranging from construction and manufacturing to logistics and maintenance are continually seeking ways to enhance efficiency and productivity. Enter the 14m Hydraulic Self-Propelled Scissor Lift Table, a versatile piece of equipment designed to elevate operations to new heights.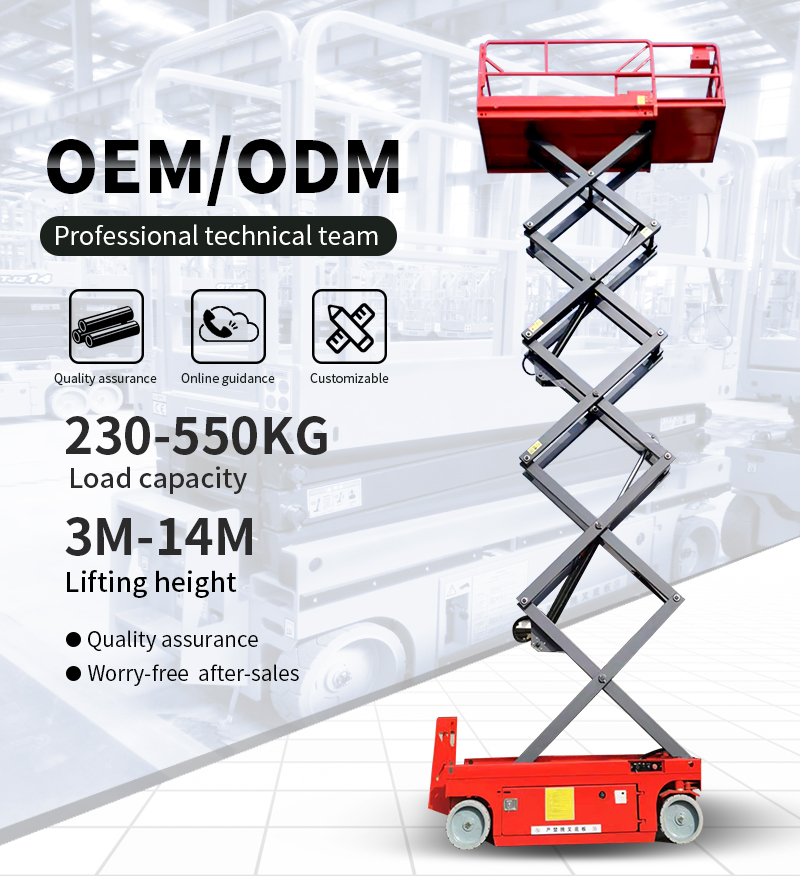 Self propelled scissor lift table introduction
Hydraulic self propelled scissor lift table, also called electric scissor lift, is a popular mobile elevated work platform. You can drive it to move from different work places, and it can move at the lifted state. Also, we accept OEM and ODM production.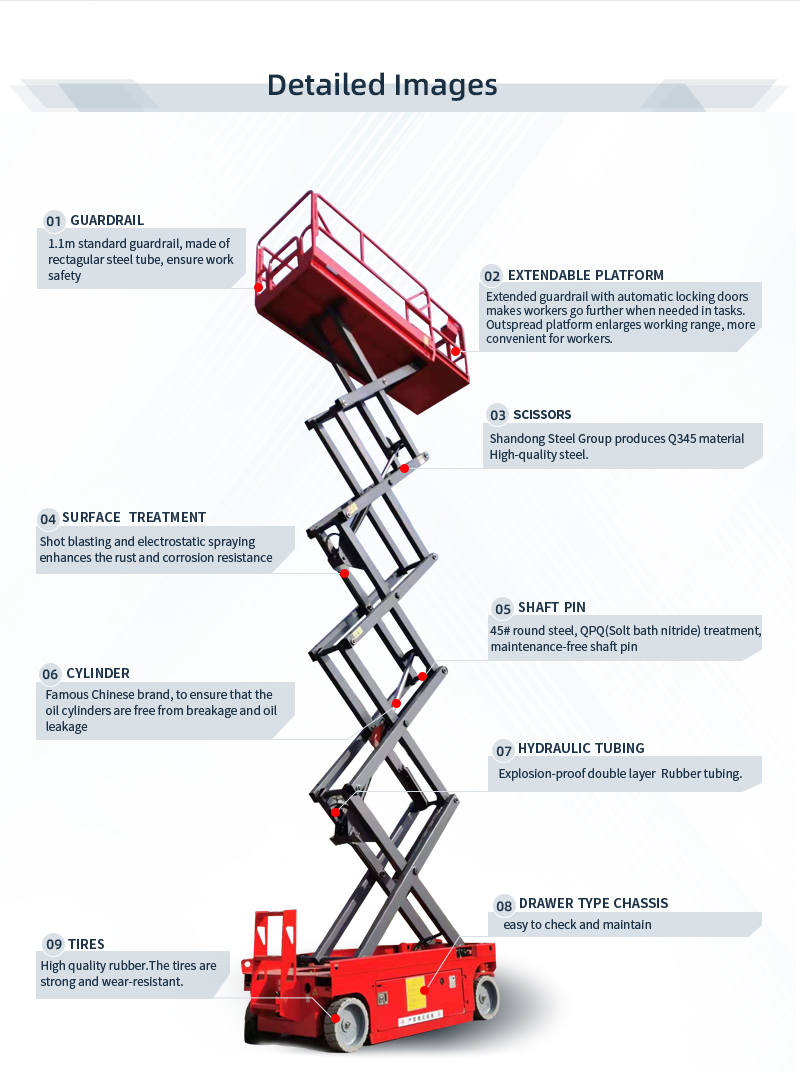 Self propelled scissor lift details
There are three main parts of scissor lift: platform, scissor structure and chassis.
1) 1.1m safety guardrail and self-locking door make the platform safer, and extendable table provides a large working distance.
2) We use Q345 manganese steel to make the scissor structure, which is strong and stable. The maintenance-free shaft pin to connect the scissors saves your maintenance time.
3) The drawer type chassis is convenient to check and maintenance. Pump station, oil tank, batteries are all in the chassis.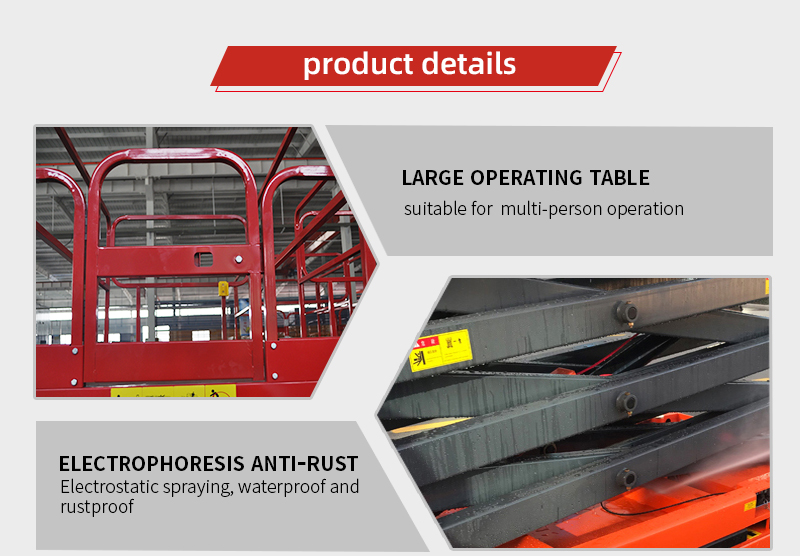 Self propelled scissor lift platform and scissors structure
A large platform with extendable table gives you a comfortable work environment. And the strong scissors structure gives you a safe and stable work experience.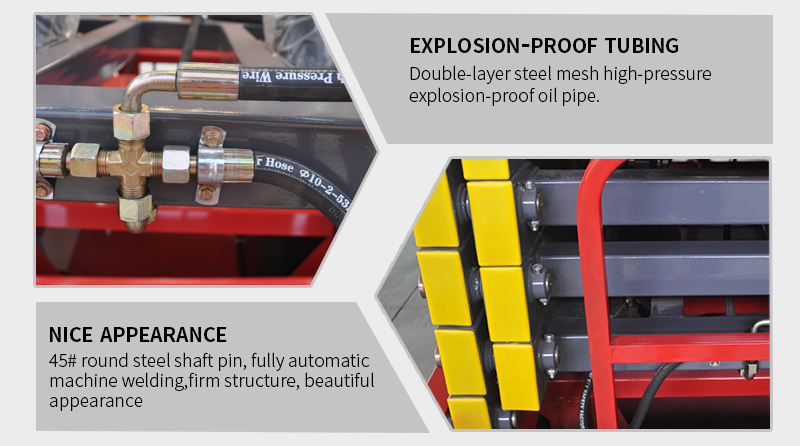 Self propelled scissor lift tubing and surface treatment
We use hydraulic lift platform specialized oil tubing to avoid oil leak and ensure safety.
Shot blasting derusting and electrostatic spraying make the scissor lift surface smooth and anti-rust.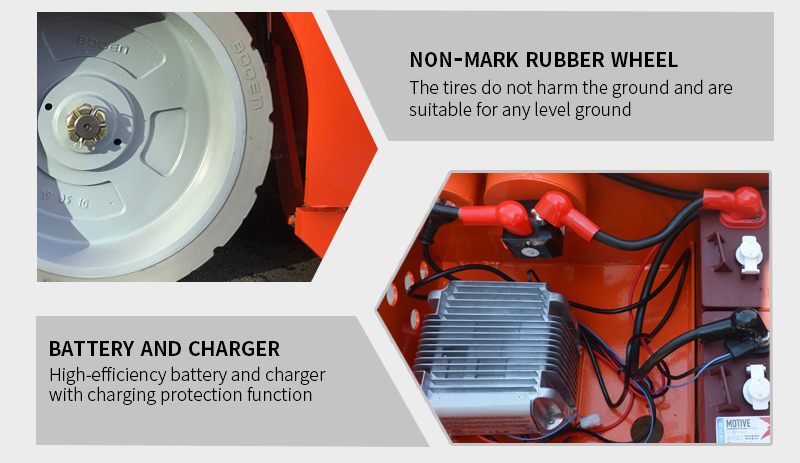 Self propelled scissor lift wheels and battery
Non-mark rubber wheels make no harm to the floor when you use the scissor lift indoors.
Chinese famous brand battery and charger guarantee the safety.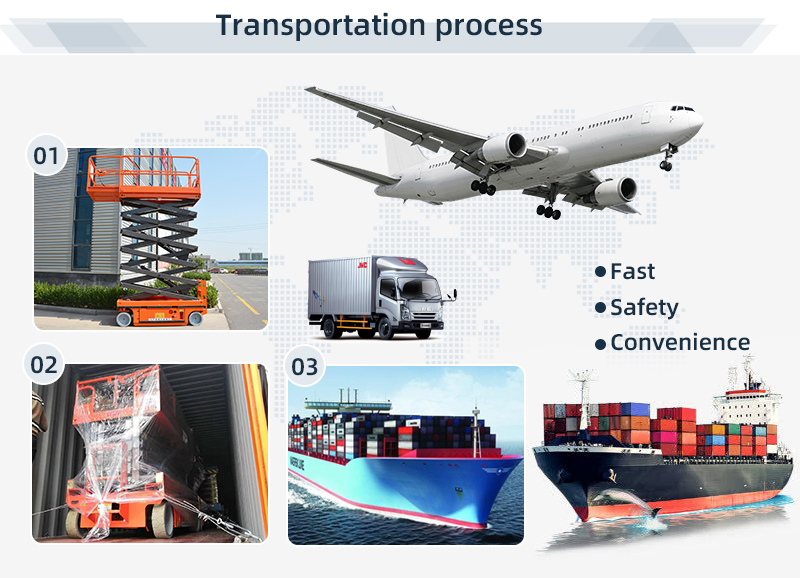 Applications in Australia
The 14m Hydraulic Self-Propelled Scissor Lift Table finds wide-ranging applications in Australia's industries:
Construction: In the construction sector, these lifts assist with tasks like ceiling installations, facade work, and electrical installations in buildings of varying heights.
Manufacturing: Manufacturers utilize these lifts for machinery maintenance, production line access, and equipment adjustments.
Logistics and Warehousing: Ideal for stock picking, inventory management, and high-shelf access in warehouses and distribution centers.
Maintenance and Facilities Management: Facility managers and maintenance teams use these lifts for inspections, repairs, and routine upkeep of commercial properties.
Events and Entertainment: Event organizers employ the scissor lifts for stage setup, lighting, and decorations in venues with elevated requirements.
Safety and Compliance
While these hydraulic scissor lifts enhance productivity, operators must undergo proper training and adhere to safety guidelines. Ensuring safe operations remains paramount to prevent accidents and injuries in the workplace.
The 14m Hydraulic Self-Propelled Scissor Lift Table represents a significant advancement in efficiency and productivity across various industries in Australia. Its impressive reach, self-propelled mobility, and safety features make it an indispensable tool for businesses seeking to streamline operations, access elevated work areas, and enhance worker safety. As industries in Australia continue to evolve, this versatile scissor lift remains a reliable ally for those looking to reach new heights in their operations.
1. What is a 14m Hydraulic Self-Propelled Scissor Lift Table?
A 14m Hydraulic Self-Propelled Scissor Lift Table is a versatile piece of equipment used in various industries for accessing elevated work areas. It features a hydraulic lifting mechanism and is equipped with self-propelled mobility for ease of movement.
2. What is the maximum lifting height of this scissor lift table?
The maximum lifting height of the 14m Hydraulic Self-Propelled Scissor Lift Table is approximately 14 meters (or about 46 feet), making it suitable for tasks requiring access to elevated areas.
3. How does the self-propelled system work?
The self-propelled system allows the scissor lift to move independently across worksites. Operators can control the movement using the platform's operating system or a bottom control system, reducing the need for manual repositioning.
4. What industries can benefit from this scissor lift table in Australia?
This scissor lift table has diverse applications in industries such as construction, manufacturing, logistics, maintenance, facilities management, and event management, among others.
5. Are there safety features incorporated into the scissor lift table?
Yes, the scissor lift table is equipped with safety features, including guardrails, emergency stop buttons, and overload protection, to ensure the safety of operators and those working in elevated positions.
6. How do operators receive training for operating this equipment safely?
Proper training is essential for operators to use the scissor lift table safely. Training programs are typically provided by equipment suppliers or certified training organizations to ensure operators are knowledgeable about safe operation and maintenance.
7. Is regular maintenance required for the scissor lift table?
Yes, regular maintenance is essential to keep the scissor lift table in optimal working condition. Maintenance schedules and procedures are typically outlined in the equipment's user manual and should be followed diligently.
8. Can the scissor lift table be used indoors and outdoors?
Yes, the scissor lift table is versatile and can be used both indoors and outdoors, depending on the specific model and the needs of the application. Rough terrain models are suitable for outdoor use.
For more details, welcome to contact us!