What

is

track

ed

scissor

lift

?
The tracked scissor lift is a mobile scissor lift specially designed for high-altitude operations under complex road conditions. The aerial work vehicle can also work on soft ground, breaking the limitation that the aerial work vehicle must work on hard ground. The tracked scissor lift adopts tracked-type wheels,weighted chassis, battery for control, lifting, and walking power, and drives the lift to ascend and descend through control buttons. The tracked scissor lift adopts a weighted chassis. When working, there is no need for outriggers. After the lift is raised, there is no need to fold the lift to walk, which greatly improves the work efficiency. At the same time, its tracked wheels increase the The area in contact with the ground can also walk and work on muddy roads in the wild, and it is an ideal equipment for outdoor or field installation and construction. At present, our crawler scissors are now 4 meters, 6 meters, 8 meters, 10 meters, 12 meters, 14 meters, 16 meters. The load is 320KG and there is an extension platform.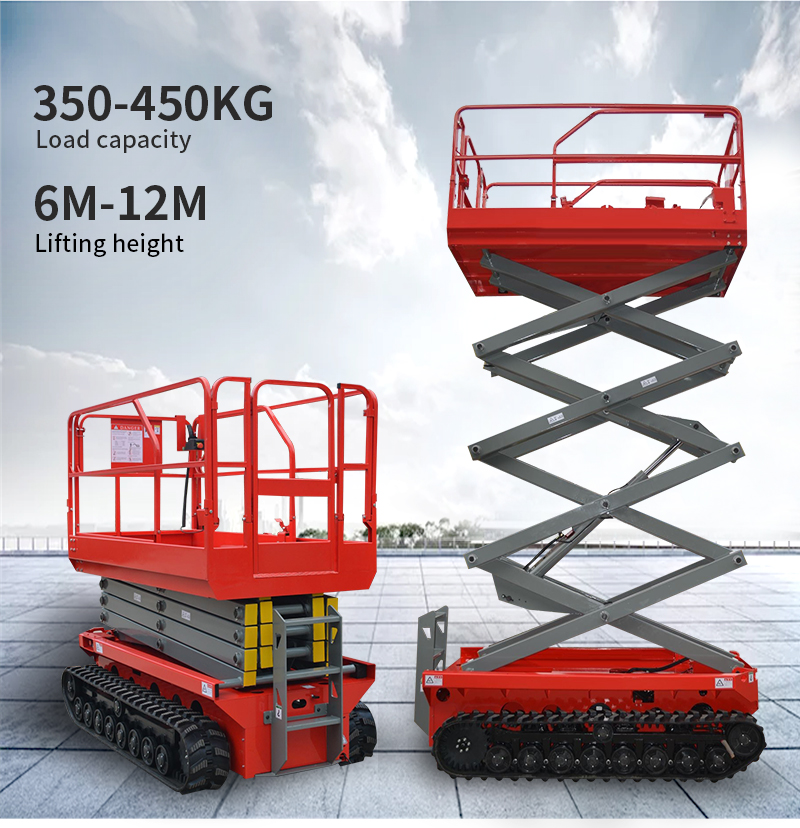 Details of the track

ed

scissor

lift

:
1. The tracked scissor lift, compact structure, solid structure and beautiful appearance.
2. The track is made of rubber. It is durable, not easy to scratch the ground, non-slip.
3. The tracked scissor lift has extending the table, expanding the working range and flexible operation.
4. The tracked scissor lift's control walking through the control panel and control handle.
5. Using electrostatic spray, it is not easy to corrode during use.
6. The guardrail can be disassembled, and the height of the guardrail is one meter.
7. Explosion-proof tubing.
8. Emergency stop switch
9. Power display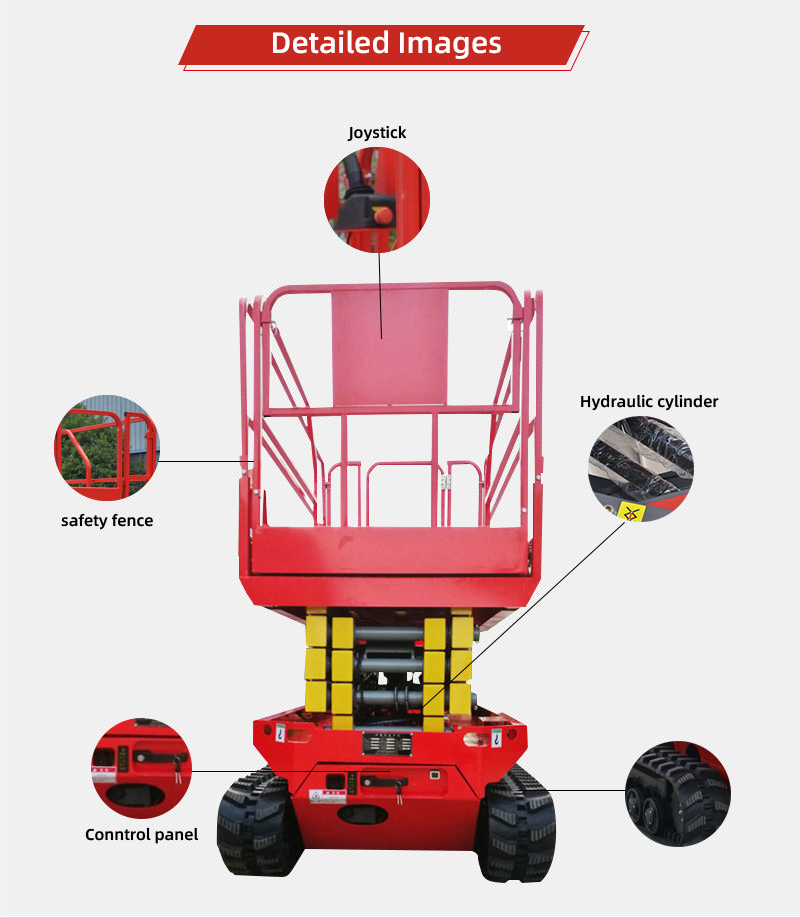 Specifications of track

ed

scissor

lift

:
| | | | | | |
| --- | --- | --- | --- | --- | --- |
| Platform size(mm) | Load (Kg) | Lifting height(m) | Working height(m) | Overall size(mm) | Self weight(Kg) |
| 2300*1170 | 320Kg | 4 | 6 | 2560*1600*1450 | 2400 |
| 2300*1170 | 320Kg | 6 | 8 | 2560*1600*1500 | 2500 |
| 2300*1170 | 320Kg | 8 | 10 | 2560*1600*1560 | 2700 |
| 2300*1170 | 320Kg | 10 | 12 | 2560*1600*1700 | 3000 |
| 2300*1170 | 320Kg | 12 | 14 | 2560*1600*1940 | 3200 |
| 2300*1170 | 320Kg | 14 | 16 | 2560*1600*2050 | 3400 |
| 2300*1170 | 320Kg | 16 | 18 | 2560*1600*2150 | 3600 |
Price of track

ed

scissor

lift

:
The new tracked scissor lift have a height of 4 meters (13 feet), and the price is about 9100USD. The raised height is 6-8 meters (20-26 feet), and the price is about 11,000USD. The raised height is 10 meters (33 feet), and the price is about 11300USD. The raised height is 12 meters to 16 meters (39-52 feet), and the price is generally 12000-16000USD.
Advantages of track

ed

scissor

lift

:
Tracked self propelled scissor lift platform automatically fast and slow walk and turn in different work conditions which do not need artificial traction, do not need external power supply ,and move Flexibly and conveniently. It make aerial work more convenient and efficient.
1. The ability to adapt to the environment is particularly strong. Driven by a 48V battery, it can be used indoors and outdoors, and can also be used in sites without power supply and complex road conditions.
2. The weight of the tracked chassis is heavier than that of ordinary wheels. Better stability and a more stable ride. No support legs are required to work.
3. When the platform is raised, it can walk slowly, which greatly improves the work efficiency.
4. The railing of the platform can protect the safety of workers.
5. Simple operation, follow the instructions, no additional training is required.
6. The tracked scissor lift takes up less storage space and has a compact structure.
7. Easy to climb up slopes, its narrow chassis allows passage through gates, courtyards, standard doorways and public buildings.
8. Outriggers can be added.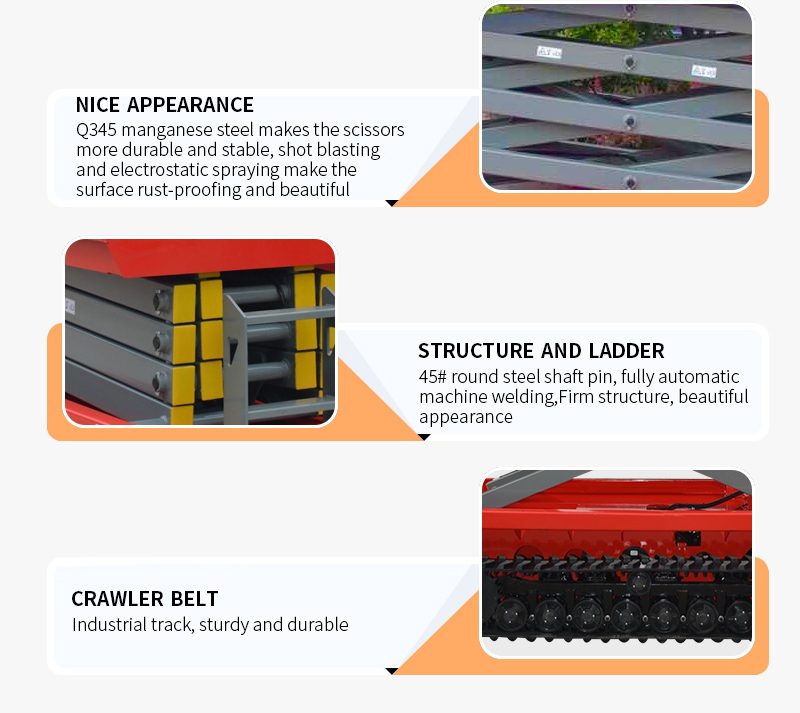 Use of track

ed

scissor

lift
Indoor: Fix lamps, routine maintenance.
Outdoor: installation and construction of communication lines in the field, cleaning drains, trimming trees, cleaning windows, construction sites and other high-altitude work.
Precautions

of tracked scissor lift

before use:
1. Check the oil level in the hydraulic tank. leak check
2. Electrical components, wires and cables
3. Hydraulic power units, tanks, hose fittings, cylinders and manifolds
4. Batteries and connections
5. Drive motor
6. Crawler
7. Screws, nuts and other fasteners
8. Platform entry chain or gate
9. Platform extension
10. Scissor pins and fixing fasteners
11. Platform Control Joystick
Importance of

tracked scissor lift's

maintenance
While preventive maintenance is important for uncovering operational hazards a proactive approach to routine maintenance can help reduce premature failure of equipment. An operator walk-around inspection of a tracked scissor lift prior to using it for any signs of failure can be a contributing factor to proactive maintenance. If more than one operator is using the machine, inspections should be performed more frequently. The frequency of inspections can also be increased if the machine is used in harsh environmental conditions. As with all heavy equipment, it is important to inspect and maintain your scissor lifts to ensure they are operating efficiently and increase your productivity. It is important to check these machines at the beginning of each day, at shift changes, and when new operators take over the machines.
How to maintain the battery of the track

ed

scissor

lift

:
Keep it clean and dry: Clean the battery pack from accumulated dirt and debris. Otherwise the discharge will surface, which will affect the run time between each charge
Take a performance test: Test your battery with a digital battery tester, also known as an amp test
Perform a charge test: make sure the battery is charged properly replace the bad battery if necessary
There are other common practices to be aware of to prove that your scissor lift battery is working and will last a long time. First, look at the manufacturer's specifications. Some battery requirements may include not using an external charger. Next, plug the battery into a well-ventilated alternating current outlet. The battery compartment may need to be opened during charging.
FAQ
1. What is a tracked scissor lift?
A tracked scissor lift, also known as a spider lift or crawler lift, is a specialized type of scissor lift designed for outdoor use
on rough and uneven terrain. It features robust tracks that provide increased stability and maneuverability, making it ideal
for construction, maintenance, and landscaping tasks in challenging environments.
2. What are the advantages of a tracked scissor lift over a traditional scissor lift?
Tracked scissor lifts offer several advantages over traditional scissor lifts. The tracks provide better traction and stability on
uneven ground, allowing operators to work on slopes and rough terrains. These lifts are also more compact and can access
confined spaces that traditional lifts may find challenging to reach.
3. What are the weight and height capacities of tracked scissor lifts?
Tracked scissor lifts come in various weight and height capacities to accommodate different project requirements.
Capacities can range from a few hundred kilograms to several tons, while working heights can go up to 100 feet or more.
4. What are the applications of tracked scissor lifts?
Tracked scissor lifts are versatile and suitable for a wide range of applications, including tree trimming, building
maintenance, construction work, window cleaning, and landscaping. Their ability to navigate rough terrains and access
hard-to-reach areas makes them valuable equipment for outdoor projects.
5. Can tracked scissor lifts be used indoors?
While tracked scissor lifts are primarily designed for outdoor use, some models with non-marking tracks and
electric-powered options can be used indoors on sensitive surfaces. However, it's essential to check with the
manufacturer or supplier to ensure the lift is suitable for indoor use.
6. What safety features are present in tracked scissor lifts?
Tracked scissor lifts come with standard safety features such as emergency stop buttons, tilt sensors, safety interlocks,
and platform guardrails. Some models may also have outriggers for additional stability when operating on uneven ground.
7. Are tracked scissor lifts easy to transport?
Tracked scissor lifts are designed for easy transportation between job sites. Many models are compact and lightweight,
making them suitable for towing on trailers. Some lifts also have a self-leveling feature that simplifies setup and reduces
transportation time.
8. Can tracked scissor lifts be used in all weather conditions?
Tracked scissor lifts are generally designed to operate in various weather conditions. However, extreme weather
conditions such as heavy rain, snow, or strong winds may impact their safe usage. Operators should exercise caution
and follow manufacturer guidelines during adverse weather conditions.
9. How do I choose the right tracked scissor lift for my project?
Consider factors such as working height, weight capacity, terrain type, and specific project requirements when choosing
a tracked scissor lift. Consulting with reputable suppliers or dealers can also help you find the best match for your application.
10. Are tracked scissor lifts easy to operate?
Tracked scissor lifts are user-friendly and easy to operate. However, proper operator training is essential to ensure safe
and efficient usage. Manufacturers often provide training resources and materials to ensure operators are proficient
in operating the equipment.
If you still don't know how to choose the tracked scissor lift, please leave us a message, we will contact you in time and recommend suitable machines to you according to your needs. Thanks!