The towable boom lift for sale in canada can reach obstructed work zones that are otherwise inaccessible. With precise up, over, and out positioning capabilities, the boom lift gives operators direct contact to the work site. Equipped with an electric engine, the towable boom lift provides a stable aerial work platform to support occupants while working at high elevations. It's ideal for both indoor and outdoor projects, and recommended for construction teams and maintenance crews alike.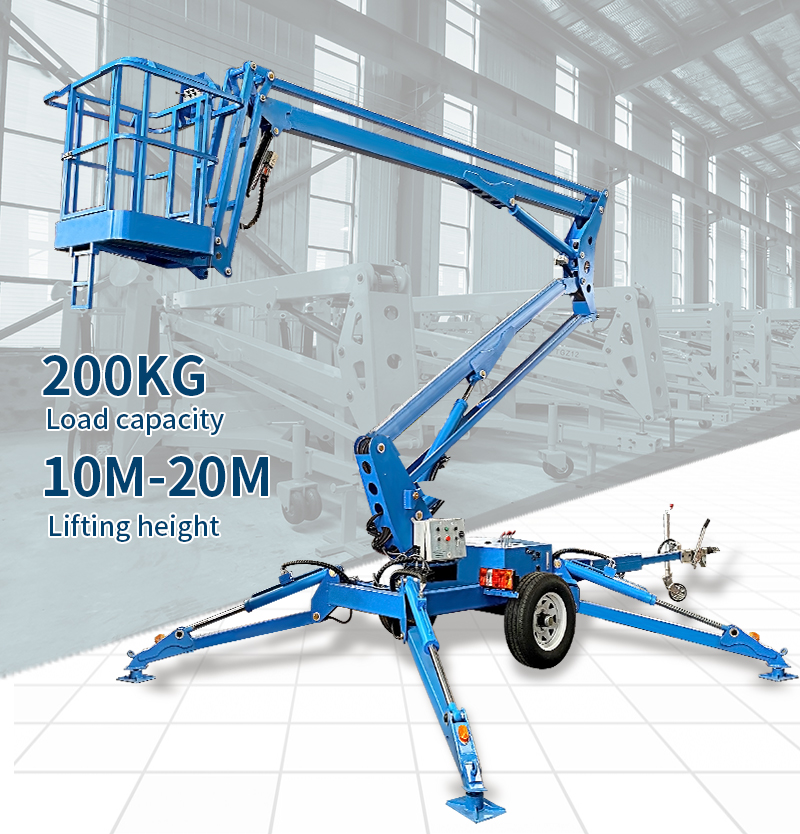 Many customers in Canada hope that the towable boom lift purchased can be safely on the road. For this, we have specially improved and improved the performance of our machine, so that our towable boom lift can travel at the fastest speed of 90km / h. Moreover, we have improved the braking system of the machine. In addition to the traditional mechanical braking, we are also equipped with electromagnetic braking, Make the braking performance of boom lift more excellent
Ac powered/Battery Power/Diesel Power/Gasoline Power
Ideal for construction and maintenance tasks
Excellent for indoor and outdoor jobs
Canada towable boom lift market overview:
There different types of boom lifts available for construction and other industrial uses like Articulating Boom Lifts, Telescopic Boom Lifts,Towable Boom Lifts. Boom lifts offers features like 360 degree rotatable and turntable, chassis width that provides access to different work areas and narrow industrial aisle ways. Boom lifts allows forward and backward steering and maneuvering of the machines from the work stage.
The boom lifts are powered by batteries, gasoline,or diesel . The towable boom lifts are mostly preferred as they allow to be towed behind vehicles with 5000lbs hitch which are ideal for sale. The towable boom lifts are called as telescopic or articulating booms lifts which are mainly used for high reach capability.
The Canada boom lift market is driven by growing demand for constructions across the various mega construction particularly in regions like Toronto, Montreal. The government are making investments in development of infrastructure as well as the private sector are investing in mega constructions is driving the demand for global boom lifts.
The boom lifts are widely used in road construction, mining operations, irrigation, urban infrastructures, railways, ports construction etc. The market for towable boom lifts is booming due to the increase in focus of end users towards procurement of new boom lifts.
Towable boom lift for sale in canada has the following features

:
1. Power: diesel engine oil, gasoline engine, AC / DC, dual power or multi power, which can be selected according to the use requirements;
2. Rotating disc: 360 ° continuous rotation, 160 ° swing of platform, waterproof and dust-proof, durable;
3. Brake: Double brake system imported from Italy;
4. Overflow valve: if it is overloaded, the overflow valve opens and the machinery stops lifting;
5. Level sensor: automatic type, which can automatically detect whether the four groups of outriggers are at the same height, that is, it can be supported by four legs or one leg. If it does not reach the same height, the elevator will stop working. (when the light is red, it cannot work, and when the light is green, the elevator can start to work);
6. Hydraulic oil pipe and hydraulic locking cylinder value: all hydraulic pipes adopt S-shaped hydraulic oil pipe, which is a special mechanical equipment in the construction industry;
7. Hydraulic lock: it can lock the oil during machining. Its function is to prevent accidental fracture of oil pipe when hydraulic oil returns. Better protect the safety of users;
8. Emergency button: in case of emergency, the emergency button stops the machine;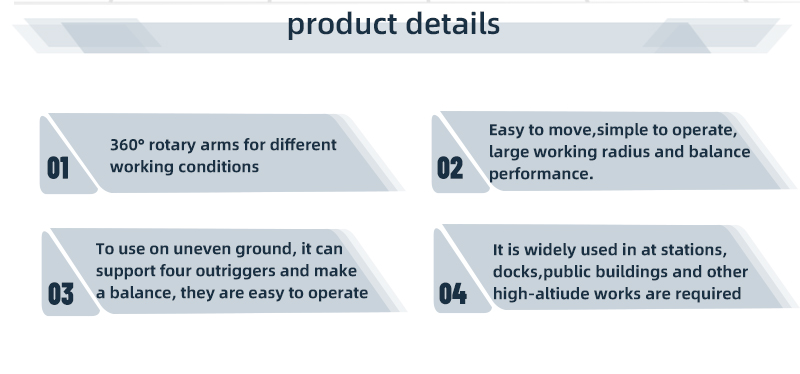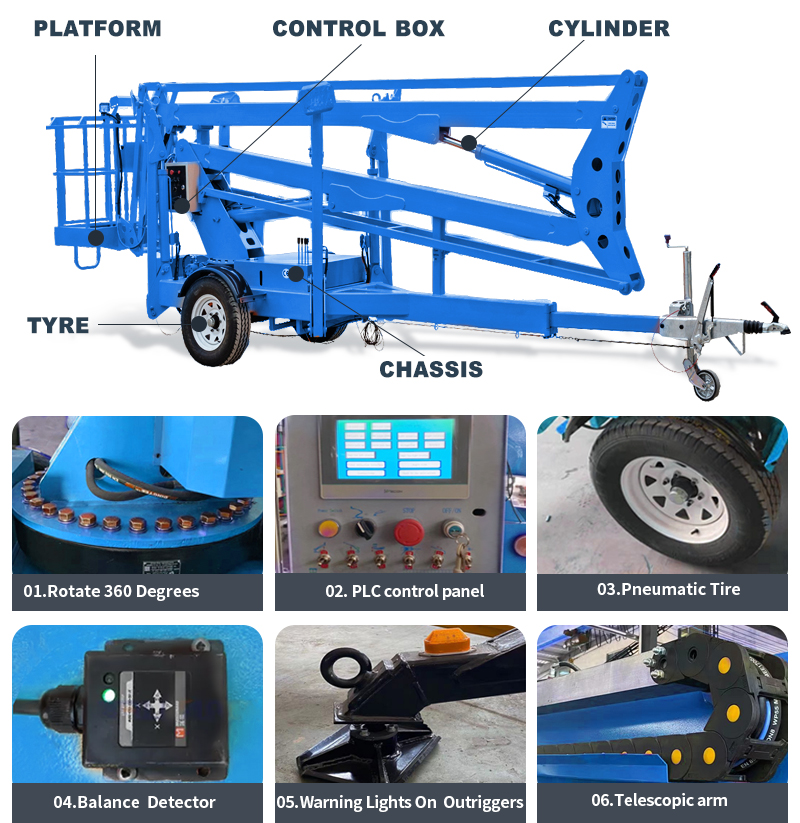 How to maintain the towable boom lift for sale in canada.
1. The aerial work platform shall be parked indoors to prevent rain erosion and sunlight exposure.
2. When the aerial work platform is not used for a long time, the power line of the battery should be removed and the battery should be protected at the same time.
3. Lubricating oil shall be frequently injected between various moving parts and in the shaft pin of each working arm to maintain a certain lubrication, so as to reduce wear.
4. After the first two months of the use of the aerial work platform, the hydraulic oil shall be replaced, and then it shall be replaced every six months. Clean refueling tools shall be selected, and the hydraulic oil tank and filter screen shall be cleaned regularly; Here, it is recommended to use No. 46 anti-wear hydraulic oil. When the temperature is below 0 ℃, it is necessary to replace the antifreeze hydraulic oil.
5. When the air temperature is below 0 ℃, vent the coolant of the diesel engine to prevent the cylinder block of the diesel engine from cracking; For other matters, please refer to the operating instructions of the diesel engine.
6. When cleaning and replacing hydraulic components, clean them with firewood and gasoline; For hydraulic components that are not used temporarily, the oil port shall be blocked and packaged for storage to prevent sundries from entering the hydraulic components.
7. It is forbidden to clean with cotton and other fiber fabrics that are easy to fall off to prevent contamination of hydraulic components.
How to Choose the right towable boom lift height?
1.Calculate the lifting height and working range of the towable boom lift.
The range is the amount of horizontal space that the towable boom lift needs to move. Before you buy this type of elevator, measure all parts of the place where you will work.
For accurate measurement, use an ultrasonic rangefinder. Make sure you have enough space to turn the towable boom lift through the door and avoid obstacles. The smallest model is 40 feet high, while the largest towable boom lift is 73 feet high. The maximum range or horizontal extension of a 40 foot machine is approximately 34 feet.
2.Consider the Work Area
Many telescopic boom elevators are equipped with power sockets on the platform and generators on the base to operate various equipment. These generators can provide AC or DC power for many applications.
You should also ensure that the towable boom lift you choose has a stable base. Our towable boom lift for Canada have wide bases and adjustable legs. For rugged areas, additional stability can be provided.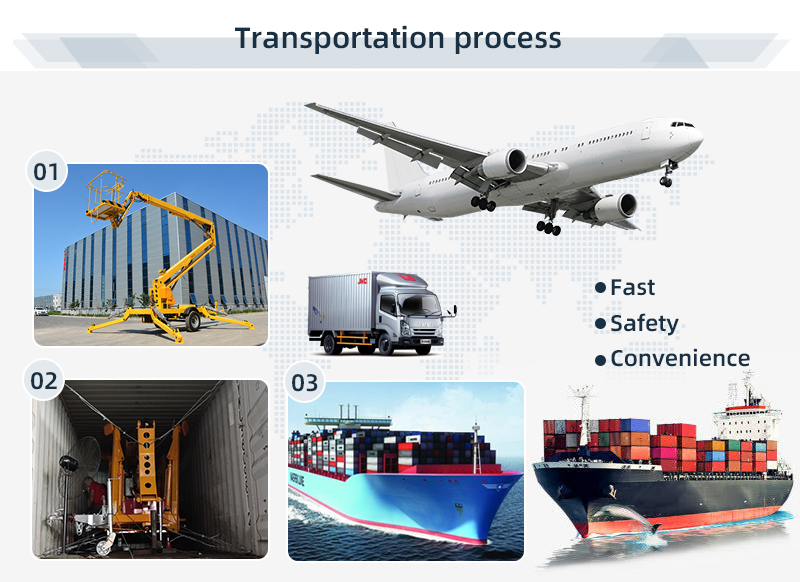 FAQ
Q1: What is a 35 ft towable boom lift?
A1: A 35 ft towable boom lift is a versatile aerial work platform designed to provide access to elevated areas up to 35 feet. It can be easily towed to different job sites and is commonly used for maintenance, construction, and other tasks.
Q2: Why should I consider purchasing a 35 ft towable boom lift?
A2: Owning a towable boom lift offers long-term convenience and cost savings. It allows you to have consistent access to elevated work areas without the limitations of rental schedules.
Q3: What types of projects is a 35 ft towable boom lift suitable for?
A3: A 35 ft towable boom lift is ideal for a variety of projects, including building maintenance, painting, window cleaning, signage installation, and more.
Q4: How do I choose the right towable boom lift for purchase?
A4: Consider factors such as maximum working height, platform capacity, outreach, and your specific project requirements. Consult with equipment experts to select a model that best suits your needs.
Q5: Are there any regulations or certifications needed to operate a towable boom lift in Canada?
A5: Yes, operating a towable boom lift requires proper training and certification. Operators need to undergo training to ensure they are familiar with safe operation, equipment controls, and safety protocols.
Q6: What safety features should I look for when purchasing a 35 ft towable boom lift?
A6: Look for safety features such as platform controls, emergency shut-off, stabilizers, harness attachments, and safety interlocks to ensure operator and bystander safety.
Q7: What maintenance is required for a towable boom lift?
A7: Regular maintenance is essential to ensure optimal performance and safety. This includes checking hydraulic systems, inspecting cables, lubricating moving parts, and conducting routine safety checks.
Q8: Can I use a 35 ft towable boom lift indoors?
A8: While towable boom lifts can be used indoors, they are typically better suited for outdoor applications due to their size and reach. Consider the dimensions of the lift and the indoor space before use.
Q9: How do I finance the purchase of a 35 ft towable boom lift in Canada?
A10: Financing options may be available through equipment dealers or financial institutions. Explore leasing, loans, or other financing arrangements based on your business needs.
Q10: What ongoing costs should I consider when owning a towable boom lift?
A10: Ongoing costs include maintenance, repairs, insurance, and storage. It's important to factor these costs into your budget when considering purchasing a towable boom lift.