Custom

Car scissor lift for

A

ustralia
Scissor-type car lifts, adopting a scissor-type lifting structure, are mainly used for car transportation between different floors, such as car 4S shops, exhibition halls, high-end villa underground parking lots and multi-storey parking lots. It can also be used as a car maintenance lifting platform for car maintenance. Scissor car lifts can only be used for even-loaded car conveying occasions, and cannot be used as ordinary platforms or conveying personnel. Car lifts are equipped with a complete operating device, button box and external terminal box connected to the guardrail and door frame. The maximum parameters of the standard model of car lift are as follows:-Load: 3000-5000 kg-Maximum stroke: 7000 mm-Table size: 6000 x 3500 mm. Can design and produce according to customers' special requirements for Australian market.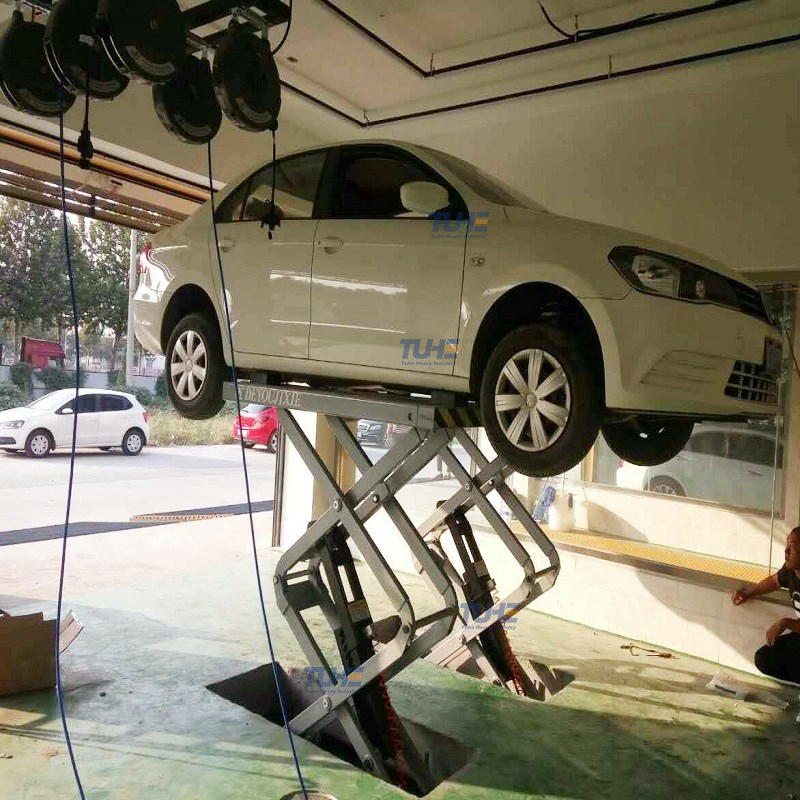 Car scissor lift

Super Heavy Duty Mid Rise Car Scissor Lift packed with all the safety features.
High Quality heavy duty Mid Rise car Scissor Lift with 1000 mm lifting height. With electromagnetic release. No air Compressor needed. The platform can be extennded by locking the drive on ramps. Unique design to move and relocat the lift easily if needed. Ideal for tyre service, painting and bodywork workshops.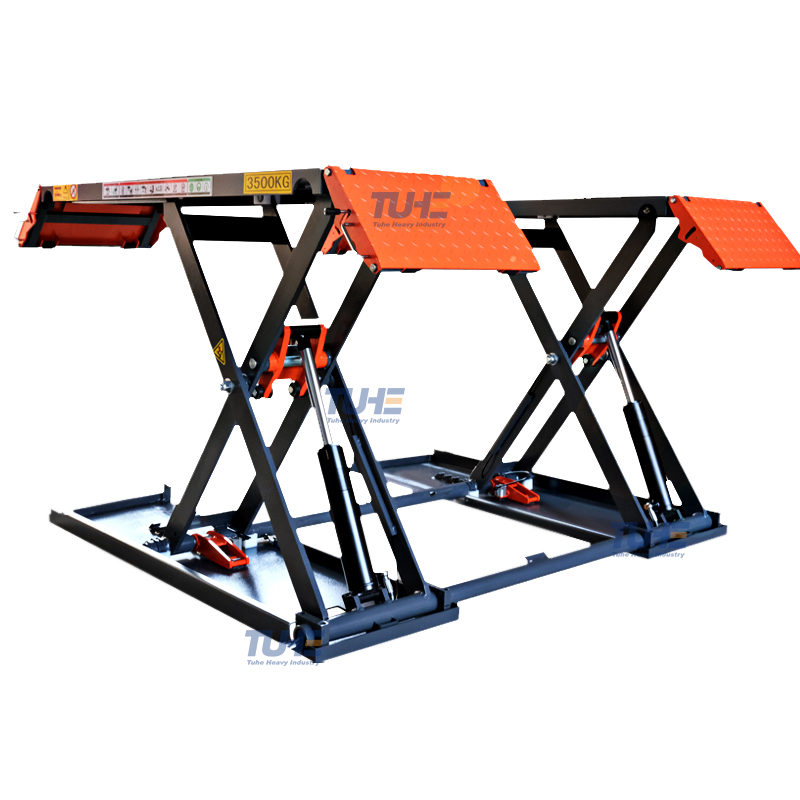 The safety performance of the

scissor lift

is outstanding in Australia
The TUHE scissor lift is a surface mount extra low profile a scissor car lift ideal for busy commercial workshops. With a minimal height of only 135mm, there aren't too many ground hugging vehicles that can't be easily lifted using the drive-on and drive-off ramps.
Hydraulic synchronisation of platforms during lift means you get the stability and the levelling you need to get the job done. Safety features abound with this model including the overload safety valve in case of sudden loss of pressure, a 24V control and a buzzer sounding during the last portion of decent.
If you purchase scissor car lift and put them on the market in Australia, you don't have to worry about scissor car lift safety.
This double hydraulic system, with double volumetric cylinder under each platform, comes surface mounted as standard with an automatic lowering control and a set of four solid rubber pads to easily support the vehicle.
With a quick lift time of approximately 40 seconds and similarly swift lowering time of 30 seconds, combined with a massive 1,987 mm lift height, this electric/hydraulic extra low profile scissor car lift can enhance productivity profit margins.
TUHE Car scissor lift Features:
Top built quality with CE-certificate
Low drive over height
Mechanical synchronization
High-quality solid construction
Two powerful hydraulic cylinders
Automatic safety lock
Electric Solenoid locking mechanism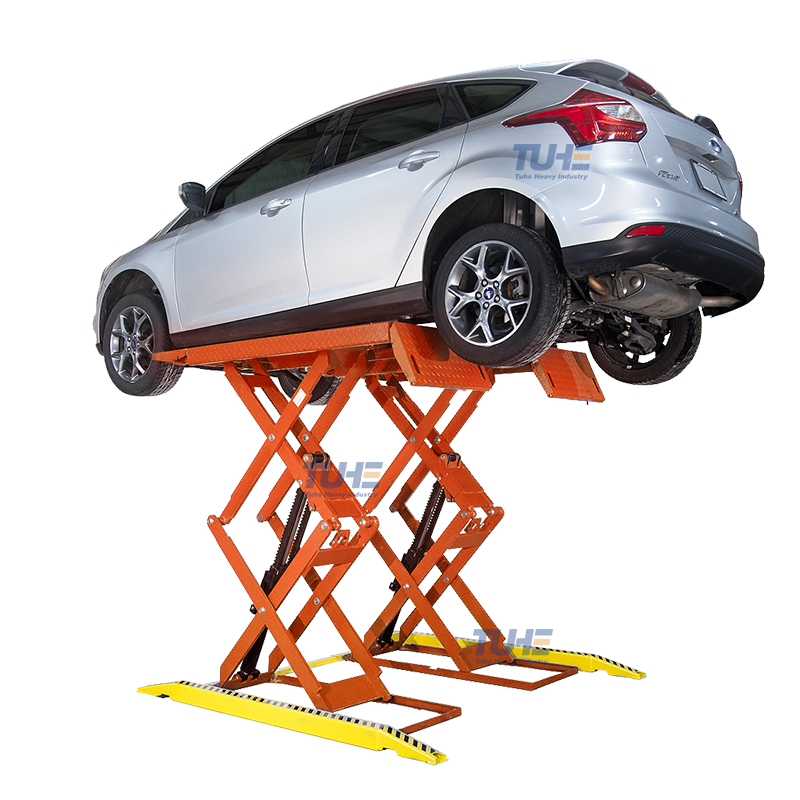 Available in a range of sizes, we sell customised hoists and lifts to into the most garage or workshop spaces, fit for industrial, commercial, or at-home purposes. We are one of the largest stockists of hoists in the country, with new products arriving every week, rivalling the likes of Pacific and Molnar.
| | |
| --- | --- |
| Item/Model | TH |
| Rated load | |
| The maximum height | 1000mm |
| Minimum height | 110MM |
| Table size | |
| width between two platefrom | 850mm |
| Total width | 1910mm |
| Oil pressure | 25mpa |
| Main pump | powder supply ,2,2kw (415V,380V,220V,110V) |
| Gross weight | |
Good quality makes you worry free

The industry has been flooded with poorly made hoists that don't comply with local workplace laws. Buying a hoist is a solid investment so take the time to understand the differences between the types of hoists and make sure to choose quality over price. Remember you are entrusting your life or the lives of your employees to the safety and security of the hoist that you purchase, so it is a good idea to allow your buying decision to be guided by the quality and safety reputation of the equipment rather than by the cheapest offer available.
This car lift has many successful precedents in the Australian market. It is precisely because of the car scissor lift performance highly in line with the Australin markt that it has been greatly recognized. If you have purchasing needs, we welcome you to consult professionals.
FAQ
1. What is a custom car scissor lift, and how does it differ from standard models?
A custom car scissor lift is specifically tailored to meet the unique requirements of a workshop or automotive facility. Unlike standard models, it may have modifications in terms of weight capacity, lift height, power source, or other features to suit specific needs.
2. Why might a workshop consider a custom car scissor lift for operations in Australia?
Workshops may opt for a custom car scissor lift to address specific challenges or limitations in their operations. Customization allows for a tailored solution that aligns with the workshop's unique requirements and the types of vehicles commonly serviced.
3. What customization options are available for car scissor lifts in Australia?
Customization options may include modifications to weight capacity, lift height, power source (hydraulic, electric, pneumatic), lift configuration (surface-mounted, in-ground, portable), and additional safety features based on the workshop's specific needs.
4. How can a workshop determine the right specifications for a custom car scissor lift?
To determine the right specifications, workshops should assess their operational requirements, types of vehicles serviced, available space, and any unique challenges. Consulting with a reputable supplier or manufacturer can help identify the most suitable customization options.
5. Are custom car scissor lifts compliant with Australian standards and regulations?
Yes, custom car scissor lifts should adhere to Australian standards and regulations for automotive equipment. It's essential to work with a supplier or manufacturer who ensures compliance and provides necessary certifications.
6. Can a custom car scissor lift be designed for specific vehicle types, such as larger models commonly found in Australia?
Yes, customization can include modifications to accommodate larger vehicle types commonly found in Australia. This ensures that the lift meets the specific needs of the workshop and can safely lift and support a variety of vehicles.
7. How long does it typically take to manufacture and deliver a custom car scissor lift?
The timeline for manufacturing and delivering a custom car scissor lift can vary based on the complexity of the customization and the manufacturer's production schedule. It's advisable to discuss timelines with the supplier during the customization process.
8. What safety features are essential for a custom car scissor lift in an Australian workshop?
Essential safety features include automatic safety locks, emergency stop buttons, durable anti-slip platforms, and any additional features required to comply with Australian safety standards. These features ensure a secure working environment for technicians and protect vehicles.
9. Can a workshop request specific environmental considerations for a custom car scissor lift?
Yes, workshops can request specific environmental considerations, such as energy-efficient components or eco-friendly features, during the customization process. This allows for alignment with the workshop's sustainability goals.
10. How does the warranty and after-sales support work for custom car scissor lifts?
Warranty and after-sales support should be discussed with the manufacturer during the customization process. It's important to understand the terms of the warranty and the availability of reliable customer support for any maintenance or issues that may arise.