Hydraulic car lift for garage Introduction:
Scissor-type car lifts, adopting a scissor-type lifting structure, are mainly used for car transportation between different floors, such as car 4S shops, exhibition halls, high-end villa underground parking lots and multi-storey parking lots. It can also be used as a car maintenance lifting platform for car maintenance. Scissor car lifts can only be used for even-loaded car conveying occasions, and cannot be used as ordinary platforms or conveying personnel. Car lifts are equipped with a complete operating device, button box and external terminal box connected to the guardrail and door frame. The maximum parameters of the standard model of car lift are as follows:-Load: 3000-5000 kg-Maximum stroke: 7000 mm-Table size: 6000 x 3500 mm. We can design and produce according to customers' special requirements
Car scissor lift has many uses, but it's primarily a car lift for home garages. For decades, people have been stuck lifting cars with floor jacks and stands and only professional auto shops and high-ceiling residential garages have been able to get their cars in the air with hydraulics. Car scissor lift is a portable car lift that's safe, intelligently built and without question a superior tool than jack stands. Offering a 21" rise and open-center design, Car scissor lift is the ultimate portable solution for the average home garage.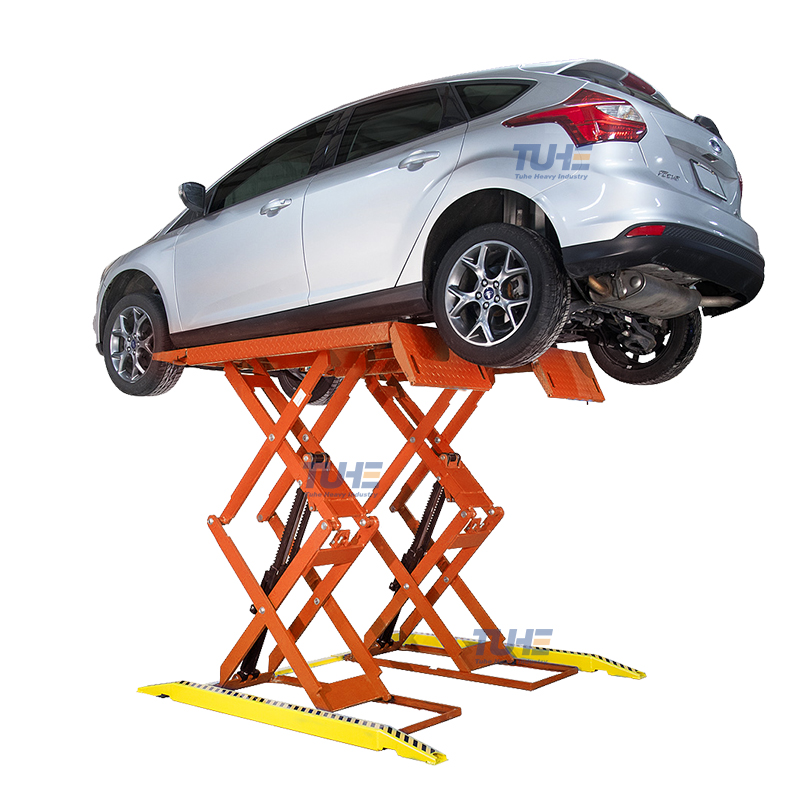 Features of TUHE

h

ydraulic car lift for garage
:
The Stratos – SR40 is a surface mount extra low profile scissor car lift ideal for busy commercial workshops. With a minimal height of only 135mm, there aren't too many ground hugging vehicles that can't be easily lifted using the drive-on and drive-off ramps.
Hydraulic synchronisation of platforms during lift means you get the stability and the levelling you need to get the job done. Safety features abound with this model including the overload safety valve in case of sudden loss of pressure, a 24V control and a buzzer sounding during the last portion of decent.
This double hydraulic system, with double volumetric cylinder under each platform, comes surface mounted as standard with an automatic lowering control and a set of four solid rubber pads to easily support the vehicle.
With a quick lift time of approximately 40 seconds and similarly swift lowering time of 30 seconds, combined with a massive 1,987 mm lift height, this electric/hydraulic extra low profile scissor car lift can enhance productivity and profit margins.
H

ydraulic car lift for garage

Features:
| | |
| --- | --- |
| Item/Model | TH |
| Rated load | 3000kg,3500KG ,4000kg or customized |
| The maximum height | 1000mm |
| Minimum height | 110MM |
| Table size | 140*194cm, wide 530cm |
| width between two platefrom | 850mm |
| Total width | 1910mm |
| Oil pressure | 25mpa |
| Main pump | powder supply ,2,2kw (415V,380V,220V,110V) |
| Gross weight | 1000KG |
Available in a range of sizes, we sell customised hoists and lifts to fit into most garage or workshop spaces, fit for industrial, commercial, or at-home purposes. We are one of the largest stockists of hoists in the country, with new products arriving every week, rivalling the likes of Pacific and Molnar.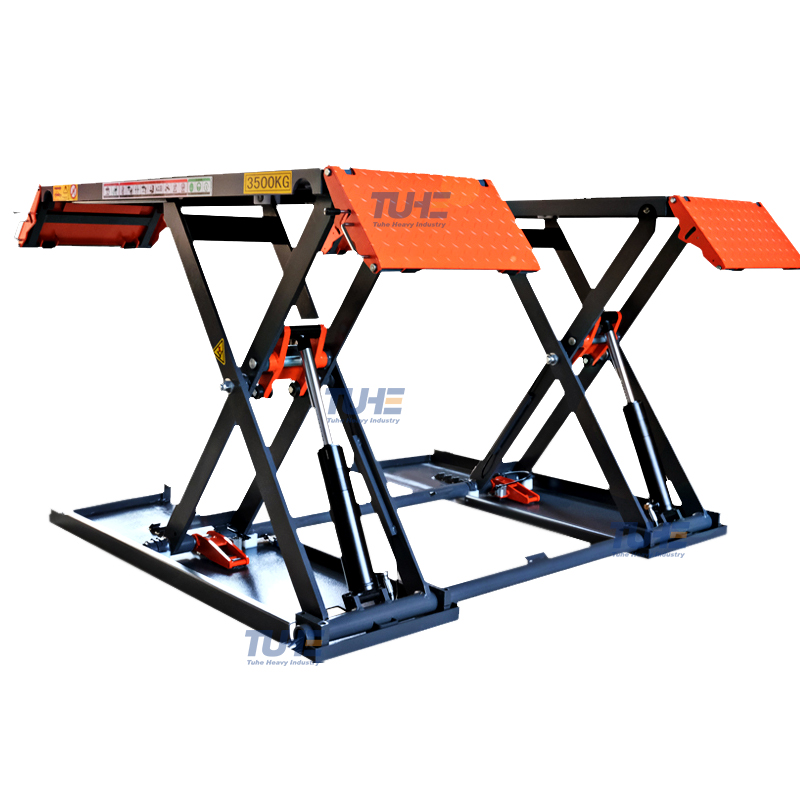 H

ydraulic car lift for garage

q

uality over price is critical
The industry has been flooded with poorly made hoists that don't comply with local workplace laws. Buying a hoist is a solid investment so take the time to understand the differences between the types of hoists and make sure to choose quality over price.Remember you are entrusting your life or the lives of your employees to the safety and security of the hoist that you purchase, so it is a good idea to allow your buying decision to be guided by the quality and safety reputation of the equipment rather than by the cheapest offer available.
When looking for a car lift for your home garage space, there are a few factors to take into consideration, particularly when it comes to safety.
H
ydraulic car lift for garage
Security options
:
If your garage space is limited, the larger industrial-grade two-post lifts or four-post car lifts probably won't fit, and, if they do, will take up all the floor space in your garage. If your space is a little roomier, you may be able to get one of these heavy-duty lifts in there.
Taking into consideration the size of the power unit, the length, and the width is the first step in seeing if the particular vehicle lifting unit works for you. If it doesn't, and your space is limited, car ramp lifts, scissor lifts, or more portable, low rise or mid-rise lifts are a better option.
In addition, the weight of the vehicle you need to lift will play a role in your selection process since each vehicle lift has a maximum weight capacity, so you want to make sure that the car lift you choose can actually lift your vehicle. For larger cars, trucks, and SUVs, a heavy-duty, large pound-capacity car lift, for instance, one that can lift a vehicle of 9,000 pounds or more, will be required.
Last but certainly not least, is taking note of the safety features each vehicle lift offers. Automatic safety locks, safety lock release, a lock bar, arms restraints, hydraulic flow restrictor, anti-sway blocks, and cable chains are all great safety features to look for.
Reading the manuals, particularly with regards to safety, and adhering to the safety rules is, understandably, a necessity. In addition to this, not exceeding the weight capacity is of utmost safety importance.