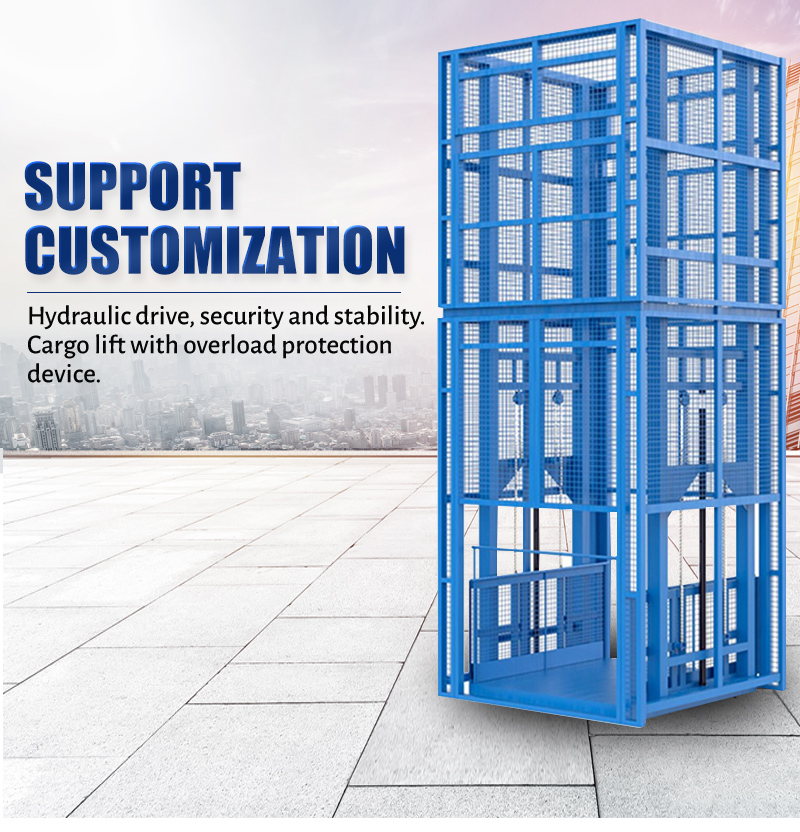 Hydraulic Platform Lifter for Sale Philippines
Hydraulic platform lifter is widely used in the Philippines, and are generally used in factories, warehouses, shopping centers, hotels, airports, and stations.The cargo elevator is a lifting platform that moves up and down to move goods in a vertical direction.The hydraulic platform lifter is becoming more and more popular in all over the world.
The feature of hydraulic platform lifter
Hydraulic platform lifter mainly used for the transportation of goods between various working floors, between the second floor of the three-dimensional garage and the underground garage, the places where pits cannot be excavated, and the top level cannot reach the required occasions and other narrow spaces that are difficult to solve. Hydraulic platform lifter has anti-fall system, the upper and lower doors are interlocked interactively, and the operation buttons can be set on each floor. The product has a solid structure and a large carrying capacity. The lifting volume is high, the lifting is stable, and the installation is convenient. It is an economical and practical low-floor elevator to replace the ideal cargo conveying equipment.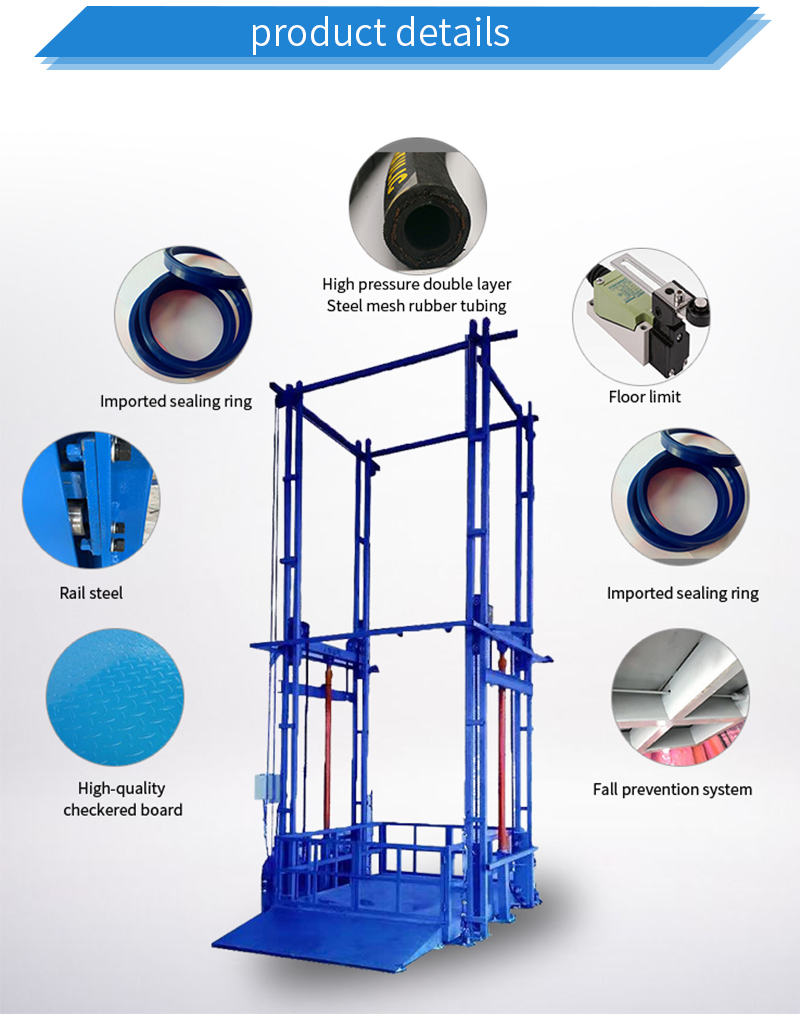 Limit switch of hydraulic platform lifter
The function of the limit switch is to realize sequence control, positioning control and position status detection. It is used to control the stroke and limit protection of mechanical equipment. Structure: Consists of operating head, contact system and housing.
Anti-full prevention systom of hydraulic platform lifter.
If the elevator falls and the speed exceeds the rated range, the elevator speed limiter will act, and the speed limiter will trigger the action of the safety gear, so that the elevator car is clamped on the elevator guide rail and the fall is terminated.
Hydraulic platform lifter is can be customized.
1. Lifting height
2. Loading capacity
3. Platform size
4. Guardrail height
5. Peripheral protection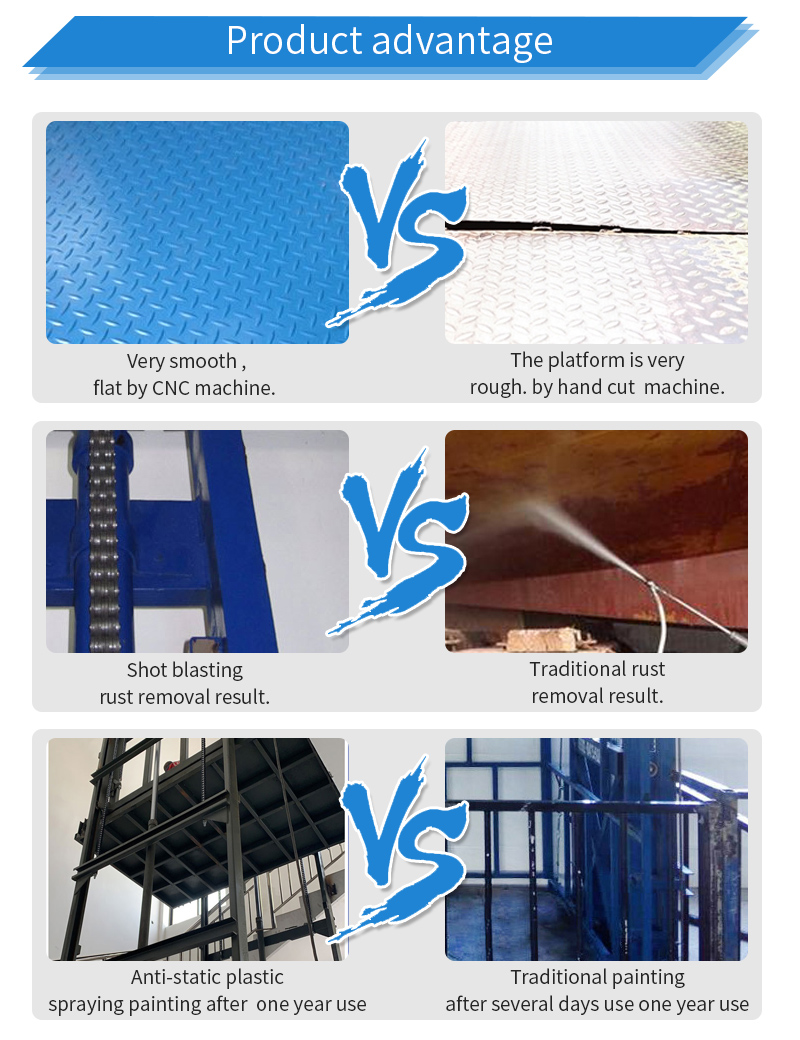 Product details of hydraulic platform lifter
1. Stable bearing: The bearing runs smoothly, with low noise and high durability.
2. Bold chain: increased load-bearing capacity, longer use.
3. Excellent cylinder: the cylinder runs stably and smoothly, corrosion-resistant and high-temperature resistant.
Advantages of hydraulic platform lifter
1.Super load-bearing capacity, strong and durable, light weight, wear-resistant, high-strength toughness, strong load-bearing ability, and not easy to rust.
2. Smooth operation and convenient maintenance. No noise during operation, stable operation, no noise, and long service life.
3. Flexible configuration and free customization of size. High-standard customized technology, mature technology, suitable platform size and direction of entry and exit can be configured according to different installation requirements.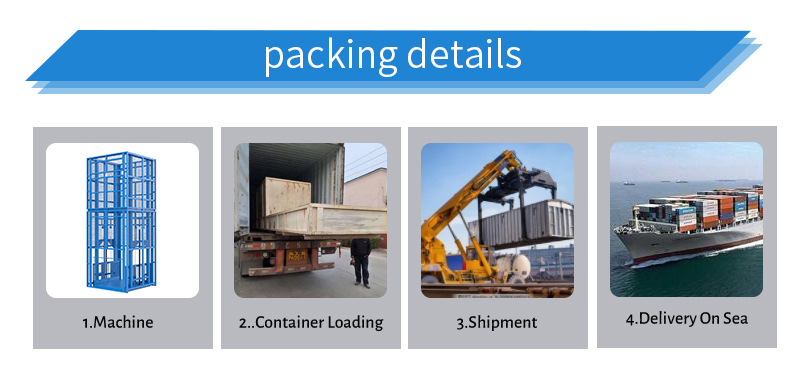 Hydraulic platform lifter's process before you received it.
Hydraulic platform lifter will be packed in wooden box. According to the customers requiryments to choose the transportations.