At present, the application of scissor lift in the European market is very common. At present, there are three types of scissor lift in the market. Today, let's discuss the characteristics of each type of scissor lift.
The types of scissor lift:
Self-propelled scissor lift, Mobile towable scissor lift, Crawler scissor lift
Function of self-propelled scissor lift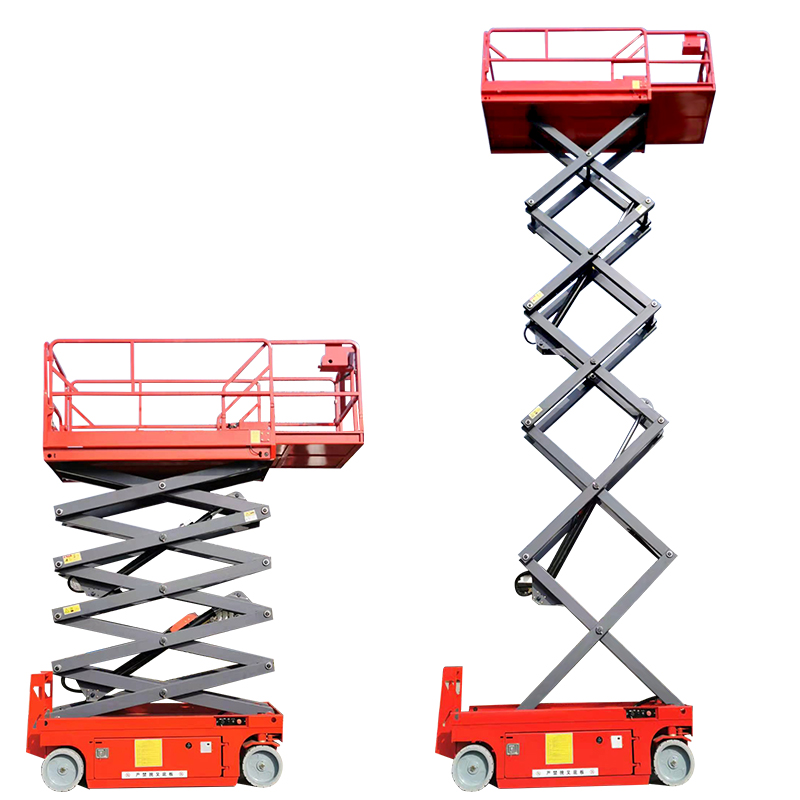 The chassis is high and suitable for walking on rough ground. The design is firm and easy to maintain. Free turning device. Emergency descent system. The lifting platform itself has the functions of walking and steering drive, without manual traction and external power supply. It is flexible and convenient to move, making high-altitude operation more convenient and fast. It is an ideal high-altitude operation equipment produced by modern enterprises: ceiling, curtain wall, glass window, eaves, canopy and chimney; Installation and maintenance of billboards, installation and maintenance of street lamps and traffic signs, etc. This high-altitude lifting platform is characterized by small, flexible, convenient and fast. A lifting platform can be used instead of scaffold to provide the dimensions you need and solve your problems.
Features of self-propelled scissor lift:
1. The firm steel plate platform has a slip proof surface.
2. Strong steel pipe guardrail. The end telescopic track can accommodate larger goods after extension.
3. Lubrication and maintenance free pivot.
4. Built in lanyard anchor point.
5. An ergonomic joystick controller that can be operated from a platform or ground.
6. Low noise allows operators to operate in a quiet working environment.
7. The large angle steering system provides excellent handling performance.
8. The spin out battery box and power module can easily access the components.
9. Variable speed motor extends the life of battery and motor, because variable speed motor only consumes working energy.
10. The fault diagnosis device on the operation vehicle can notify the operator of possible errors.
11. Long service life and low failure maintenance rate!
The mobile type scissor lift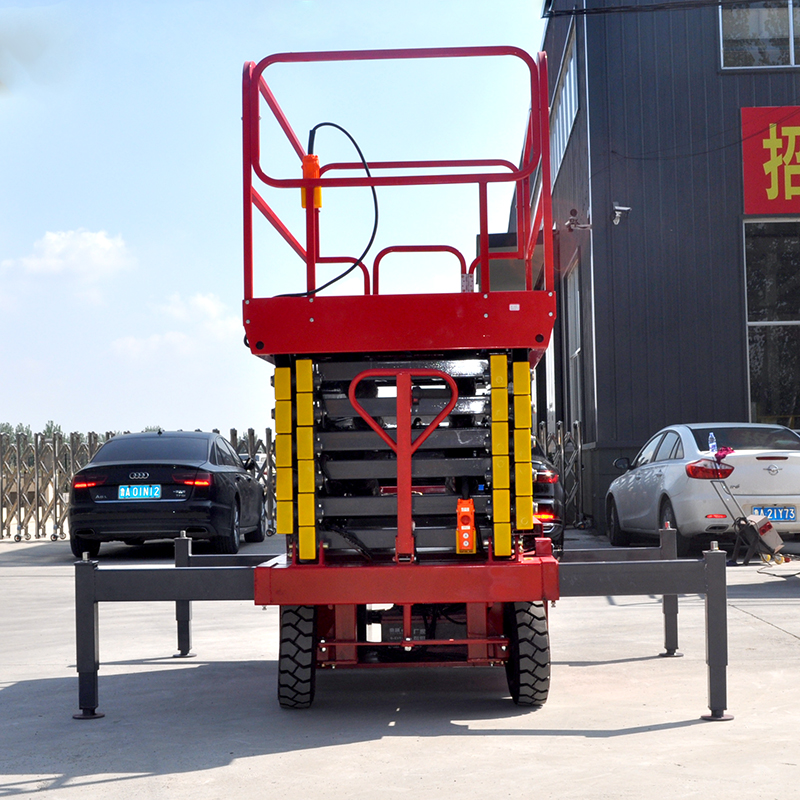 The mobile scissor lifting operation platform mostly adopts the scissor lifting structure. The towable scissor lifting structure is made of manganese steel rectangular tube of Shanghai Baosteel. This series of products have the characteristics of flexible movement, stable lifting, convenient operation and large load. This series of products mostly use electro-hydraulic as lifting power, and the power forms are diverse: single-phase 220V AC power supply, three-phase 380V AC power supply, DC 12V (24V, 36V, 48V, 60V), AC and DC dual-purpose or diesel engine. There are many ways to move, such as manual movement, manual assisted movement, self walking, track electric movement and so on. The hydraulic system accessories and electrical accessories of this series of products are products of domestic and foreign brands, and the product quality is guaranteed. It is mainly applicable to industrial and mining workshops, enterprises, stations, docks, buildings, exhibition halls and other high-altitude workplaces.
● safety protection device to prevent overload of lifting platform is set;
● safety protection valve is set to prevent hydraulic pipeline from cracking;
● emergency descent device in case of power failure;
● the lifting mechanism is made of high-strength manganese steel rectangular tube;
● emergency protection function of emergency stop button; The lifting platform and chassis are respectively equipped with control system and emergency stop button, which increases the safety of equipment use;
● flap mechanism; The patented pit protection safety baffle system of screw rod lock system can more effectively protect the safety of operators;
● platform AC power supply input and emergency manual; The chassis is equipped with emergency manual lowering rod and forklift plug-in interface;
● the working platform shall be equipped with AC power socket; Facilitate the use of electric tools / welding equipment for high-altitude workers;
● safety instructions and instructions labels; Provide users with more humanized operation convenience;
● anti skid footrest of working platform; Increase the safety of staff on the platform;
● ground control; The staff can realize the lifting function of the equipment on the ground;
The crawler scissor lift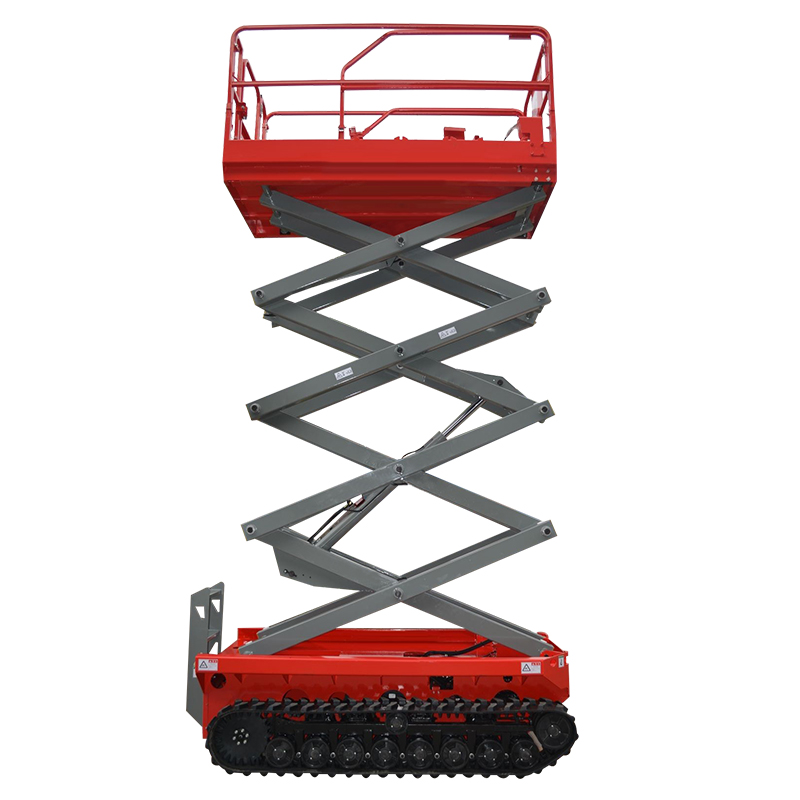 Crawler scissor lift is a mobile shear fork lift specially designed for high-altitude operation under complex road conditions in the field. It has strong adaptability to the environment and can carry out high-altitude operation without power supply in the field and complex road conditions. It adopts crawler wheel and weighted chassis. The diesel engine drives the elevator to walk. The battery is used as the control and lifting power supply, and the lifting and lowering of the driven elevator are controlled through the control button. The diesel engine can also be used as the lifting power, and the lifting and lowering of the elevator can be controlled through the manual hydraulic operating rod. The battery is charged by the external power supply or driven by the diesel engine. The Crawler scissor lift adopts a weighted chassis. When working, it does not need outriggers. After the elevator is raised, it does not need to put the elevator away to walk, which greatly improves the work efficiency. At the same time, its crawler wheel increases the area in contact with the earth and can walk and work on muddy roads in the field. It is an important tool for oil exploration It is an ideal equipment for field high-altitude operation such as field communication line installation and construction