4m OEM ODM Portable AC DC Double Mast Aerial Work Man Lift
In the ever-evolving landscape of modern industries, efficient and safe elevated access solutions are paramount. Enter the groundbreaking 4m OEM ODM Portable AC DC Double Mast Aerial Work Man Lift, a versatile masterpiece meticulously crafted to redefine the way you approach elevated tasks. With a seamless fusion of cutting-edge technology, customizable options, and safety features, this lift stands as a true testament to innovation and practicality.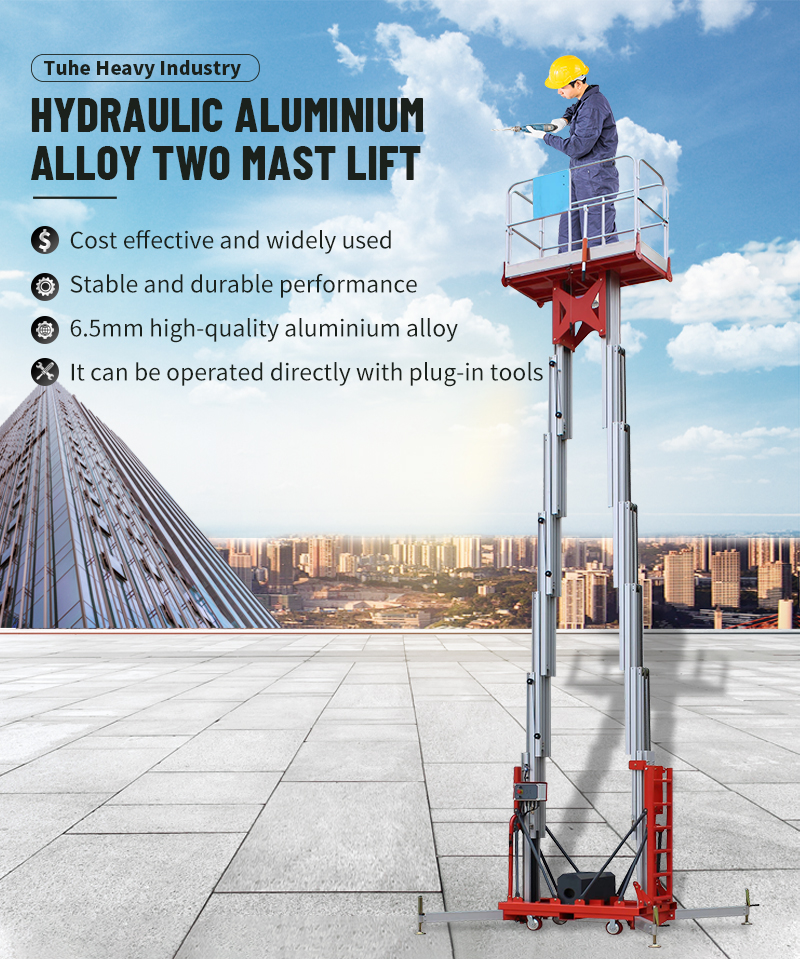 1. Large Working Range
The 4m OEM ODM Aerial Lift Platform boasts an expansive working range that empowers operators to reach heights of up to 4 meters. Whether it's maintenance, repairs, installations, or inspections, this lift platform enables access to elevated areas that were previously considered challenging to reach.
2. High Elevation Capability
Elevate your operations to new heights with the lift platform's exceptional elevation capability. It provides operators with the ability to work effectively at considerable heights, increasing operational efficiency and scope.
3. Large Load Capacity
One of the defining attributes of this lift platform is its substantial load capacity. With the capacity to accommodate both operators and equipment, it ensures a stable and secure workspace, enhancing productivity and facilitating multitasking at elevated heights.
4. Customization: OEM and ODM Options
Recognizing the diversity of industry needs, this lift platform offers both Original Equipment Manufacturer (OEM) and Original Design Manufacturer (ODM) customization options. Tailor the platform to align with your specific requirements, from functionality to aesthetics, and witness a solution that seamlessly integrates into your workflow.
5. Efficient and User-Friendly Operation
The lift platform is designed for intuitive and user-friendly operation. With simplified controls and mechanisms, operators can quickly become proficient in its use, minimizing downtime and optimizing task completion.
6. Enhanced Safety Features
Safety is paramount, and the 4m OEM ODM Aerial Lift Platform reflects this commitment through its array of safety features. From guardrails to secure platform flooring and emergency stop buttons, operators are provided with a secure and protected environment, allowing them to focus on their tasks with confidence.
7. Portability and Maneuverability
Transporting the lift platform between different work areas is a breeze, thanks to its portable design and easy maneuverability. Its compact size and hassle-free mobility ensure that it can seamlessly navigate through various environments, enhancing operational efficiency.
8. Unlocking Potential, Elevating Success
The 4m OEM ODM Portable Aerial Lift Platform is more than a mere piece of equipment; it's a gateway to enhanced productivity, safety, and success. Whether you're in construction, maintenance, manufacturing, or any industry requiring elevated access, this platform becomes an invaluable asset, enabling you to execute tasks with finesse and efficiency.
With its remarkable features and dedication to quality, this lift platform is an investment that promises long-term value. Embrace the future of elevated access and experience firsthand how the 4m OEM ODM Portable Aerial Lift Platform can revolutionize your operations. Contact us today to explore how this platform can be customized to cater to your specific needs, empowering you to unlock your full potential.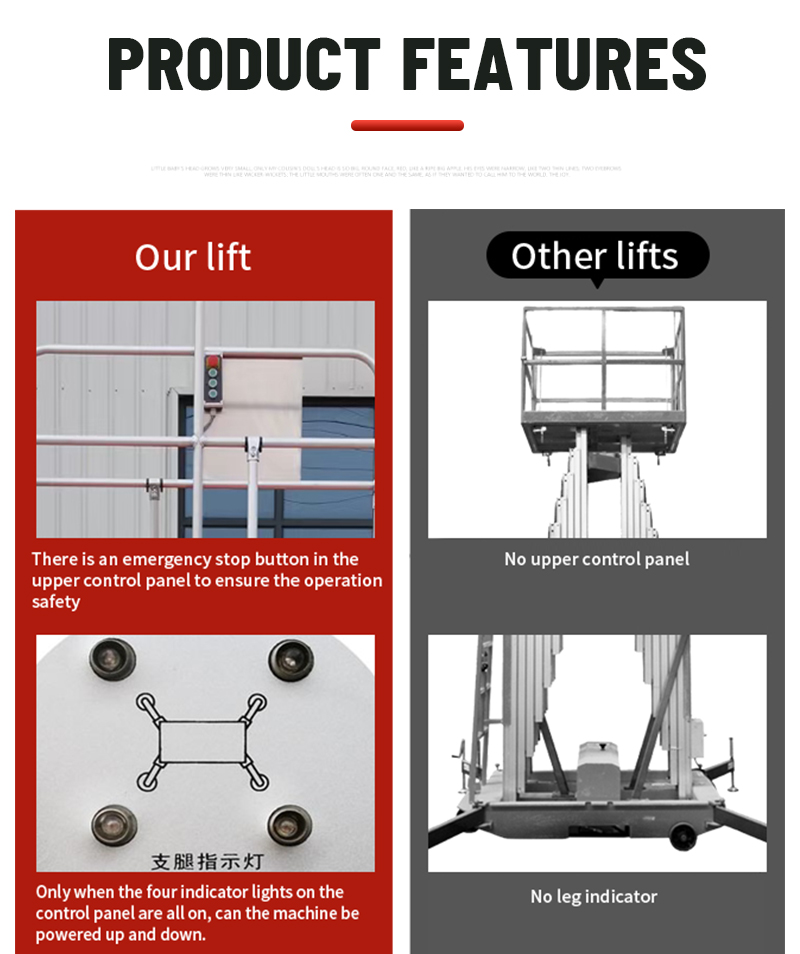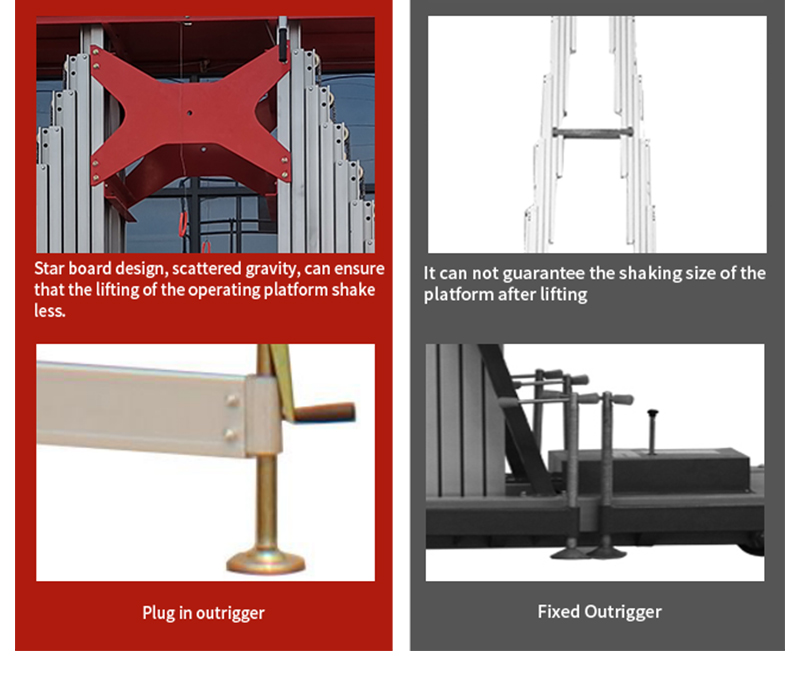 In the dynamic landscape of industrial equipment, where functionality, efficiency, and durability reign supreme, the 4m AC DC Double Factory Aluminum Alloy Lift emerges as an embodiment of engineering excellence. Crafted with meticulous precision, this lift platform showcases an impeccable fusion of advanced technology and superior design, setting new standards in the realm of elevated access solutions.
At the heart of this exceptional equipment lies the ingenious integration of AC DC power capability. This innovative feature grants operators unparalleled flexibility by enabling the lift to operate seamlessly using both alternating current (AC) and direct current (DC) power sources. Such adaptability ensures that the lift remains functional regardless of the power supply available, translating into uninterrupted operations and heightened productivity.
The choice of aluminum alloy for its construction is a testament to a commitment to excellence. Renowned for its inherent qualities, aluminum alloy brings forth a harmonious blend of lightness and strength. This combination not only facilitates effortless mobility but also reinforces the lift's structural integrity, allowing it to effortlessly bear the demands of various tasks at elevated heights. Moreover, this choice of material contributes to the lift's remarkable longevity, extending its service life and providing exceptional value for investment.
In a realm where quality reigns supreme, the 4m AC DC Double Factory Aluminum Alloy Lift stands tall as an epitome of craftsmanship. The meticulous attention to detail extends beyond performance, encompassing every facet of its existence. From the rugged construction to the streamlined design, every element exudes an aura of excellence, instilling confidence in its capability to excel in the most demanding of scenarios.
It is not merely a piece of equipment; it is a statement of unwavering commitment to providing the best. The quality, appearance, and material of the lift are meticulously curated to stand at the forefront of industry benchmarks. This dedication to perfection ensures that the lift not only performs flawlessly but also becomes a symbol of trust and reliability for operators and businesses alike.
The 4m AC DC Double Factory Aluminum Alloy Lift is a testament to the relentless pursuit of engineering innovation and excellence. With its AC DC power capability, aluminum alloy construction, and meticulous attention to detail, it seamlessly combines technology, durability, and aesthetics. This lift is not just a tool; it is a manifestation of a commitment to providing the best in terms of quality, appearance, and material. As it enters the realm of industrial equipment, it leaves an indelible mark, setting new standards and redefining the way we approach elevated access solutions.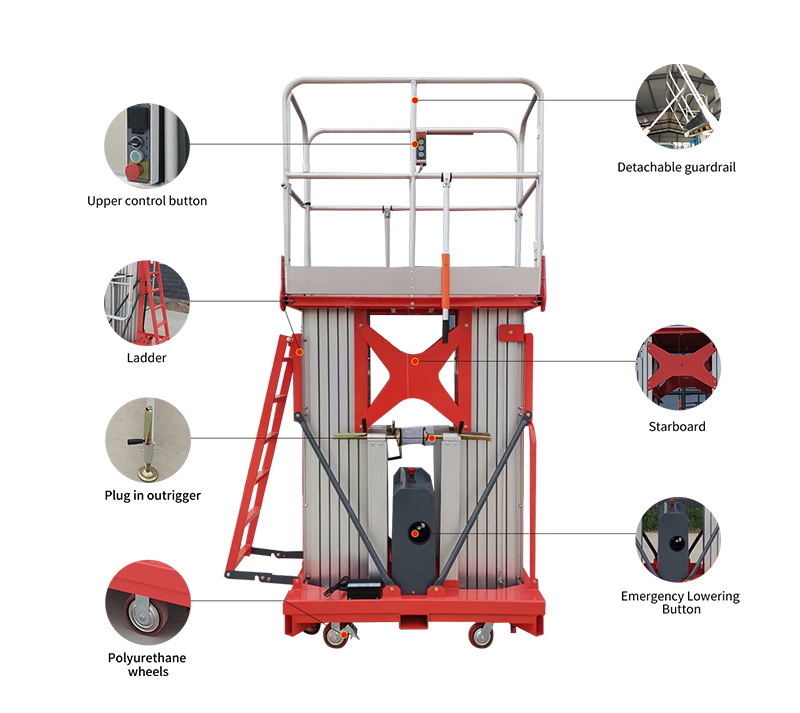 4m Aerial Work Man Lift Platform lift have emergency button, ladder, polyurethane wheels, starboard and detachable guardrail, in case of emergency, it can be safely and steadily lowered.
Packed in wooden boxes to ensure the safety of the goods to your door.
FAQ
1. What is the maximum working height of the 4m Portable AC DC Double Mast Aerial Work Man Lift?The lift provides a maximum working height of 4 meters, catering to a range of elevated tasks.
2. Is this lift suitable for indoor and outdoor use?Yes, the 4m Portable AC DC Double Mast Aerial Work Man Lift is designed for both indoor and outdoor applications, ensuring versatility in various work environments.
3. How is the lift powered?The lift operates on both AC and DC power sources, granting flexibility in power supply options.
4. What is the weight capacity of the lift platform?The lift platform can accommodate operators and equipment within its weight capacity, providing a stable and secure workspace.
5. What safety features does the lift have?The lift is equipped with safety measures such as guardrails, emergency stop buttons, and secure platform flooring to ensure operator safety during use.
6. How easy is it to transport the lift?The portable design of the lift enables easy transportation between different work areas, enhancing operational efficiency.
7. Is OEM (Original Equipment Manufacturer) and ODM (Original Design Manufacturer) customization available?Yes, the lift offers OEM and ODM customization options, allowing you to tailor the lift to your specific requirements and preferences.
8. How does the AC DC power capability benefit users?The AC DC power capability provides versatility, allowing the lift to be operated using either alternating current (AC) or direct current (DC) power sources, based on the availability and requirements of the work site.
9. Is the lift suitable for various maintenance tasks?Absolutely, the 4m Portable AC DC Double Mast Aerial Work Man Lift is designed to excel in maintenance tasks, providing operators with a stable and secure platform for various elevated tasks.
10. How can I inquire about purchasing or customizing the lift?For inquiries regarding the purchase, customization, or technical details of the 4m OEM ODM Portable AC DC Double Mast Aerial Work Man Lift, please contact our sales team. We are dedicated to assisting you in finding the most suitable solution for your elevated access needs.
Feel free to reach out to us with any additional questions or specific requirements you may have. Your satisfaction, safety, and productivity are our top priorities, and we look forward to helping you achieve your goals with our innovative aerial work man lift.