Factory Vertical Mast Lift price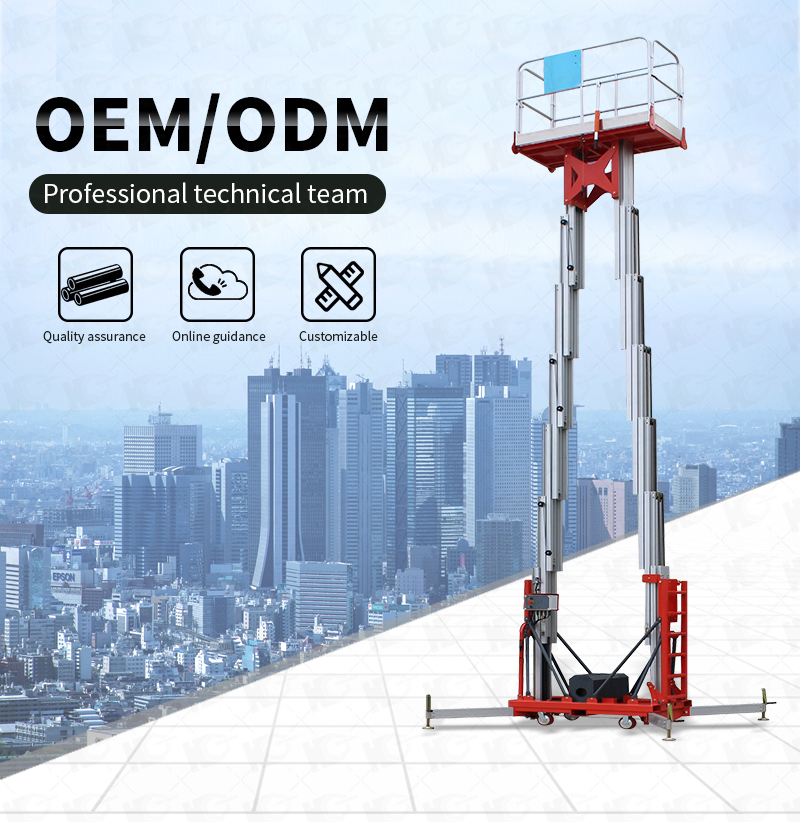 Vertical Mast Lift price

'

s brief introduction:
Vertical Mast Lift price is made of high-strength aluminum alloy, with heavy load, high strength, light weight and small volume, which is convenient for storage and transportation. The lifting height is 4 to 14meters and the load is 200 kg. You can choose different models according to your requirements for different working heights. At the same time, as a manufacturer, the color can be customized according to your preferences. We will give you some safety accessories such as safety rope.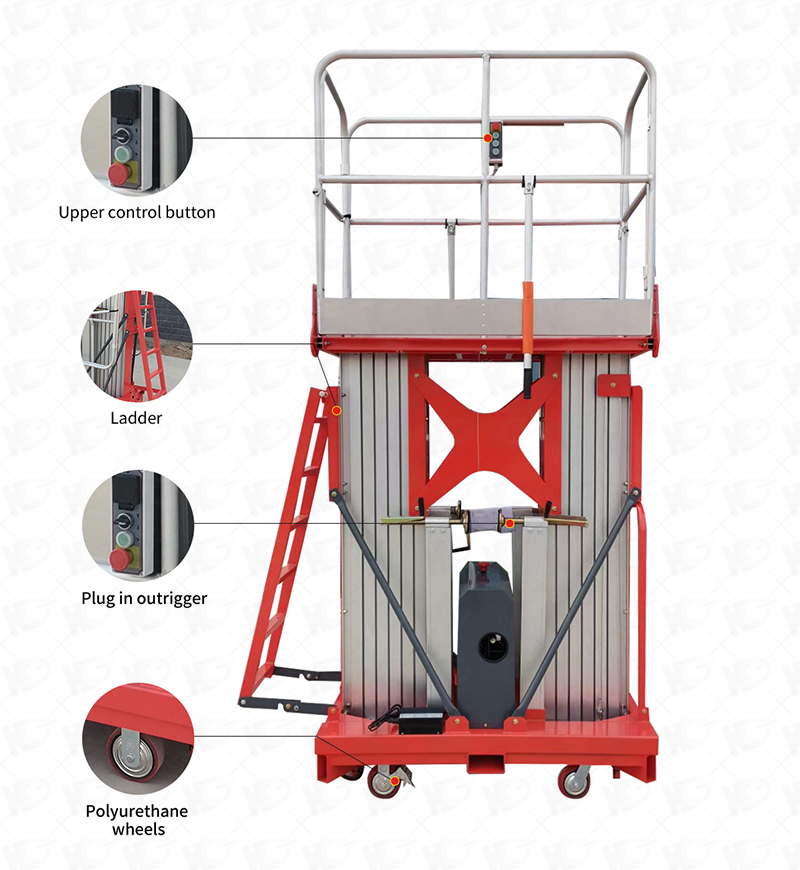 Vertical Mast Lift price

'

details

:
1. Vertical Mast Lift price platform has a high-strength metal guardrail with a height of 1m. In addition, we will attach a safety rope when shipping to ensure the safety of operators
2. Vertical Mast Lift price is lifted by several chains to ensure stability during lifting.
3. The main body of lift is a high-strength aluminum alloy mast with high strength and light weight.
4. Lift can be controlled by the bottom control or by remote control.
5. The use of universal wheel can facilitate the rapid movement of lift in the working area.
6. Four outriggers can ensure the stability of lift.
Model of Vertical Mast Lift price:
| | | | | | | |
| --- | --- | --- | --- | --- | --- | --- |
| Model | Platform height-m | Working height-m | Load-Kg | Platform size-mm | Weight | Dimension |
| THWY4-200 | 4 | 5.7 | 200 | 1100*600 | 380 | 1300*900*1750 |
| THWY6-200 | 6 | 7.7 | 200 | 1100*600 | 420 | 1300*900*1900 |
| THWY8-200 | 8 | 9.7 | 200 | 1150*600 | 550 | 1360*900*2000 |
| THWY10-200 | 10 | 11.7 | 200 | 1350*600 | 600 | 1560*970*1900 |
| THWY12-200 | 12 | 13.7 | 200 | 1450*600 | 700 | 1660*970*2000 |
| THWY14-200 | 14 | 15.7 | 200 | 1450*600 | 800 | 1660*1100*2350 |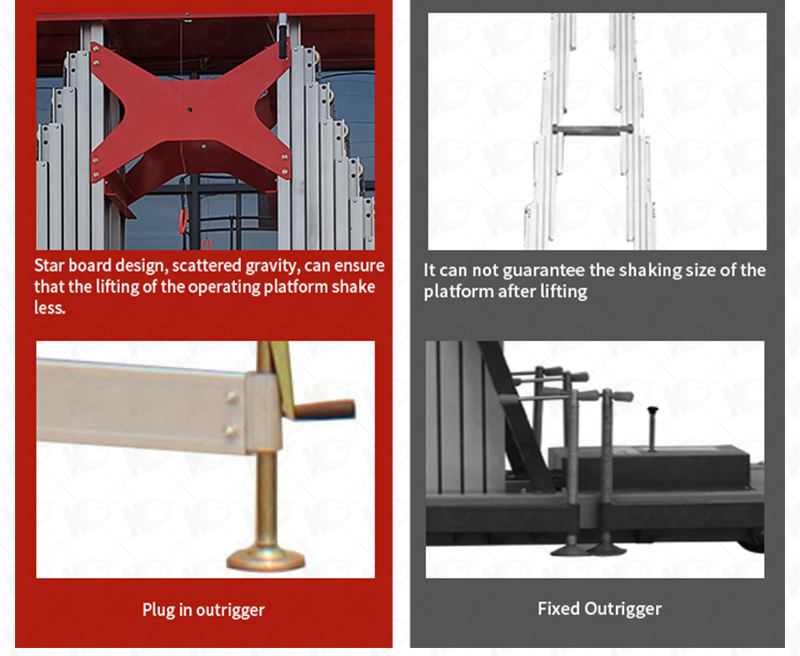 Vertical Mast Lift price

'

advantages:
As a manufacturer, we have a professional R & D team and more than ten engineers. We have been innovating in the field of lift. On the premise of ensuring safety, we have been committed to the improvement of the product itself.
1. Star board design, scattered gravity, can ensure that the lifting of the operating platform shake less.
2. Plug in outrigger.
3. There is an emergency stop button in the upper control panel to ensure the operation safety.
4. Only when the four indicator lights on the control panel are all on, can the machine be powered up and down.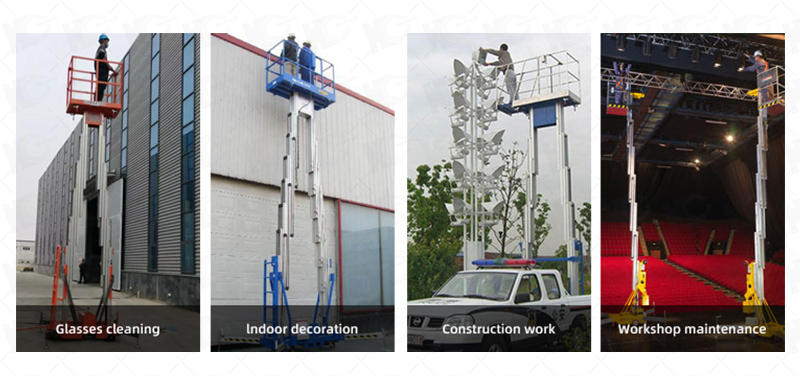 Application of

Vertical Mast Lift price

s

:
Due to its light weight, it is easy to move, Vertical Mast Lift prices are widely used in installation, maintenance and climbing operations in municipalities, street lights, communications, gardens, transportation, docks, airports and ports. For you personally, it is also a very good daily tool for house renovation, courtyard design and so on.
FAQ
What is a factory vertical mast lift?
A factory vertical mast lift is an aerial work platform designed for tasks in industrial and manufacturing settings. It features a single vertical mast for elevation and provides access to elevated areas within factories and warehouses.
What factors influence the price of a factory vertical mast lift?
The price of a factory vertical mast lift can be influenced by factors such as the lift's specifications (working height, weight capacity), brand, additional features (such as battery type, platform size), and whether it's new or used.
What is the typical price range for factory vertical mast lifts?
Factory vertical mast lifts can vary widely in price. Smaller, more basic models might start around a few thousand dollars, while larger or more advanced models can range from several thousand to tens of thousands of dollars.
Is it more cost-effective to buy new or used factory vertical mast lifts?
Both new and used options have their advantages. New lifts offer the latest technology and warranties, while used lifts might be more budget-friendly. Assess your needs and consider factors like maintenance costs and longevity.
Can I negotiate the price of a factory vertical mast lift?
In many cases, there may be room for negotiation, especially when purchasing from a dealer. It's worth discussing pricing options and potential discounts.
Are there any additional costs to consider when purchasing a factory vertical mast lift?
Additional costs might include delivery, taxes, training, maintenance agreements, and any optional accessories or attachments.
Do different brands have different price ranges?
Yes, different brands may offer various pricing tiers based on factors like brand reputation, technology, and features.
Can I customize a factory vertical mast lift, and how does that affect the price?
Customization options, such as platform size, power source, or additional features, can impact the price. Discuss your customization needs with the manufacturer or dealer.
Are there financing options available for purchasing a factory vertical mast lift?
Yes, some manufacturers and dealers may offer financing options to help spread out the cost over time.
How do I find the best price for a factory vertical mast lift?
Research different manufacturers and dealers, compare prices and features, and request quotes from multiple sources. Consider the long-term value and suitability for your specific needs.
Are maintenance and service included in the price?
Maintenance and service may not be included in the initial price. Inquire about available service packages and warranty options.
Can I get a price quote for a specific factory vertical mast lift model?
To get an accurate price quote for a specific model, contact us directly and provide us with your requirements.
For more details about Vertical Mast Lift prices, welcome to contact us!