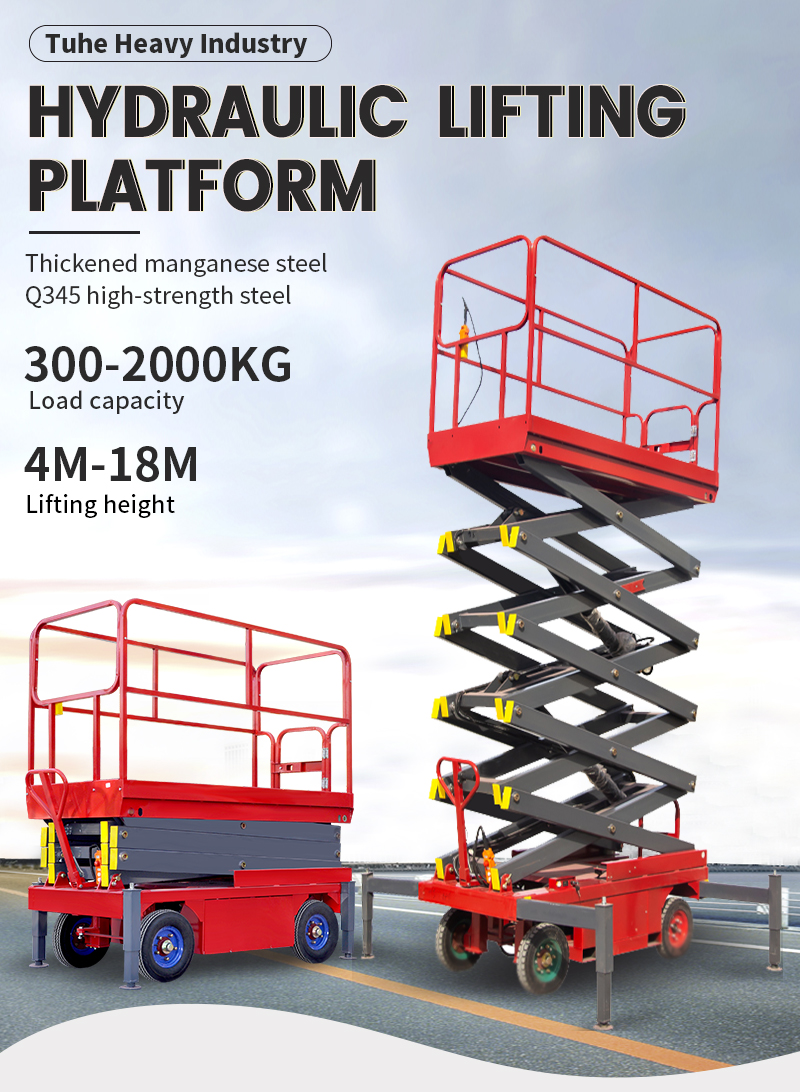 What is a aerial scissor lift work platform?

Aerial scissor lift work platform is a special equipment for high-altitude operations with a wide range of uses. Its scissor mechanical structure enables the lifting platform to have higher stability, a large working platform and a higher load-bearing capacity. Our aerial scissor lift work platform has a load-bearing capacity of 500KG, which makes the range of high-altitude operations larger and more suitable. People work at the same time. It makes work more efficient and safer. Generally used for exterior renovation of buildings, maintenance of street lights, high-altitude operations in factories, etc.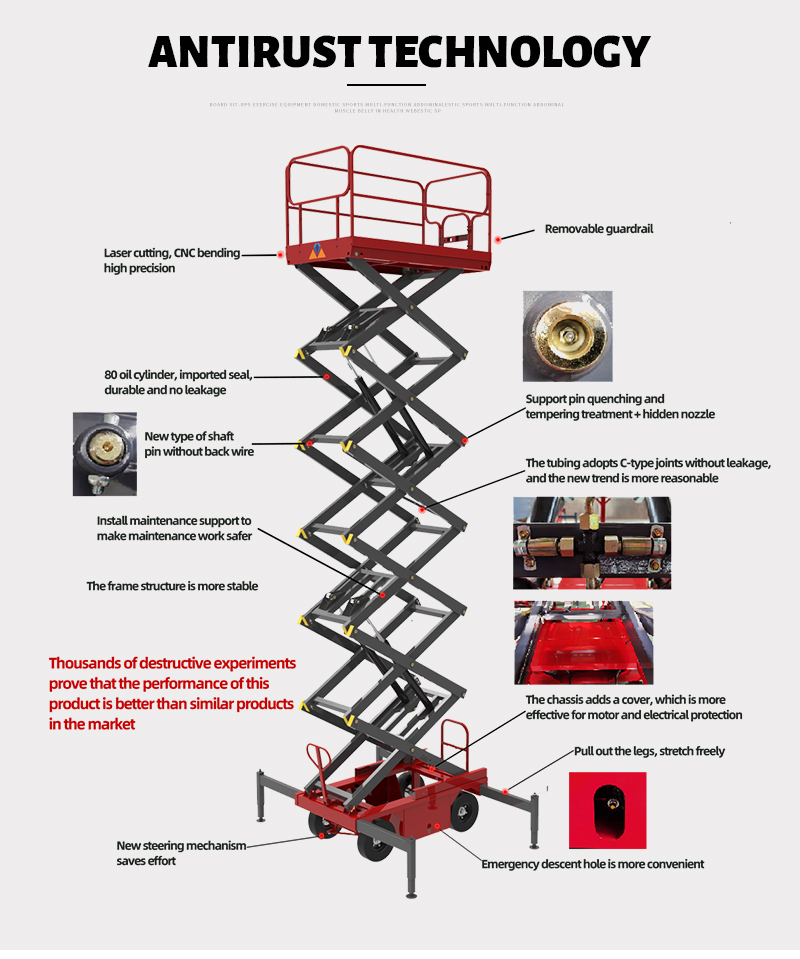 Our company's aerial scissor lift work platform is different from other products on the market.

1. We use pneumatic tires, which have a good control effect, because the weight of the scissors itself is very heavy, and pneumatic tires will not damage the ground. The tire itself is very wear-resistant.
2. Our oil cylinder has better sealing performance, we have done a sealing test, will not leak oil, use longer time, and more durable.
3. Our scissor uses thicker steel, which is thicker than the ordinary scissor on the market.
4. Detachable guardrail and telescopic legs are smaller than other products on the market, easy to transport, and low sea freight.
5. The scissor adopts a new type of shaft pin and is equipped with maintenance support to better ensure the safety of the operator.
6. Automatic shot blasting and sandblasting to treat the paint surface, high-voltage electrostatic spraying, so that the paint particles adhere more strongly, and the color will not fade for a long time.
7. Overload protection, if overloaded, the scissor will not continue to rise to protect the safety of the operator. Our company's scissor lift is different from other products on the market.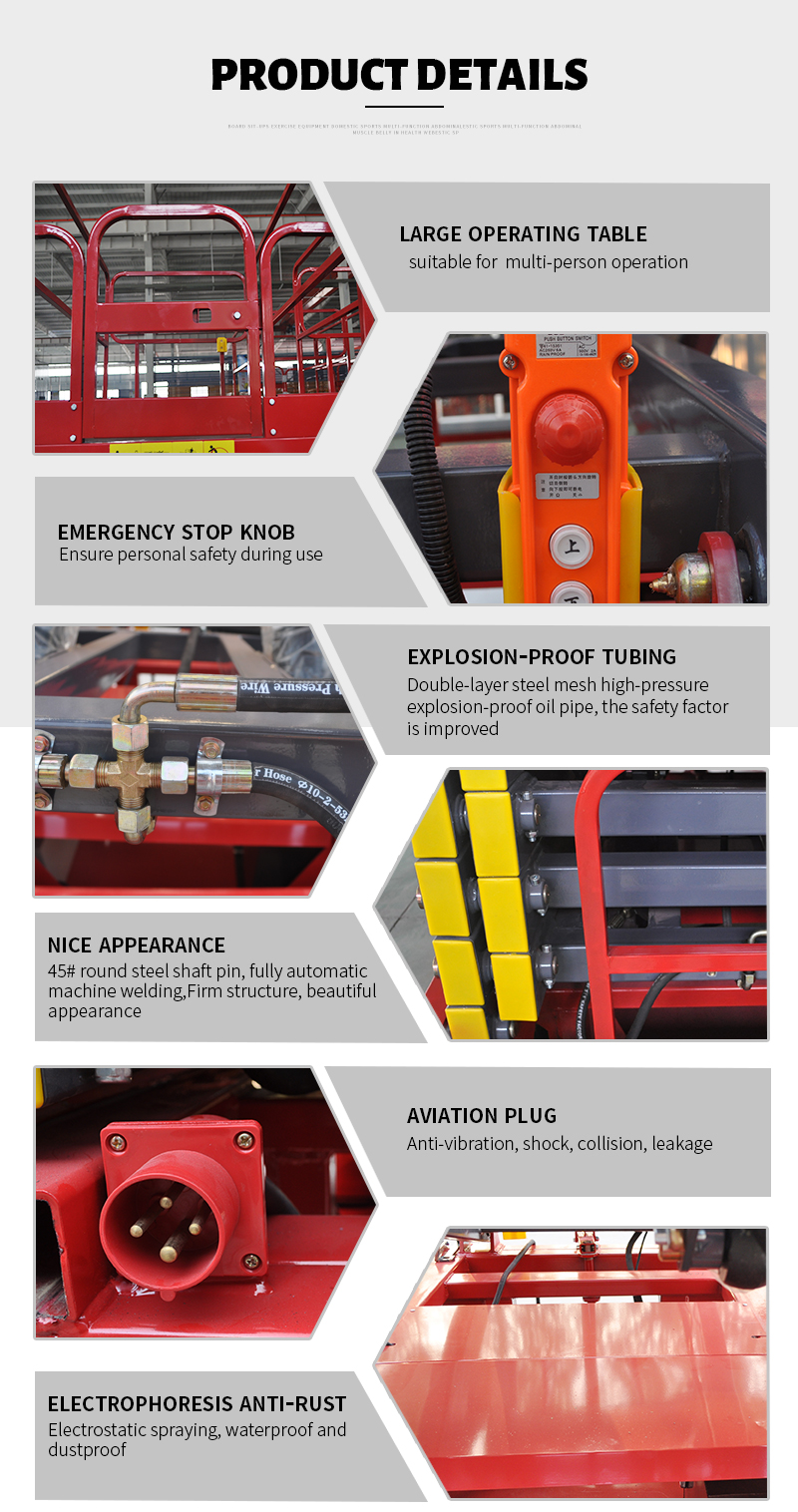 Aerial scissors lift work platform can be customized options.
1. Assisted walking: The standard configuration of the mobile scissor is AC power, manual push-pull walking, if the customer needs to save effort, we can add auxiliary walking, it is more labor-saving and easier to move.
2. Diesel-electric dual-purpose: In many outdoor use places, you may encounter the trouble of power failure. Our customers have replaced diesel engines with more powerful diesel power.
3. Extension platform: We can install a telescopic table (0.6m) on the platform of the aerial scissor lift to make the working table wider.
4. Solid tires: safe and explosion-proof, good durability, strong load-bearing capacity.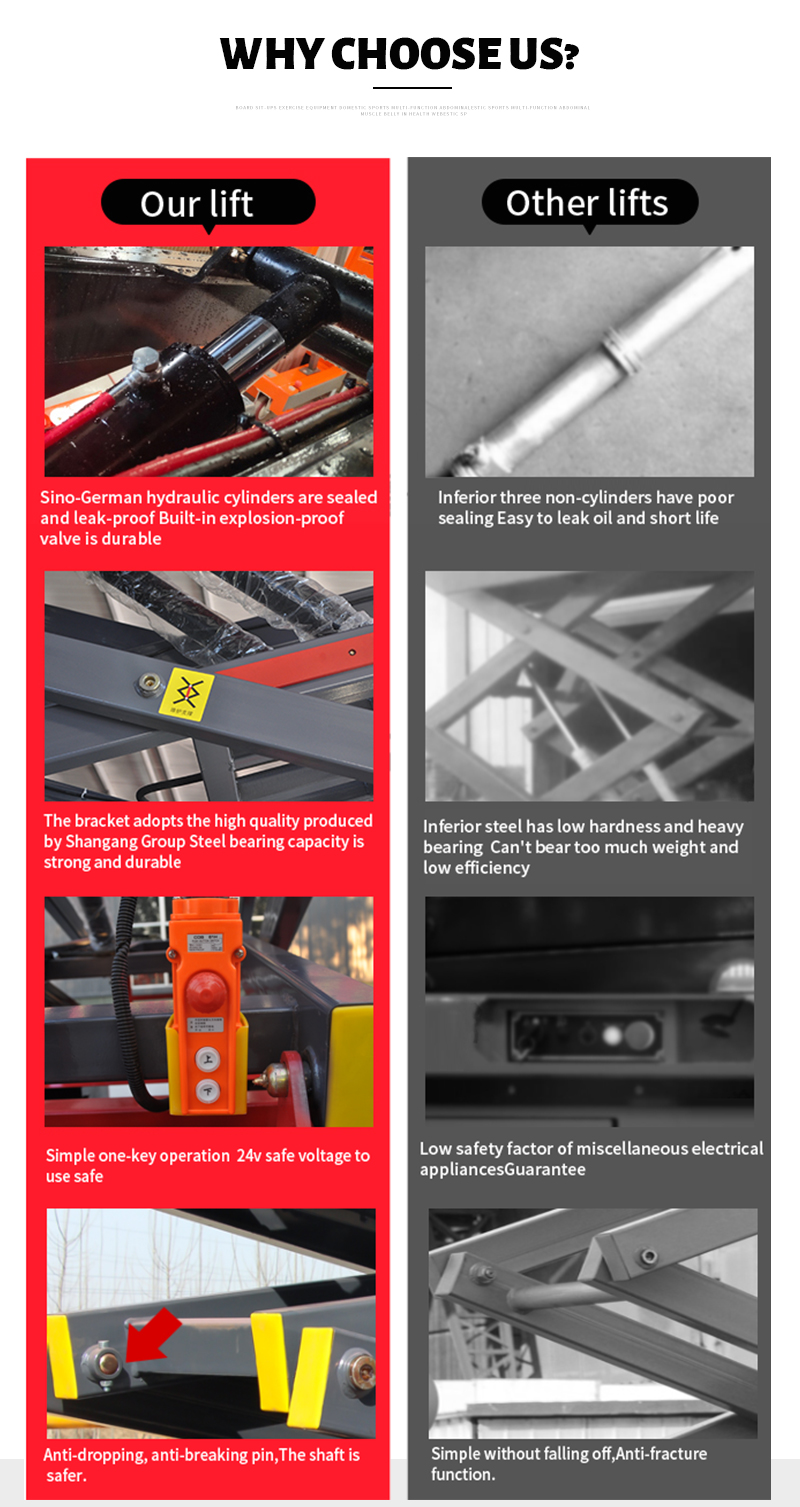 Why choose TUHE?

We have our own factory, and our factory is in Jiyang, the famous hometown of hydraulic lift. We have been engaged in the hydraulic lift industry for more than ten years. We have our own stores in Alibaba, Made in China, Taobao, etc. We are advancing with the times, and now we are mainly engaged in online business. We have customers in North America, South America, Europe, Africa, and Southeast Asia. Customers are very satisfied with our products after receiving them. Welcome to consult!