Boom lift for sale philippines
The Philippines is an export-oriented economy and relies heavily on external markets. In the late 1960s, an open policy was adopted to actively attract foreign investment, and economic development achieved remarkable results. In the early 1990s, as the government adopted a series of measures to revitalize the economy, the economy began to recover in an all-round way and maintained a relatively high growth rate. Today, as the Philippine government has increased its investment in infrastructure construction and agriculture, and promoted tax reforms, the economy has maintained rapid growth.
Boom lift :
Boom Lift is also called "spider boom lift". The main structure of the cantilever lift has four outriggers, the boom, the end has a work basket for carrying staff, and the bottom is a chassis with a control system. It has durable tires and trailer hooks, which can be moved in different working locations by the trailer, and the outriggers can allow it to work on uneven ground.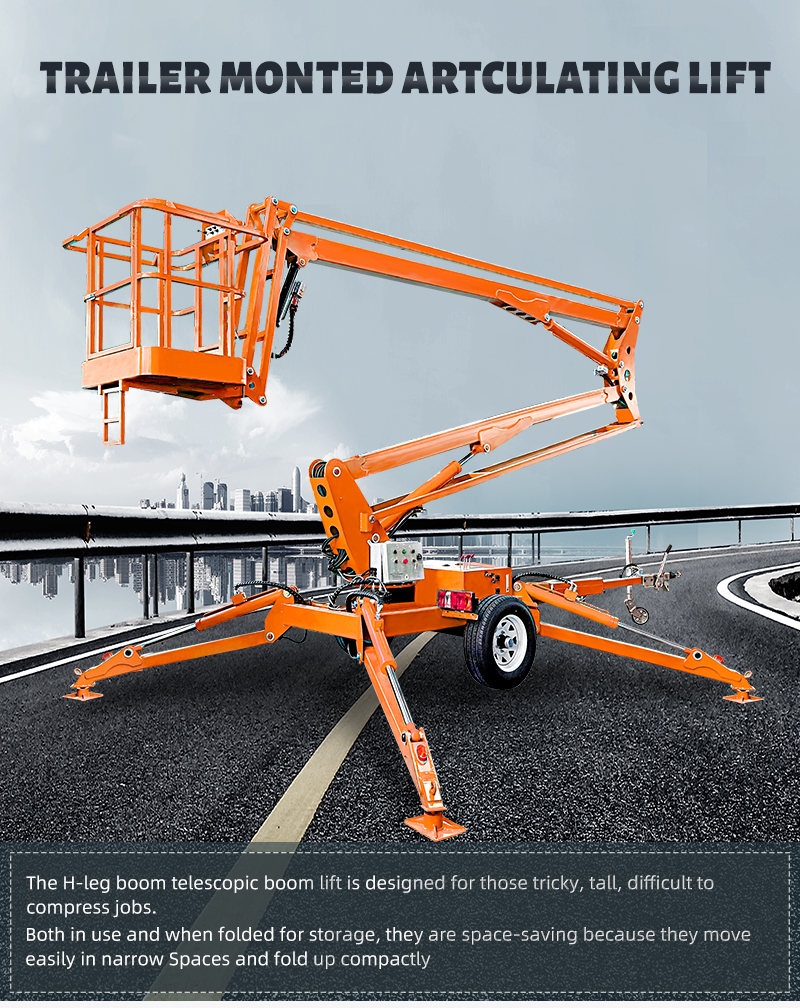 Boom lift for sale philippines
The mobility of boom makes boom lift have excellent working radius, so it can work across obstacles. This is not possible with ordinary lift. In addition, the load of 200kg basket can make two operators, or one operator can carry tools to realize the operation.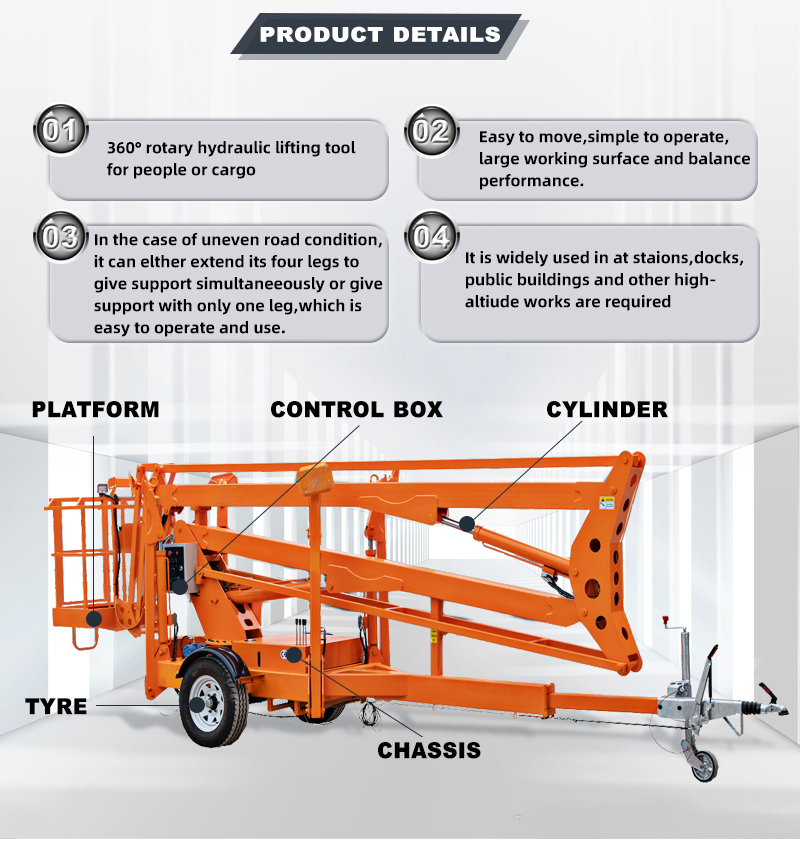 Model

THZB-8


THZB-10

THZB-12

THZB-14

THZB-16

THZB-18

THZB-20

Platform height (m)

8


10

12

14

16

18

20

Work height (m)

10

12

14

16

18

20

22

Platform size (mm)

900*700

900*700

900*700

900*700

900*700

900*700

900*700

Load (kg)

200

200

200

200

200

200

200

Weight (kg)

1500

1700

2000

2350

26

00

4300

4450

Work radius (m)

4.5

5

6

8.5

9

10.9

12.5
Features of Boom lift for sale philippines
Ø Rotate 360 Degrees: Boom rotation depends on it, running stable.
Ø Pneumatic Tire: Pneumatic tires have long wear life, suitable for multiple site operations.
Ø Controller On Platform: The platform controller is equipped with a protective cover, which is waterproof and dustproof. Pneumatic tires have long wear life, Suitable for multiple site operations.
Ø Electric Detector: To insure safety before lift up. Green light means it's OK to lift after the outriggers opened. Red light means it's dangerous to lift.
Ø Outriggers Operate: Easy to operate outriggers with marked sign.
Ø Traction Bar: Germany imported ALKO Brand Brakes.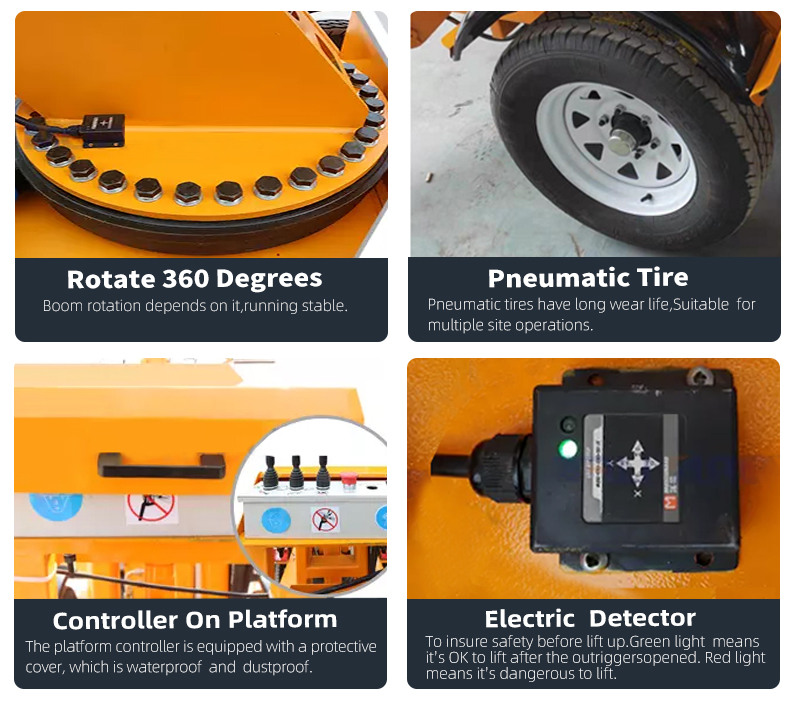 Ø Warning Lights On Outriggers: 4pcs automatic hydraulic supporting legs with flexible angle adjustment function. each leg is equipped with warning light and safety rope hook.
Ø PLC control panel: Unique design PLC control panel. All operations can be done through the touch screen. Standard English interface.
Ø Clearance lam: Indicates the width of the vehicle to prompt the other party and the rear vehicle, The width indicator is used to let other vehicles see when driving in the evening.
Ø Diesel engine: Diesel engine from China most famous brand Changchai.
Ø Petrol engine: Petrol engine from Honda which has EPA certificate.
Ø Batter: Batteries from China famous brand Torch.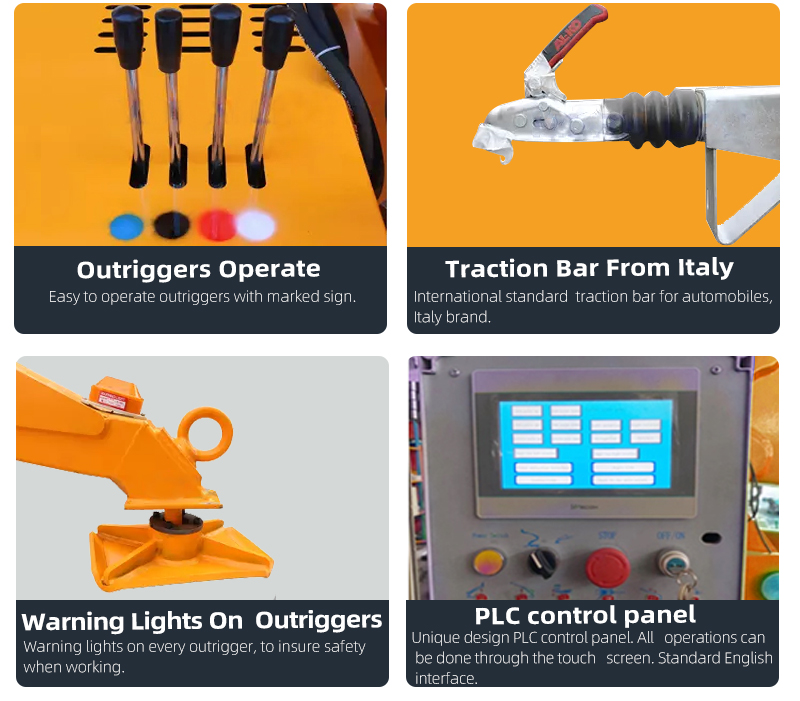 Ø Charging Socket: Anti-vibration, shock, collision, leakage as per requests.
Ø Limited Switch: DELIXI limited switch for safety precaution.
Ø Speed controller: Speed controller, actively adjust the lifting speed.
Ø Galvanized axle pin: Galvanized axle pin, anti-rust and anti-wear
Ø Hydraulic pump station: Equipped with special lit pump station which has good stability and long service life.
Ø Oil tube: Double layer high pressure explosion proof hydraulic special oil pipe.
Ø Manhole: Manhole for easy maintenance
Ø Telescopic arm: Telescopic Boom for 14m 16m model types
Ø Safety lock: Safety lock of basket prevent shake when tow the basket
Boom lift for sale philippines
Lift itself has upper control and the bottom control. You can control the operation of the whole machine on the ground, or you can control the operation in the basket.
For more details, welcome to contact us!