Scissor lift average price.
An important factor that affects the price is the height a scissor lift can reach.
The lowest height scissor lift is 3 meters and four meters, which is 10-13 feet, and its cost is between 4000-5000 USD dollars.
A new 20-foot scissor lift can cost between USD 6,000 and USD 7,000.
If you need more range than that, if you buy a new 26-foot scissor lift, the cost is between USD 7100 and USD 8000. Prices vary depending on the condition of the machine and the height it can reach. We can add outriggers to increase stability. The price of a new scissor lift depends on a variety of factors, such as lift type, power source, maximum range, and the maximum weight the lift can carry. If you buy a new scissor lift, expect it to cost more than the used machine you find.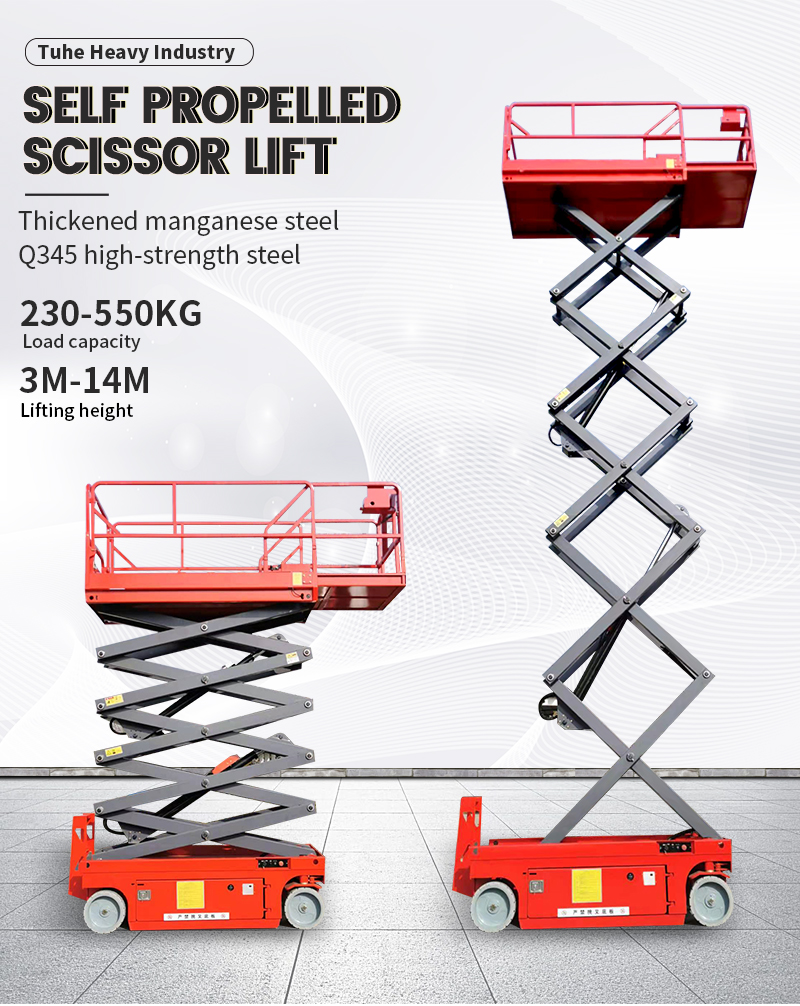 How much does a scissor lift rental cost?
3m - 6m working height electric scissor lift rental: USD90 - USD270 per day
8m working height electric scissor lift rental: USD110 - USD310 per day
10m working height electric scissor lift rental: USD110 - USD350 per day
12m working height electric scissor lift rental: USD120 - USD370 per day
14m working height electric scissor lift rental: USD140 - USD450 per day




How much does it cost to buy a scissor lift?
3m 4m is a mini scissor lift, it is small in size, light in weight and cheap. Can carry 1-2 people to work.
3m: Lifting height electric scissor lift:4,080USD/Unit
4m: Lifting height electric scissor lift:4,230USD/Unit
6-14 meters are standard size scissor lifts. It is large in size and can carry 3-4 people to work at heights.
6m lifting height electric scissor lift :7,540USD /Unit
8m lifting height electric scissor lift:7,880USD/Unit
10m lifting height electric scissor lift :8,050USD/Unit
12m lifting height electric scissor lift :8,215USD/Unit
14m lifting height electric scissor lift :11,350USD /Uni
Scissor lifts are heavy machinery that help lift people or equipment to high places. One of their main uses is to reach storage racks in warehouses, the upper limbs of trees, or high places in construction projects that often require scaffolding.
Scissor lifts move vertically, like elevators with basic safety railings instead of walls. It provides increased safety for workers and a faster way to reach elevated areas, especially if you use heavy equipment or store large weight of tools.
Depending on your needs and budget, you can buy a new or used scissor lift. Some sellers offer you a rental option if you don't have all the funds up front. Additionally, stores often offer scissor lift rentals for a daily, weekly or monthly fee.
Scissor lifts are a great time saver for indoor and outdoor work. If your business requires you or your employees to work on a high floor, a scissor lift is a worthwhile investment.
Advantages and disadvantages of scissor lift rental.
For short-term use of lifts, leasing is a good way to go, and if you only need to use a scissor lift for a few hours, days, or even weeks to get a job done, there's no point in buying it. Take an eight-meter scissor for example, if you only need it for a week, the possible rental price is about USD1,000. If you buy a new machine, you need about 7000USD.
Renting is a time saver, and if you need an extra machine to help get the job done faster, considering renting a scissor lift may be the right choice.
Renting also provides a better understanding of the product's attributes, allows you to choose a machine that is suitable for the height of use, and is the perfect way to try out a new machine before deciding to buy. The renter is generally not responsible for costs such as maintenance, but some may be factored into the final rental price. Either way, you won't have to worry about downtime due to equipment malfunction or failure. You can usually quickly swap your unit for another elevator lease and get back to the job at hand.
Renting allows you to test different models to find the perfect lift. Investing in elevators can mean long-term commitment to specific hardware. Leasing gives you the freedom to return it to the rental company for use of specialized lifts, such as those used for rough terrain.
The disadvantage of rental:
Leasing options may be limited due to local inventory levels or regional demand. You may have no choice but to find alternatives. If there is no alternative, you need to wait for the machine you need.
Rental equipment will not be equipped with instructions for use and pre-operation training, and the renter needs to study how to use it by himself.
Not all rental equipment is equipped with next-generation technology or the latest technology, but these lifts are typically used more frequently and replaced earlier. Tenants facing tight budgets can still use the necessary equipment. Without a local rental agency providing them with the equipment they need at a reasonable price, many companies will be in trouble.
Advantages of buying:
You'll enjoy the freedom, flexibility and availability of your device when you need it.
You can often benefit from top-of-the-line equipment and new technology. Those who buy directly from a dealer can avoid the need to select alternatives or wait by customizing an order to meet their specific needs.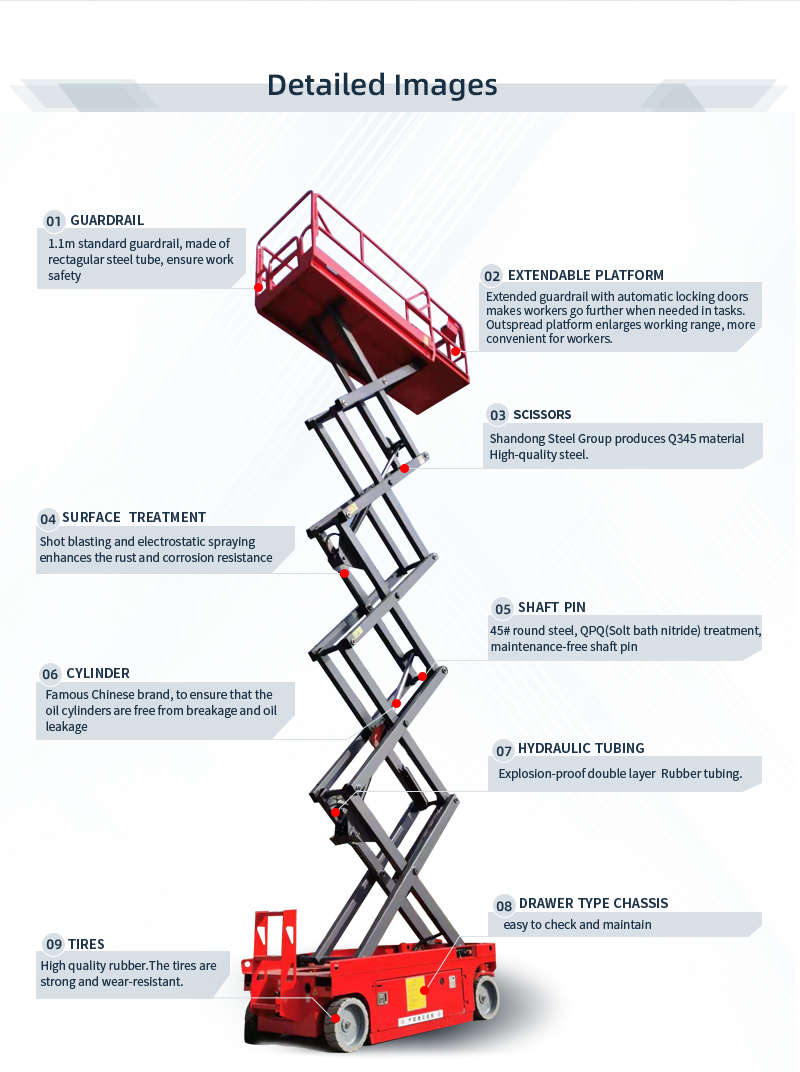 Why do I need to buy a scissor lift instead of a tow boom lift?
Trailer boom lifts, cherry pickers, are quite different from scissor lifts in that they can extend forward, up, out, and over objects. In contrast, a scissor lift is a simple aerial work platform that moves workers up and down.
Trailer boom lifts are usually towed by trucks or vans. Scissor lifts can only extend vertically and must stop directly under the person or object being lifted. When it comes time to rent electric scaffolding for your next project, it's imperative to ensure workers are adequately protected while using the elevator. While a scissor lift involves working from different heights, which poses a safety risk, wearing personal protective equipment at all times can significantly reduce any danger. To avoid a crush hazard, always avoid raising the scissor lift too high, as the ceiling is low there and there is a risk of getting stuck on the platform. Workers must wear seat belts and necessary protective equipment at all times to prevent falls and injuries.
So for individual users, the price of a scissor lift depends on whether you choose to rent or buy. If you use it infrequently and occasionally, our recommendation is for a lease of less than a month, you can choose to rent it. If you use a scissor lift for a long time or need to use it regularly, the construction time is more than two months, you can buy a scissor lift.


FAQ
1. How much does a scissor lift cost?
The cost of a scissor lift can vary widely based on several factors, including the type (electric, diesel, or hybrid), platform
height, weight capacity, brand, and additional features. On average, smaller, entry-level scissor lifts may start around $10,000,
while larger, heavy-duty models with advanced features can range from $30,000 to $80,000 or more.
2. Are there any additional costs besides the initial purchase price?
Yes, there might be additional costs to consider. These may include delivery charges, taxes, optional accessories (e.g.,
platform extensions, tilt sensors), and ongoing maintenance expenses.
3. Can I buy a used scissor lift to save on costs?
Yes, purchasing a used scissor lift can be a cost-effective option. Used lifts are generally more budget-friendly than
new ones and can still offer reliable performance. However, it's crucial to inspect the lift's condition and verify its service
history to ensure safety and longevity.
4. Are there any financing options available for scissor lift purchases?
Many equipment dealers and manufacturers offer financing options, such as lease or loan programs, to help customers
manage the upfront cost of a scissor lift. It's advisable to inquire about financing plans and compare interest rates before
making a decision.
5. How long does a scissor lift typically last?
The lifespan of a scissor lift can vary depending on usage, maintenance, and the lift's quality. Generally, a
well-maintained scissor lift can last around 10 to 15 years or more.
6. Are there any ongoing maintenance costs for a scissor lift?
Yes, scissor lifts require regular maintenance to ensure safe and efficient operation. Ongoing maintenance costs
may include periodic inspections, battery replacements (for electric lifts), and repairing or replacing worn-out components.
7. Can I rent a scissor lift instead of purchasing one?
Yes, renting a scissor lift can be a viable option for short-term projects or occasional use. Rental costs depend on
factors such as the lift type, duration of rental, and additional services required.
8. Are there any safety regulations I need to follow when using a scissor lift?
Yes, scissor lift operation is subject to safety regulations, which vary by region. It's essential to comply with safety
guidelines, provide proper operator training, and adhere to maintenance schedules to ensure safe usage.
9. How can I find the right scissor lift for my specific needs?
To find the right scissor lift, consider your project requirements, working height, weight capacity, indoor or outdoor
use, and any additional features needed. Consult with reputable suppliers or dealers who can assist in selecting the
most suitable lift for your applications.
10. Can I get a warranty for my scissor lift purchase?
Many manufacturers offer warranties for their scissor lifts, covering certain components and providing assurance for
any potential defects. Inquire about warranty options and terms before finalizing the purchase.
Always research thoroughly and obtain multiple quotes to make an informed decision when purchasing a scissor lift,
considering both upfront and long-term costs.