1.

Mobile scissor lifting platform application:
The mobile scissor lifting platform is a special equipment for working at heights, that with a wide range of uses. The scissor-type mechanical structure makes the lifting platform have higher stability after lifting. The machine with wide working platform and higher carrying capacity, which make the range of high-altitude work larger and suitable for multiple people to work at the same time. It makes working at heights more efficient and safer.
Mobile scissors are mainly used in various fields such as street lamp installation and maintenance, advertising installation, photography, garden work, indoor maintenance, docks, etc.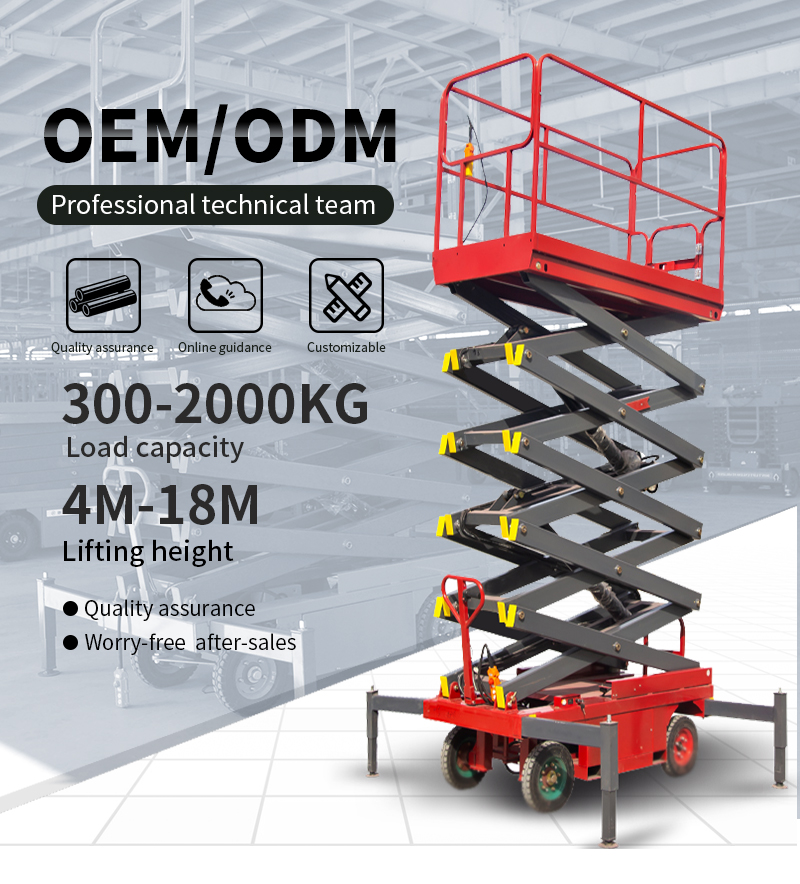 2.

The price of Mobile scissor lift:
The mobile scissor lifting platform have 4m-18m platform height models, the price is depend on the machine lifting height, the higher lifting height will have higher price. The unit price range of the machine is $1800 - $6000.
In addition to the different lifting heights, the load of the machine is also different, the machine has 500kg load and 1000kg load, that depend on your work need. If the machine lifting height is same, the bigger load will have higher price.
We will quote price for you according to the lifting height and load that you need.
3.

How

to

move

the

mobile scissor

lifting platform:
There are 3 ways to move the machine:
(1) Move the machine by manual: If the machine lifting height is 10m or less 10m, that the weight is light, we can move it by manual.
(2) Add assisted walking: If the height of the machine you need is more than 10 meters, the machine weight will more than 1280kg, and it will be difficult for us to move it manually, so I suggest the machine add assisted walking. In this way, the machine will use the battery to move, we only need to control the direction.
(3) Forklift movement: If your machine very heavy, and you don't want to add assisted walking function, you can move it with a forklift, which is also very convenient.
4.

How much cost to rent a mobile

scissor lifting platform:
According to the customers feedback, if we rent a mobile scissor lift, the monthly cost will be $500 - $900.
The mobile scissor lift service life is more than ten years, so the machine can bring a long-term profits for you, and you can also rent or resell machine to someone else when you don't need it anymore, In this way, the mobile scissor lift will bring more profits for you.
5.

The mobile scissor lift working principle:
Machines need electricity to work, if your working environment is not convenient to use AC power, we can also provide the machine with battery for you. Fully charged battery can work all day, so please leave worry free.
The mobile scissors lifting platform working principle is hydraulic, after the power supplied to the motor, the motor will stretch the oil cylinder, and the oil cylinder will make the scissors lift by stretching.
6.

Mobile scissor lift warranty:
(1). Spare parts with the machine.
(2). One-year free warranty, we undertake all charges. Apart from man-made fault.
(3). Free spare parts in 3 years, but after one year customer should undertake freight cost. Apart from man-made fault.
(4). Life time technical support.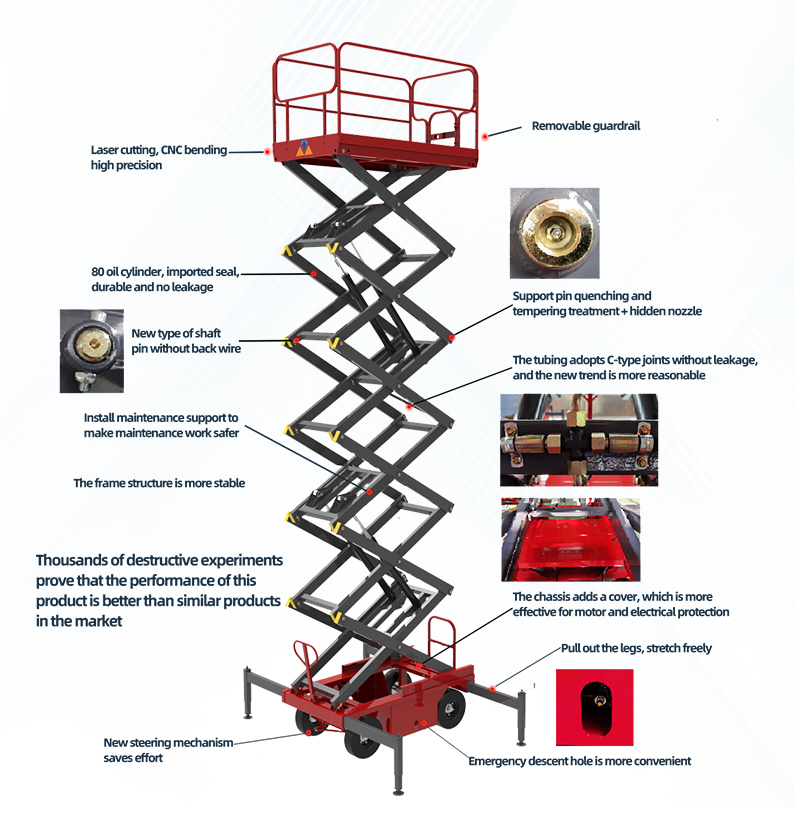 7.

The advantage of TUHE mobile scissor lift:
(1) We are the manufacturer and supplier of mobile scissor lift
(2) Our price is cheaper for mobile scissor lift with the same configuration and specifications in the market.
(3) The mobile scissor lift have CE and ISO certification, we can export machines to various countries, so please rest assured to choose us.
(4) We have a cooperative shipping company, and the delivery cost is relatively cheap than others, we can ship the machine to the port nearest to you.
(5) We have a complete after-sales system
(6) The mobile scissor lift is shipped as a whole, it will packaged by plywood, that can protect the machine very well during transportation. You can use it directly after you receive it.
(7) For standard models, we generally have machine in stock, so we can arrange the delivery for you at anytime, that can help you receive the machine as soon as possible and put it into use.
8.

How to maintain the mobile loading ramp in daily use

:
The machine has no wearing parts and does not require regular maintenance, you just need to do the following:
(1) Please change the hydraulic oil every 1-2 years.
(2) Regularly check whether the shaft pin needs to be lubricated.
(3) If you choose the machine with battery model, please remember to charge it regularly.
9.

How to get the machine quote:
Please leave message for us, and let me know what lifting height do you need. And then we will check the machine price and make the quotation file for you.
Mobile scissor lifting platform are widely used in high-altitude operations, not only with high safety, but also can improve work efficiency, if you have any need or questions about machine, please contact us freely.
10. FAQ
1. How much does a mobile scissor lift cost?
The cost of a mobile scissor lift can vary depending on several factors, including the lift's size, weight capacity, brand, and
additional features. Generally, prices can range from a few thousand dollars for smaller, basic models to tens of thousands for
larger, heavy-duty lifts with advanced features.
2. Are there any additional costs involved in purchasing a mobile scissor lift?
In addition to the initial purchase price, there may be other costs to consider. These could include delivery fees, installation
charges, and optional accessories or attachments. It's essential to clarify all potential costs with the supplier or dealer before
making a purchase.
3. Are used mobile scissor lifts a more cost-effective option?
Yes, opting for a used or refurbished mobile scissor lift can often be a cost-effective alternative to buying new. Used lifts are
typically more budget-friendly while still offering reliable performance. However, it's essential to inspect the lift's condition
thoroughly and ensure it meets safety standards before purchasing.
4. Do mobile scissor lifts come with warranties?
Many reputable manufacturers offer warranties on their mobile scissor lifts, covering certain components or providing a limited
period of coverage for repairs and maintenance. The terms and conditions of the warranty may vary, so it's essential to inquire
about the warranty details when making a purchase.
5. Are there any ongoing maintenance costs for mobile scissor lifts?
Like any equipment, mobile scissor lifts require regular maintenance to ensure safety and optimal performance. Ongoing
maintenance costs may include periodic inspections, routine servicing, and replacement of wear and tear parts. It's essential
to budget for these maintenance expenses to keep the lift in good working condition and extend its lifespan.
6. Can I rent a mobile scissor lift instead of purchasing one?
Yes, many equipment rental companies offer mobile scissor lifts for short-term or long-term rental. Renting can be a
cost-effective option for one-off projects or when the lift is only needed for a specific duration. It also eliminates the
need for long-term maintenance and storage costs.
7. How can I get an accurate cost estimate for a mobile scissor lift?
To get an accurate cost estimate for a mobile scissor lift that suits your specific needs, it's best to consult with reputable suppliers
or dealers. Provide them with details about the required lift specifications, usage requirements, and any additional features
you may need. They can offer customized quotes and help you choose the best option within your budget.