History of human use of hydraulic scissor lift.
The need for vertical transportation is as old as human civilization. The earliest lifts used human, animal, and hydraulic power to lift weight. Lifting devices have relied on these basic power modes until the industrial revolution. In ancient Greece, Archimedes developed an improved lifting device operated with ropes and pulleys, which used winches and levers to wind the lifting ropes on the bobbins.
In 80 AD, gladiators and wild animals took the primitive lift to reach the height of the arena in the Roman Coliseum. The records of the Middle Ages include countless people who lifted the lifting device and patterns that provided supplies to isolated locations. The most famous of these is the lift of the St. Baram Monastery in Greece. The monastery is located on the top of a mountain about 61 meters above the ground. The hoist uses baskets or cargo nets to transport people and goods up and down. In 1203, the lift of a monastery on the coast of France was installed using a huge treadmill, powered by a donkey, and by winding a rope around a huge pillar, the load was lifted.
In the 18th century, mechanical power began to be used in the development of lifts.
In 1743, Louis XV of France authorized the installation of personnel lifts using counterweights in a private palace in Versailles. In 1833, a system using reciprocating rods lifted miners in the Harz Mountains of Germany.
In 1835, a belt-drawn hoist called a "winch machine" was installed in a factory in England. In 1846, the first industrial hydraulic lift appeared. Then other powered lifting devices appeared soon after.
In 1854, American mechanic Otis invented a ratchet mechanism, which was displayed at the New York Trade Fair. The safety lift.
In 1889, when the Eiffel Tower was built, a steam-powered lift was installed, which was later switched to an lift.
In 1892, the lifting equipment of Mount Astilero in Chile was completed. Until now, 15 lifts still use machinery and equipment from more than 110 years ago.
In 1958, the world's first scissor lift came out, with hydraulic system,it became the most convenient way for aerial work. And with years development, 4 varieties have been derived from this series, mobile scissor lift, self-propelled scissor lift, scissor lift table and fixed scissor lift.
Mobile hydraulic scissor lift
Brief introduction of mobile sissor lift:
The mobile scissor lift is a special equipment high-altitude operations with a wide range of uses. Its scissor structure machinery makes the lifting platform more stable. The equipment adopts a high-strength manganese steel structure to increase the quality of the equipment. The large working platform and the ability of load makes high-altitude operations large and many people work at same time. It makes high-altitude operations more efficient and safe! 12m/14m/16m/18m and 20m different platform height to choose from. If you need special load and height, you can order, you can also choose voltage, such as 380v, 220v, battery and fuel engine as the lifting power, special occasions can also choose explosion-proof electrical appliances.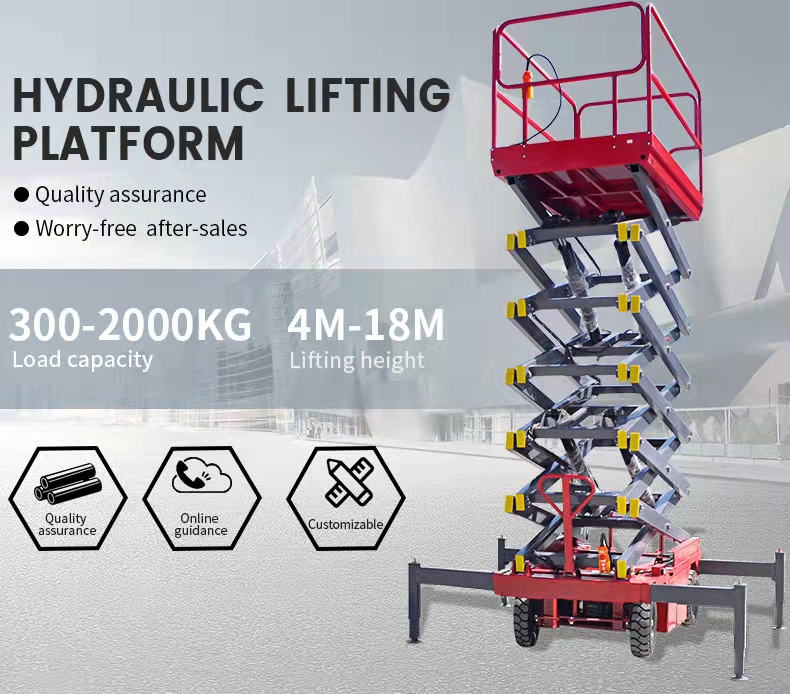 Application of mobile hydraulic scissor lift:
Applicable conditions: construction sites, factories, warehouses, grain depots, stations, hotels, airports, gas stations, stadiums, overhead pipelines and other high-altitude equipment installation, maintenance, cleaning, etc. It is also used for maintenance of lifting equipment and maintenance of field power facilities. Maintenance of steel frame structure workshop, etc. Let me tell you about my own experience. In the past, there was no such equipment in our house. Our family had a tall persimmon tree. Every time I went up to pick persimmons, my father had to climb up on a bamboo ladder, and someone needed someone underneath. Leaning on a ladder is both unsafe and wasteful of manpower. Since my family bought this machine, a weak woman can rise to a high level to pick persimmons. It is safe and saves manpower. Moreover, this machine has a long service life and is convenient for storage. It won't take up much space if you put it in the corner.
Because I have personally experienced our products and know how much convenience they bring to me, I believe in the quality of my products, so I sincerely recommend this products to you.
Custom mobile hydraulic scissor lift:
In order to meet the needs of different customers, we have also made different rectification plans for different customers. We can customer our mobile scissor lifts according to customer requirements. The specific rectifications are as follows: 1. Auxiliary walking: The standard configuration of mobile scissors is AC power, manual Push-pull walking, if customers need labor-saving, we can add auxiliary walking, which is more labor-saving and easier to move.
2. Diesel and electricity: In many outdoor places, you may encounter power outages. Our customers have replaced diesel engines with more powerful diesel power.
3. Extended platform: We can add a telescopic workbench (0.6m) to the platform of the high-altitude scissor lift to widen the worktable.
4. Solid tires: safe and explosion-proof, good durability, strong carrying capacity.
Specifications of mobile hydraulic scissor lift:
| | | | | | |
| --- | --- | --- | --- | --- | --- |
| Model | Platform size(mm) | Lift height(m) | Load(kg) | Weight(kg) | Dimension(mm) |
| THCY-0.5-4 | 2010*930 | 4 | 500 | 850 | 2016*1100*1100 |
| THCY-0.5-6 | 2010*930 | 6 | 500 | 950 | 2016*1100*1295 |
| THCY-0.5-6.8 | 2010*930 | 6.8 | 500 | 950 | 2016*1100*1295 |
| THCY-0.5-8 | 2010*930 | 8 | 500 | 1070 | 2016*1100*1415 |
| THCY-0.5-9 | 2010*930 | 9 | 500 | 1170 | 2016*1100*1535 |
| THCY-0.5-10 | 2010*1130 | 10 | 500 | 1360 | 2016*1290*1540 |
| THCY-0.3-11 | 2010*1130 | 11 | 300 | 1480 | 2016*1290*1660 |
| THCY-0.5-12 | 2462*1210 | 12 | 500 | 1950 | 2465*1360*1780 |
| THCY-0.5-14 | 2845*1420 | 14 | 500 | 2580 | 2845*1620*1895 |
| THCY-0.3-16 | 2845*1420 | 16 | 300 | 2780 | 2845*1620*2055 |
| THCY-0.3-18 | 3700*1628 | 18 | 300 | 3900 | 3700*1628*1950 |
| THCY-1.0-4 | 2010*1130 | 4 | 1000 | 1150 | 2016*1290*1150 |
| THCY-1.0-6 | 2010*1130 | 6 | 1000 | 1200 | 2016*1290*1310 |
| THCY-1.0-8 | 2010*1130 | 8 | 1000 | 1450 | 2016*1290*1420 |
| THCY-1.0-10 | 2010*1130 | 10 | 1000 | 1650 | 2016*1290*1550 |
| THCY-1.0-12 | 2462*1210 | 12 | 1000 | 2400 | 2465*1360*1780 |
| THCY-1.0-14 | 2845*1420 | 14 | 1000 | 2800 | 2845*1620*1895 |
Advantages of mobile hydraulic scissor lift:
1. The mobile scissor lift is driven by the hydraulic system.
2. The hydraulc manual scissor lift has a sturdy scissor structure, and the special structure of the scissors makes the machine more stable.
4. It has a large platform and heavy load capacity, several people can work at the same time, bid farewell to the dangerous way of working Spider-Man.
5. The hydraulic manual scissor lift can increase the telescopic platform, so that the range of high-altitude operation is larger, and it is suitable for more working conditions.
6. The stability of the machine is very high. The maximum load can reach 1 ton, the maximum lifting height can reach 18 meters, and the working height can reach 20 meters. The lifting speed can reach 4-6m/min.
7. Before use, you need to open the outriggers to ensure safety. Exercise requires manual push and pull. You can also add auxiliary walking to make the exercise more labor-saving.
8. Emergency lowering valve: it can be lowered in an emergency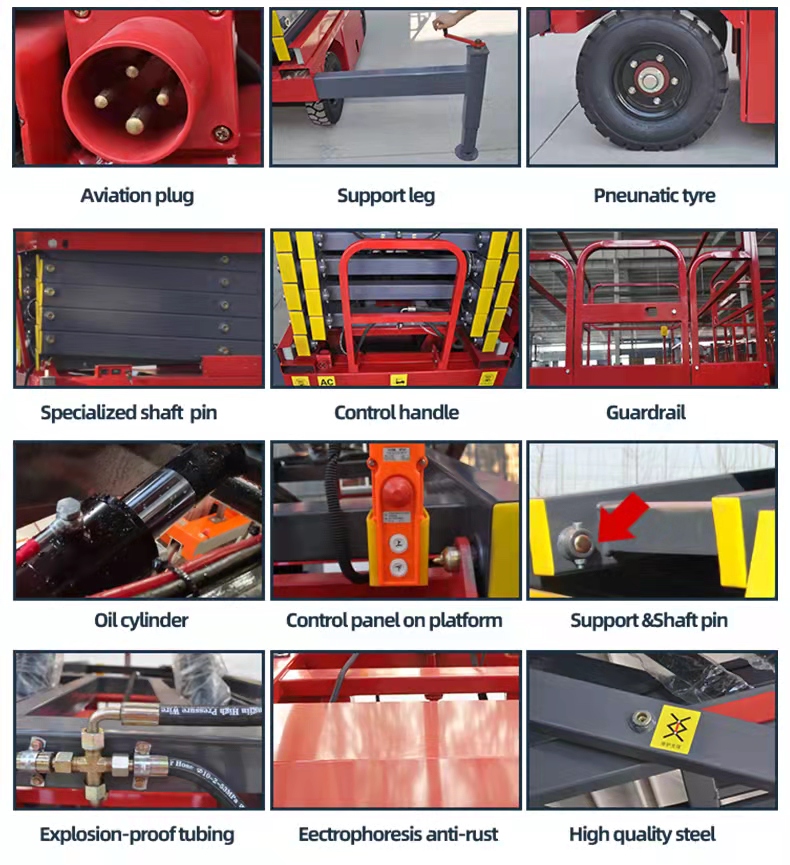 Self-propelled scissor lift
Brief introduction of self-propelled scissor lift: it has its own walking and lifting functions, which can be operated by a single person. The walking speed is adjustable and there is a brake device. A battery is used to drive a DC motor for walking and lifting, an AC motor or a diesel engine can also be used for walking and lifting, and a wireless electronic remote control can also be used for lifting. No manual traction, no external power supply, flexible and convenient movement, making lifting operations more convenient and quick, it is the ideal lifting equipment for efficient and safe production of enterprises now.
Advantages of TUHE self-propelled scissor lift:
It can walk quickly and slowly under different height working conditions, and can continuously complete up and down, forward, backward, and turn tasks on a convenient operating platform in the air. This product uses high-quality structural steel, laser welding electronic manipulator single-sided welding double-sided forming process, Italian original imported hydraulic pumping station or Anshan joint venture hydraulic pumping station, aerospace cartridge valve technology, the platform is equipped with level alarm, balance valve, automatic safety The platform is safe, reliable and durable. The working height can reach 12 meters and the load is 300 kilograms. The fence can be extended horizontally to greatly expand the working range. It is suitable for customers with high-altitude working requirements such as factory workshops, square halls, airports, and parks.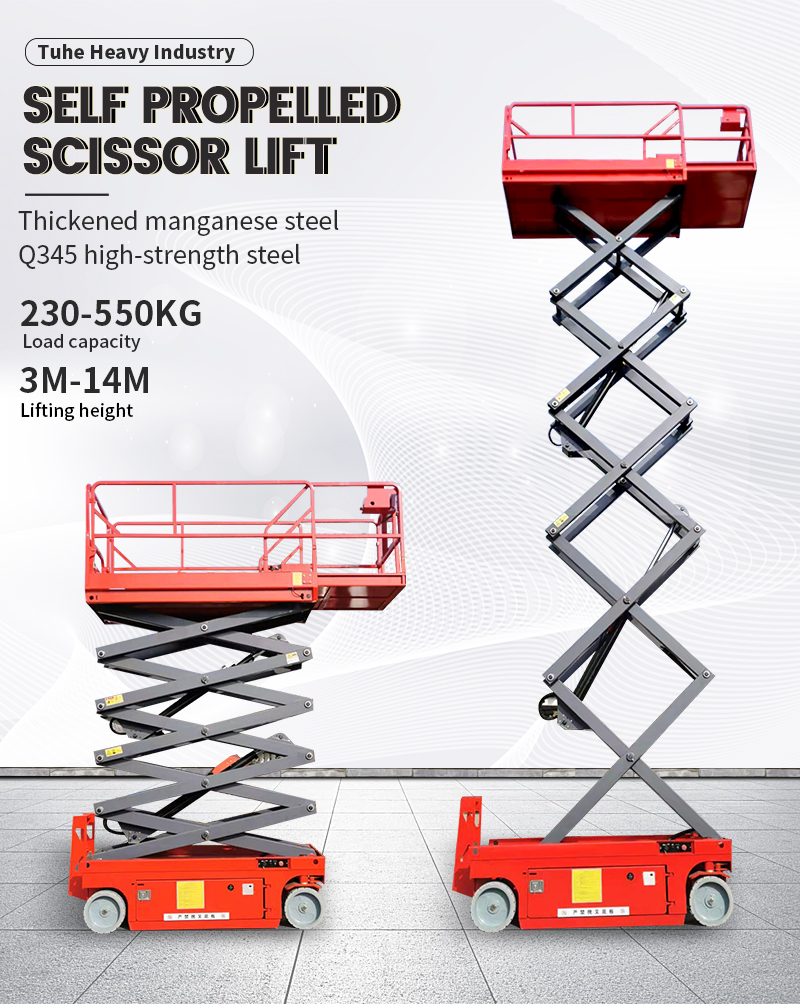 Details of self-propelled hydraulic scissor lift:
Equipment body: Upper countertop Guardrail Electrical system Hydraulic system Struts Cylinder Underframe Wheels
1. ECU: The elevator computer central system, which is equivalent to the computer's mainframe, brain, and all the signal output and reception of the equipment are output and controlled by the ECU. All programs of the equipment are controlled and transmitted by ECU
2. Controller: This controller receives ECU signals, controls the speed of the motor, and realizes the fast and slow walking and lifting of the equipment
3. PCU control handle: The operation of a series of equipment such as equipment walking and lifting, steering, etc., is realized through the control handle. (Equipment up and down, turning, speed switching, horn button, emergency stop switch)
4. Blue box: motor and pump. After the motor is energized, the pump drives the pump to realize the oil supply of the equipment. After the oil is supplied, the equipment realizes normal operation activities such as walking and lifting.
Red box: fuel port.
Green frame: When the vent hole device is lowered, the exhaust prevents the oil tank from spilling; the red pipe in the green frame is the oil return pipe, which mainly returns the oil in the oil tank. Drain back to the fuel tank.
Purple box: It is the normal oil return pipe of the equipment, and the oil return pipe when the equipment drops normally.
5. The main valve, all the oil output and return are carried out through the main valve, through the main valve to pass the oil to the lifting cylinder, hydraulic motor, steering cylinder, etc. to achieve a series of work such as lifting, walking, and steering of the equipment.
6. Filter: Filter impurities in the hydraulic oil in the oil return pipe to increase the service life of the hydraulic oil returning to the oil tank.
7. The hydraulic motor, after being energized and oiled, realizes the walking of the equipment. Compared with the electric wheel, the advantage of the hydraulic motor is that it relies on hydraulic power more.
8. Steering cylinder, after the equipment is energized and oiled, the left and right steering and turning of the equipment can be realized.
9. The oil cylinder lock valve prevents the equipment from falling during normal operation. The built-in explosion-proof valve prevents the oil pipe from being ruptured and the oil cylinder is locked to prevent the equipment from falling by itself.
10. The oil tank return pipe, in case of oil leakage in the oil tank, transports more oil in the oil tank back to the oil tank.
11. (Located under the branches at the rear of the equipment) two travel switches; up travel switch and down travel switch; tilt switch: front and rear tilt slope ≤ 3°; left and right tilt ≤ 1.5°.
12. Charger: When charging, the power display v light flashes, it represents 50%
75% when the A light flashes When the B light flashes, it means 100% When flashing, it is charging, when it stops flashing, it has been charged. When 3 lights are on at the same time, it means it is fully charged.
13. Longsheng charger, advantages: smart charger, wide voltage, the voltage range is 85v-240v 50/60HZ.
Emergency lowering valve: When the equipment is lowered out of control, the emergency lowering valve can be pulled to lower the equipment.

Key switch: upper stage control neutral position lower stage control

Lower table control buttons: equipment up and down control

Fuse

Indicator light: total equipment has 3 indicator lights

Emergency stop switch: The total equipment has 2 emergency stop switches and 1 total power supply. One of the equipment in the off state is without electricity.
14. Green frame: fuse sheet, the equipment current is too large or the leakage is serious, which plays a role of insurance to prevent the controller from burning out.
Red frame: horn Purple frame: buzzer
15. Turnover column, the pothole plate will drop after the equipment is raised, and the pothole plate will return to position after the support rod presses the flapping column after the equipment is stacked.
Gas spring, pothole switch, combined with the flap post to realize the operation of the pothole plate. Remarks: Pothole column flaps (2), gas springs (2), pothole travel switches (2), pothole plates (2), ① Flip the support rod: when the equipment rises and falls, the support rod is responsible for starting the bottom of the equipment Pothole board. ② Pothole switch (travel switch): to control the rise and fall of the pothole plate, and the failure of the pothole plate to work is to send information to the ECU signal After analysis, it is sent to the control handle to display 18③ECU equipment information collector: it mainly collects the data, analysis instructions and codes displayed on the display screen of the handle controller. After the pit plate is erected, it is about 2 cm above the ground, and the equipment is dropped and the pit plate is placed flat about 10 cm above the ground.
16. Battery (U.S. Qiu Jian): 12 meters, 14 meters Model - T-1275 12v / 4 pieces in total, 2 pieces in series, two pieces in parallel for 24v;
6-10m Model-T-105 6v/block Four batteries are connected in series with 24v.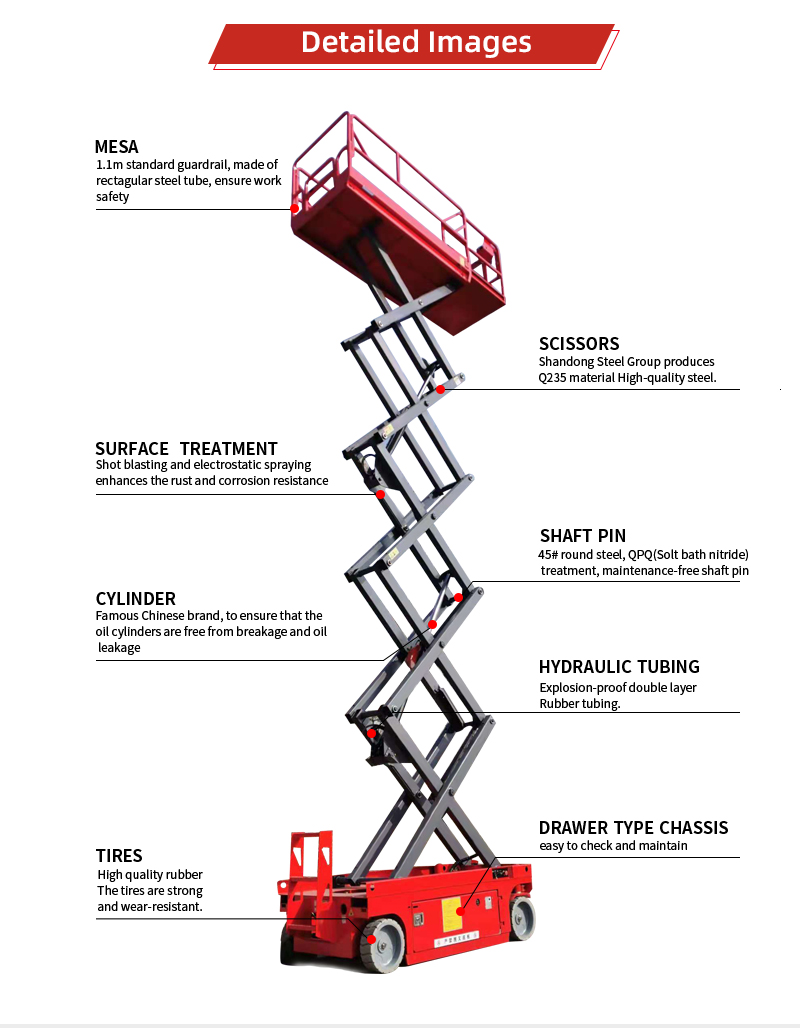 Specifications of self-propelled hydraulic scissor lift:
model


Table size

Load


KG


Net height
M

Dimensions

Table extension


M


Own weight
KG

THJZ-6

2270*1110

450

6

2470*1150*2200

0.9

2160

THJZ-8

2270*1110

450

8

2470*1150*2320

0.9

2310

THJZ-10

2270*1110

320

10

2470/1150/2430

0.9

2510

THJZ-12

2270*1110

320

12

2470*1150*2550

0.9

2650

THJZ-14

2640*1120

230

14

2850*1250*2640

0.9

3700















Hydraulic scissor lift table
Brief introduction of hydraulic scissor lift table:
The mainstream of the market is hydraulic driven . Because of its small size and convenient movement, it is widely used in logistics transportation, warehouse management, libraries, supermarkets, and ordinary small equipment manufacturing industries. Manual hydraulic platform vehicles can be divided into manual hydraulic handling platform vehicles, manual hydraulic stacking platform vehicles, manual hydraulic scissor platform vehicles, manual hydraulic foot platform vehicles and various non-standard sizes.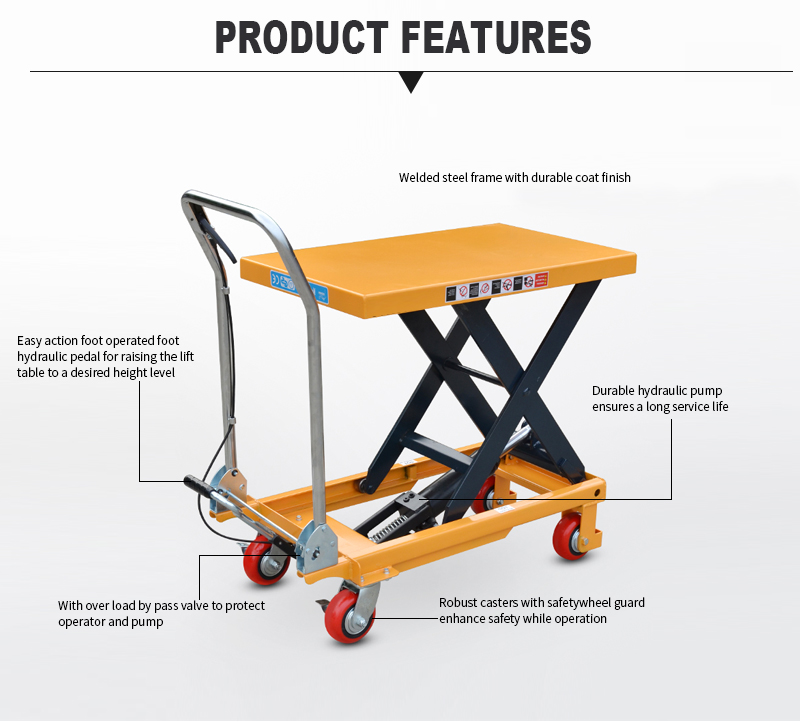 Performance of hydraulic scisor lift table:
The manual scissor lift table is made of high-strength steel, with a reasonable design structure, safe, stable and reliable, with built-in safety valves, fully sealed oil cylinders, and manual control of the hydraulic system to lift, which is convenient and simple to operate. Equipped with nylon guide wheels to save the operator's physical strength, and can protect the load wheels and pallet load wheels. Unique hydraulic pump design, easy to pump, designed to maintain an ideal height for assembly line loading and unloading operations; coupled with a unique ergonomic design, the operator is comfortable to operate.
The manual hydraulic handling lift table is novel in design, reasonable in structure and convenient to use. It is suitable for loading and unloading, handling and stacking of barrels in factories, workshops, warehouses, and oil depots. It is especially suitable for dumping or ingredient use in chemical and food workshops, and can load and unload heavy objects into cars, stacks, and work with hydraulic drum trucks, which can greatly improve work efficiency and reduce labor intensity of workers, and it can also be modified It is used for loading and unloading and lifting heavy objects. It is a new ideal multi-purpose take-off and landing loading and unloading machine.
Types of hydraulic scissor lift table:
2.2.1 The manual hydraulic scissor lift table has the following characteristics: suitable for long-distance transportation; can be equipped with footboards and protective devices; lighter weight, easy to lift the pump; unique caster design to ensure safety; ergonomic handle design to make the operator comfortable.
2.2.2 The starting system of the manual hydraulic stacker is divided into foot pedal and manual control for selection, and the operation is simple. The models are divided into fixed and mobile forks, with a variety of options for ordinary legs and straddle legs. It is very suitable for storage and retrieval of retail products in warehouses and supermarkets. Well-known manufacturing, third-party logistics, and retail industries have solved the trouble of picking up items and handling equipment in a small range, improving the storage efficiency of enterprises in all aspects, improving the efficiency of material circulation, reducing the cost of material handling, and becoming the most popular small-scale material handling in China , One of the excellent storage equipment.
2.2.3 There are many hidden dangers in the use of electro-hydraulic platform vehicles, which are not easy to find in daily maintenance. If these faults of the electric scissor lift table are not dealt with, the electric scissor lift table will eventually be paralyzed. Or more serious consequences. The following questions are details that most operating users often overlook: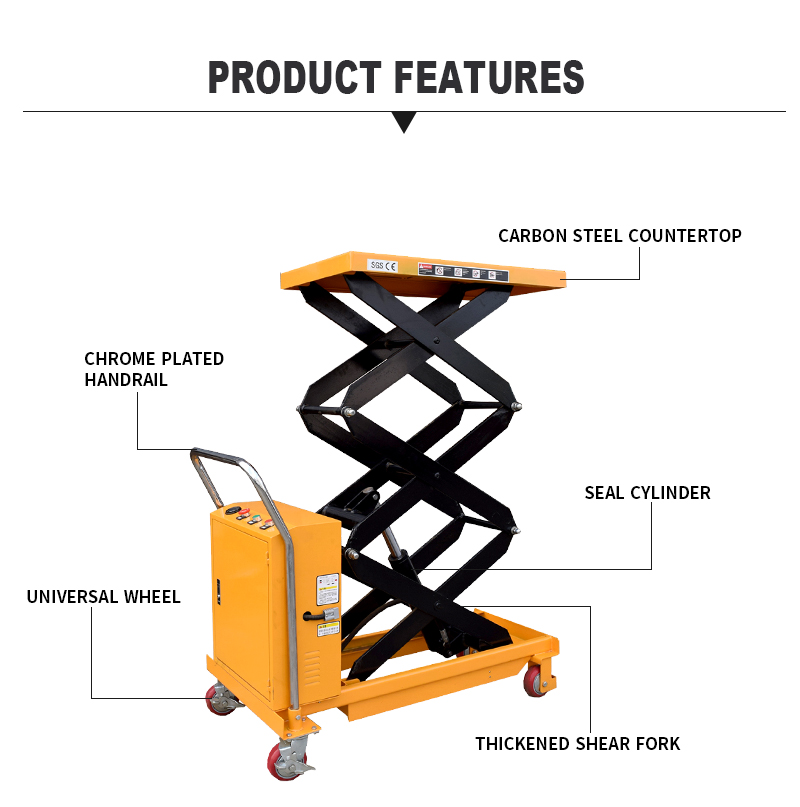 Common problems of hydraulic scissor lift table:
2.3.1. The button is out of order. The lifting, lowering, and suspending operations of the entire electric scissor lift table are all controlled by the button. If there are occasional key failures during operation, you should pay attention to this phenomenon. This phenomenon may be a short circuit of the electric hydraulic platform car circuit or the imminent failure of the electrical system. At this time, you must check carefully in time to avoid affecting the operation of the electric scissor lift table in the future.
2.3.2. The electro-scissor lift table cannot be lowered to the natural height and causes a malfunction. The reason is:
①Deformation of the main frame of the electric scissor lift table;
②Too much hydraulic oil is injected into the electric scissor lift table;
③There are sundries between the scissor levers of the electric scissor lift table.
2.3.3. The motor of the electric hydraulic platform car is noisy, and occasionally there will be heat or odor of the motor. The reasons for such problems are:
① The electric hydraulic platform vehicle is overloaded. If there is an overload problem, uninstall it in time.
②The voltage of the electric hydraulic platform is unstable. Check whether there is any problem with the circuit.
③If the motor is not well sealed or the coil is burned out, the seal should be tight or the coil should be replaced in time.
Timely correction of minor problems can avoid major failures and enable the electric scissor lift table to operate stably for a long time. In view of the hidden troubles of electric hydraulic platform vehicles, timely detection and elimination of problems can reduce the occurrence of many failures. Finding hidden dangers in time and shutting down to eliminate them is the key. We usually need to take more preventive measures.

Advantages of Tuhe hydraulic scissor lift table:
1. Support customization: Lift table for sale can be customized, such as lifting height, platform size, load, etc.
2. High-quality steel plate: The lift table for sale use the highest-quality steel plate and the finest welding technology, which is stronger and safer.
3. Heavy load: high-quality manganese steel is used. Manganese steel is a high-strength steel that can withstand impact and wear.
4. Button type operation panel: convenient control, stable lifting and high working efficiency.
5. Easy maintenance: just need add hydraulic oil regularly
6. Quality Assurance: lift table for sale are inspected before they leave the factory and can only be sold after they have been tested.
Fixed hydraulic scissor Lift
Brief introduction of fixed hydraulic scissor lift:
The fixed lifting working platform is used for the special hydraulc lift for transporting goods between the floors of the building. The products are mainly transported up and down by various working floors; the three-dimensional garage and the underground garage are used for car lifting between the floors. The hydraulic system of the product is equipped with anti-falling and overload safety protection devices, and operation buttons can be set on each floor and the working table of the lift to realize multi-point control. The product is firm after the festival, with large carrying capacity, stable lifting, and simple and convenient installation and maintenance. It is an economical and suitable low-floor lift to replace the ideal cargo transportation equipment. According to the installation environment and use requirements of the lifting platform, choose different optional positions to achieve better use effects.
Product specifications: no specific specifications and sizes, completely customized according to customer requirements
Product advantages: sturdy structure, large carrying capacity, stable lifting and shooting, simple and convenient installation and maintenance. According to the installation environment and use requirements of the lifting platform, choose different optional configurations to achieve better results.
Applicable places: transportation of goods between the height difference of the production line, material on-line and off-line; parts lifting during assembly of the work piece, warehouse loading and unloading places and forklifts and other handling vehicles for fast loading and unloading of goods, etc.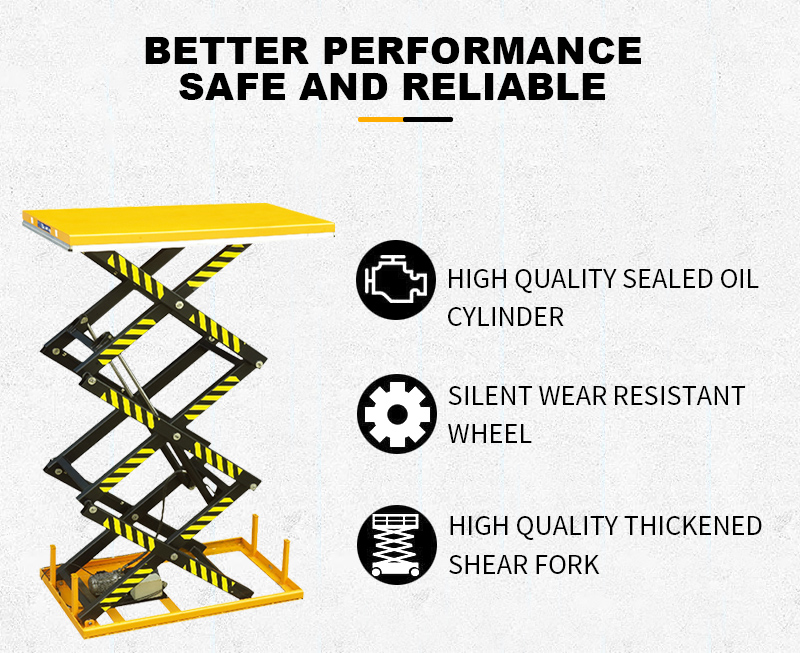 Advantages of Tuhe fixed hydraulic scissor lift:
1. High quality sealed oil cylinder.
2. Silent wear resistant wheel.
3. High quality manganese steel scisors structure.
4.We provide professional customized services summary