What is a hydraulic manual scissor lift ?
Hydraulic manual scissor lift is used for aerial works. Hydraulic manual scissor lift is driven by hydraulic system. Hydraulic manual scissor lift has strong scissor structure. The special structure of the scissor makes the machine more stable. It has a large platform and heavy load capacity. Hydraulic manual scissor lift can increase the telescopic platform to make the high-altitude working range larger and suitable for more working conditions. Several men can work at the same time. Say goodbye to the dangerous spider-man style of work. The stability of the machine is very high. The maximum load can reach 1 ton, the maximum lifting height can reach 18 meters, and the working height can reach 20 meters. The lifting speed can reach 4-6m/min. Before use, the outriggers need to be opened to ensure safety, and the movement needs to be pushed and pulled manually, and auxiliary walking can also be added to make the movement more labor-saving. Mainly used for exterior wall renovation, street lamp repair, factory facility repair, airport facility maintenance, etc.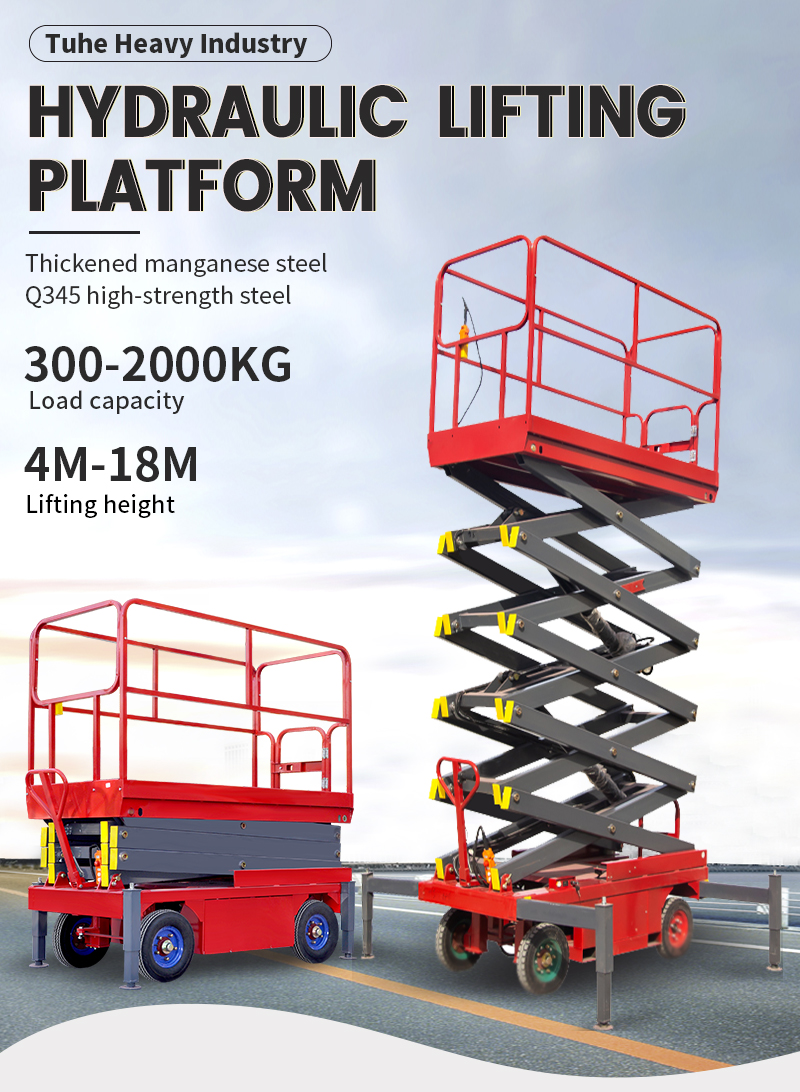 Hydraulic manual scissor lift options:
1. AC, DC, diesel or dual power can be customized
2. Can add extensional platform
3. Solid tires (regular is pneumatic tires)
4. Assist walking device
5. Remote control and warning lights
6. Explosion-proof electrical appliances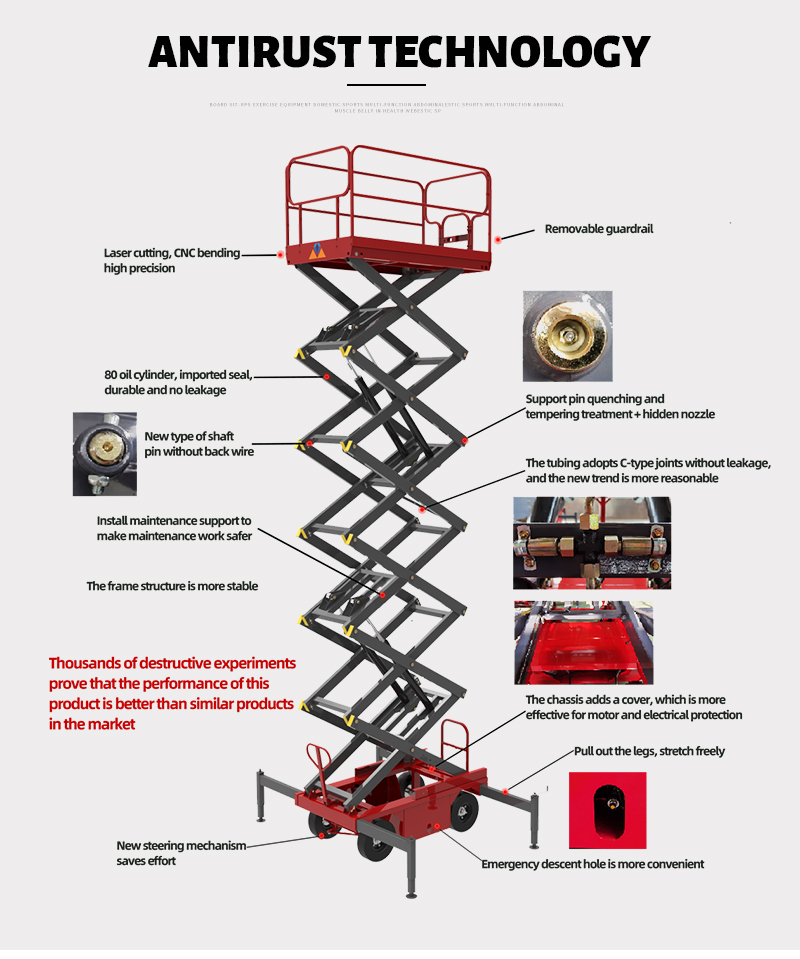 Features of Hydraulic manual scissor lift:
1. The sealing ring of hydraulic manual scissor lift is imported from Japan, the hydraulic cylinder is sealed and will not leak, and there is an explosion-proof valve inside, which is very durable.
2. The thickened scissor structure adopts high-quality rectangular tubes and the highest-quality steel with strong bearing capacity.
3. Wear-resistant pneumatic tires will not damage the ground.
4. Using baking varnish technology, will not damage the ground.
5. The safety fence is easy to disassemble and assemble.
6. Hydraulic manual scissor lift is convenient to move when the handle is dragged, and the steering is flexible.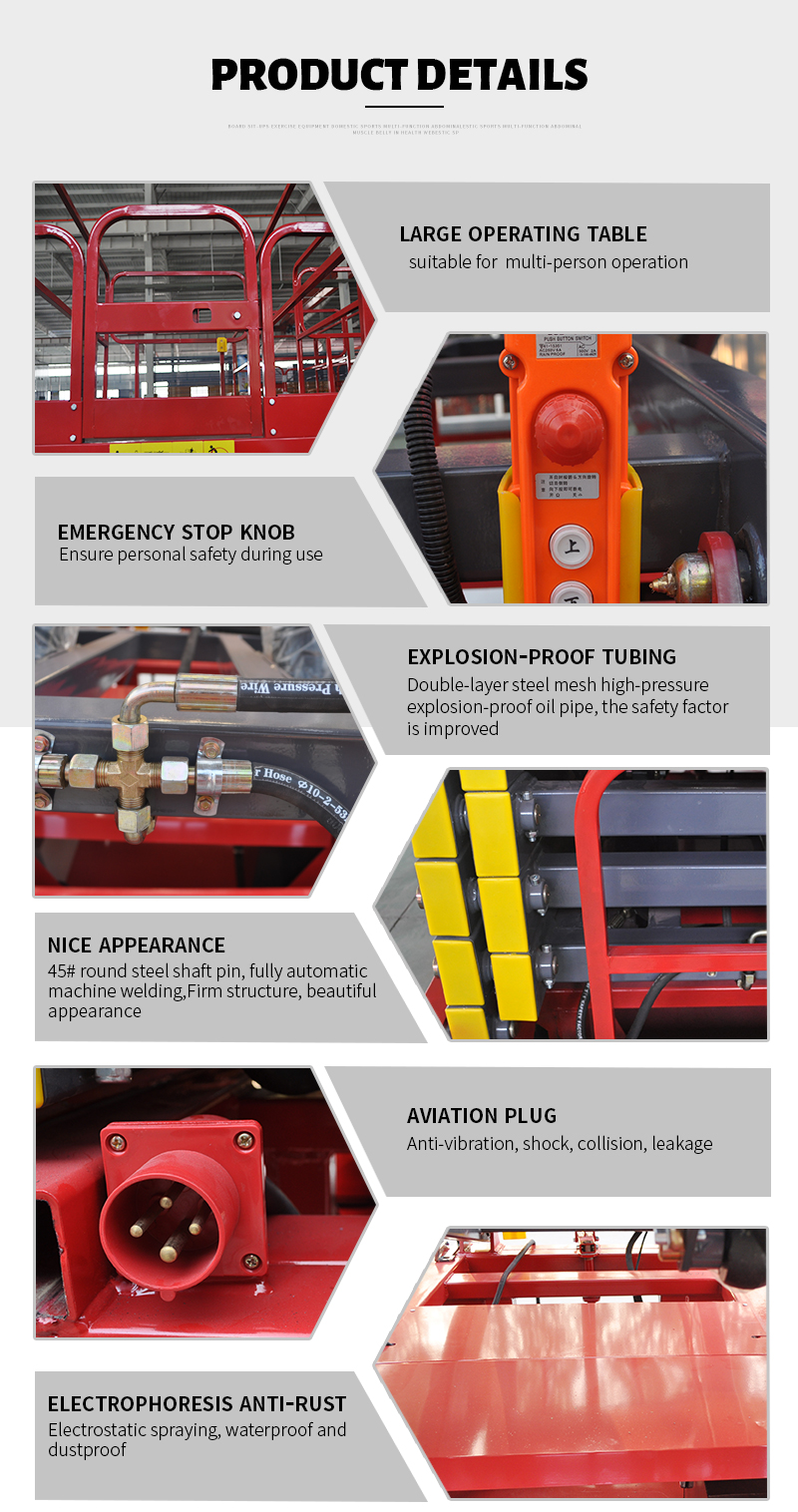 Why choose TUHE Hydraulic manual scissor lift?
We are a professional Hydraulic manual scissor lift equipment manufacture. Our factory is located in Jiyang, the famous hometown of hydraulic lifting equipment. We mainly produce hydraulic villa elevators, all kinds of scissor lift, aluminum alloy mast lifts, cargo lift etc. We have a professional team, marketing specialists, and sales staff. Our products have been sold to more than 80 countries around the world such as the United States, Ireland, Australia, the United Kingdom, France, the Philippines, Nigeria, Serbia, and India. We have a warranty. We provide a one-year warranty service. If the parts are damaged within one year, our company will mail the parts free of charge. Buy TUHE's products, you will receive high-quality products and the most satisfactory service.