What is small house lift?
Now the small house lifts are very popular in UK market. This is a private lift that is installed in personal house. It can carry you to the floor level you want, it has advantages like fast, quiet, comfortable and etc.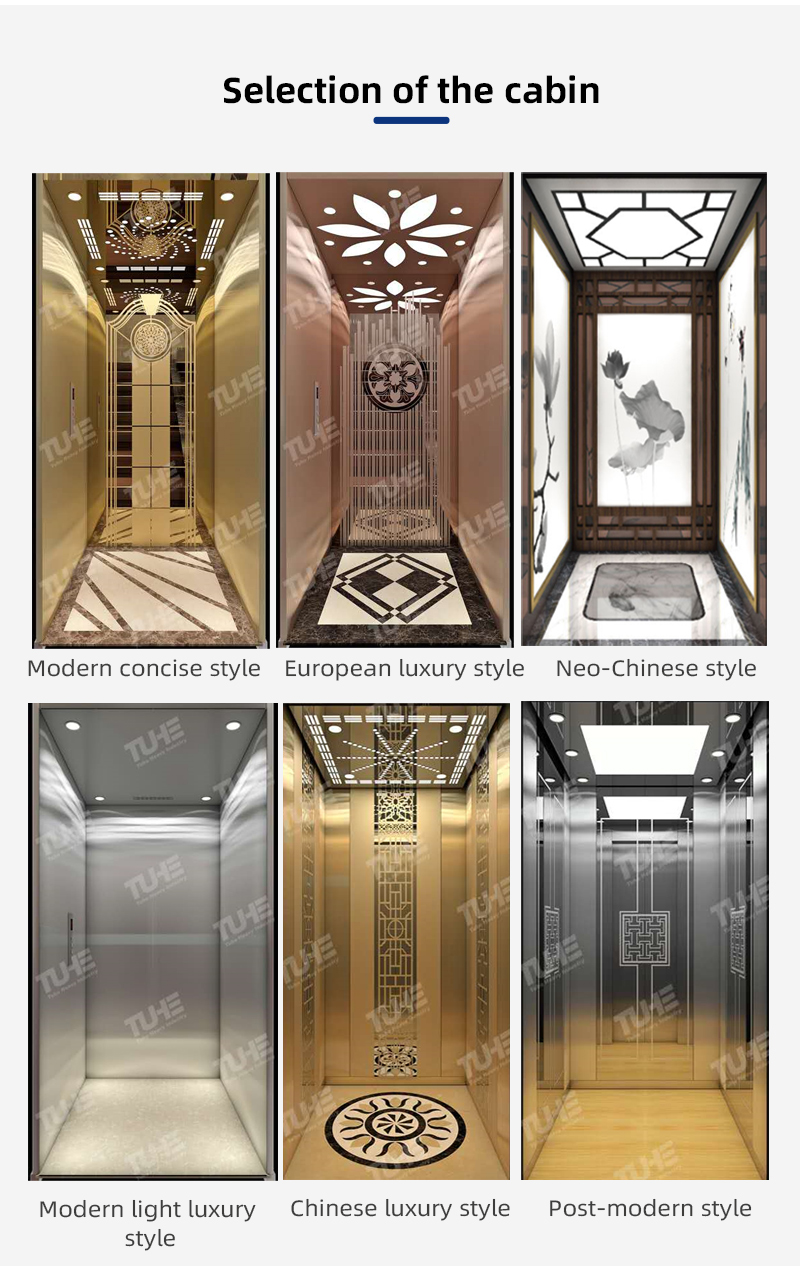 S

mall house lifts

prices?
Small house lifts prices are depends on the model of the lift and the height of the house, like the price of traction elevator and hydraulic lift is different, and the price of 2 floors and 3 floors is different. Also, if you choose different landing door model or different cabin decoration, the price would be different. For example, the traction house lift for 2 floors is $7000 - $9000, and the hydraulic small house lift is $4000 -$ 6000.
What you can do for small house lifts?
We TUHE LIFT is a professional manufacturer of traction elevator and hydraulic lift, we can customize small house lifts according to customers house size. We provide top class product, kind service and life time technical support in UK.
What is the difference of 2 models of small house lifts?
There are two models of small house lift, one is traction model, and the other one is hydraulic model for UK market.
Traction house elevator moves by the power from the traction motor, this motor drags the cabin via wire rope, and there is a counter-weight to balance the whole equipment. The advantages are that its speed is faster than hydraulic model, the speed is 0.4m/s, and you can choose more beautiful and more luxurious cabin decoration. The traction elevator has safety device like safety gear, landing device, buffer, overspeed governor, light curtain and etc. The disadvantage is that this model requires a bigger area for installation, traction elevator needs a high overhead height and deep pit. And it's more expensive than hydraulic model. In general, if you have enough space in your house and you can make a pit on the ground, and you like a more comfortable experience but you don't care about the price too much, you can choose the traction elevator.
Hydraulic house lift is powered by the hydraulic cylinder. The control box controls the pump station to transport the hydraulic oil into the cylinder through the oil pipe, then the cylinder push the lifting frame to go up, the lifting frame will carry the cabin to go up together by the wire rope. The advantages are that the hydraulic small house lift is much cheaper than the traction elevator, and this model just need a small area for installation, 1000x1000 mm is good enough. The pit is not necessary for hydraulic small house lifts, and it does not need a high overhead height as the traction elevator. The hydraulic house lifts have safety device such as safety gear, overspeed governor, light curtain and interconnected landing door. When the house lift is moving or it's not at the same floor as you are, the landing door could not be open. The speed of hydraulic small lift is 0.3m/s, just a little slower than the traction house lift. If you have a compact space, you can choose the hydraulic small house lifts.
What are the details of small house lifts?
Small home lifts are becoming more and more popular in the UK market. So what is a small home elevator made of?
The small home elevator traction model is mainly composed of a control box, a car, a traction motor and a counterweight. The basic model of the landing door is an automatic sliding door, and there are other options such as automatic side sliding door and manual door. The landing door can be made of stainless steel or glass. In terms of cabin decoration, the standard bulkhead is textured stainless steel, and mirror stainless steel, colored stainless steel, wooden colored steel, and glass viewing bulkhead are optional. Requiring a 300mm - 500mm pit and 3000mm overhead height, this towing model looks and works exactly like the lifts you take from supermarkets and hotels. The traction lift must have a shaft to cover the whole device, we can provide you with our steel shaft or aluminum alloy shaft, the aluminum alloy shaft is a little more expensive than the steel shaft, but it looks much more beautiful than the steel shaft. Of course, if you have a concrete shaft or a brick shaft, there is no need to order a shaft from us.
The small elevator hydraulic model is mainly composed of a control box, a car, a guide rail frame and a pumping station. The standard landing door is a manual door, and automatic single door, automatic double door or automatic middle sliding door can also be selected. Except for tempered glass or stainless steel for the automatic middle sliding door, the hall door is made of aluminum alloy and tempered glass. For cabin decoration, 304 textured stainless steel and tempered glass bulkhead are selected as standard, but the back panel on the side of the guide rail must be stainless steel. We also have illuminated back panels and ceilings for you to choose from. This hydraulic lift requires an overhead height of 2600mm and this model does not require a pit. Unlike traction lifts, hydraulic small house lifts can be installed with or without a shaft. If you need, we can provide you with our aluminum alloy and tempered glass shafts, we have prepared 7 colors lift for the UK market for your choice.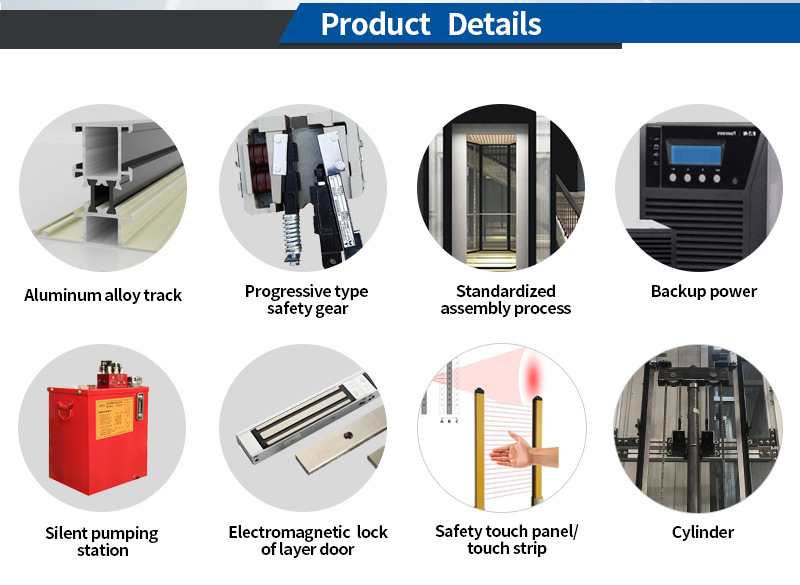 How can I install small house lifts UK?
First of all, we need you to check the net size of the installation area and the height of each floor, which is the basic size of a small home elevator in the UK.
Then, after you confirm the order, we will send you our professional installation manual and video. It will show you how to do each installation step, the main structure is screw connection type, you just connect them together and tighten the screws. And our control box is plug-in type, you just need to connect two wires with the same marking.
If you are from the UK market, we are very welcome, we already have rich experience in serving the UK small household lift market.
How can I purchase small house lifts from you?
Because this will be an international business, there will be some issues need to be confirmed first. For more details, welcome to contact us!