Vertical wheelchair lift is also called vertical platform lift, VPT, it is build for the disabled has the advantages of compact structure, simple operation and convenient maintenance. The vertical wheelchair lift inclined hanging platform perfectly solves the problem that the disabled go up and down stairs in public places or private house. The biggest advantage is that the original civil engineering does not need to be changed. It is suitable for places that are not suitable for ramps and elevators. It is convenient to operate. The vertical wheelchair lift can be ingeniously installed at subway entrances and exits, underground sidewalks, pedestrian overpasses, railway station entrances and exits, residential corridors and building corridors, and can perfectly solve the problem of difficult lifting in public places. The company's products need no pit, shaft, machine room, no noise, no site restrictions, no need for frequent maintenance, safe and reliable. The vertical wheelchair lift can be designed to compliment the building design at a fraction of the cost of an regular elevator.
❶Vertical wheelchair lift

1. Stainless steel vertical wheelchair lift
Stainless steel vertical wheelchair lift is mainly composed of guide rails and lifting platform plates. Stainless steel guide rails and stainless steel platform are used to extend the service life of the product. It can be installed indoors and outdoors, it is not easy to get rust. It has two floors and two stations, and the lifting height is generally not more than 3.2 meters. The configuration is relatively simple, so the maintenance is relatively simple and the price is the cheapest. The pump station and control cabinet are placed in the guide rail bracket, which does not occupy additional space, and the installation is simpler. Only fix the guide rail part on the wall and ground, and connect the power supply to use. Automatic folding ramp, platform door and landing door are optional.
2. Aluminum alloy vertical wheelchair lift:
Aluminum alloy vertical wheelchair lift is an upgraded version of stainless steel vertical wheelchair lift. Its appearance is exactly the same as that of stainless steel vertical lift, except that the outsourcing materials are different, and the internal configuration is also different. Aluminum alloy vertical wheelchair lift adopts plastic sprayed aluminum alloy plate guide rail frame and platform. The appearance of pure white or black is more advanced and the functions are more abundant. The standard bottom sensor will immediately stop falling when it senses an object below when the platform drops. Automatic folding ramp, platform door and landing door can also optional.The landing door has an electric plug-in lock, which can only be unlocked when the platform reaches the specified position to prevent accidents. Column lop can also optional to facilitate the use of disabled people. There are two control modes: remote control and platform COP button, there is emergency stop button on the COP.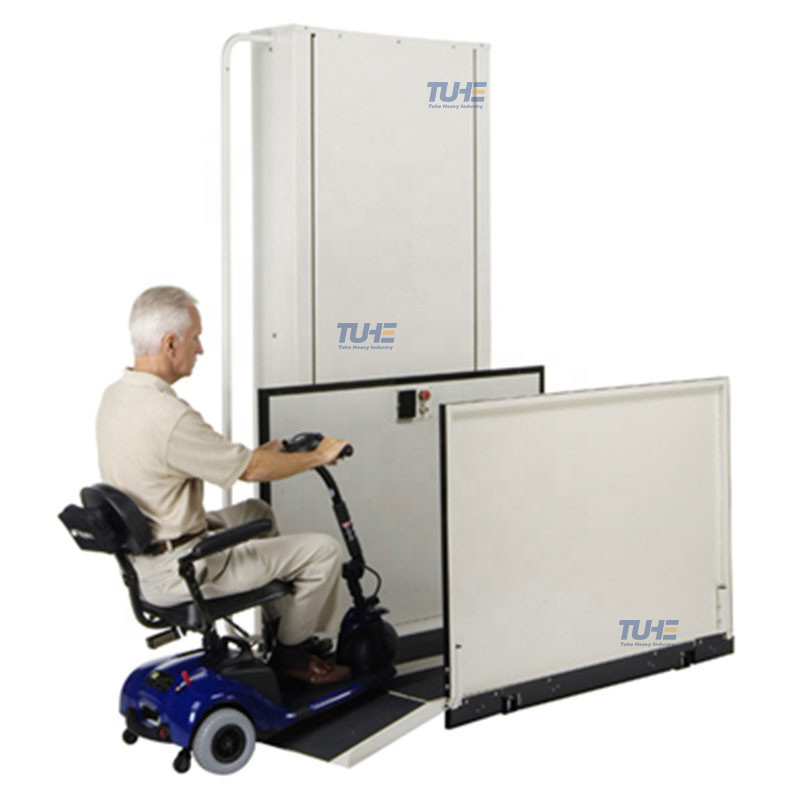 Details of vertical wheelchair lift: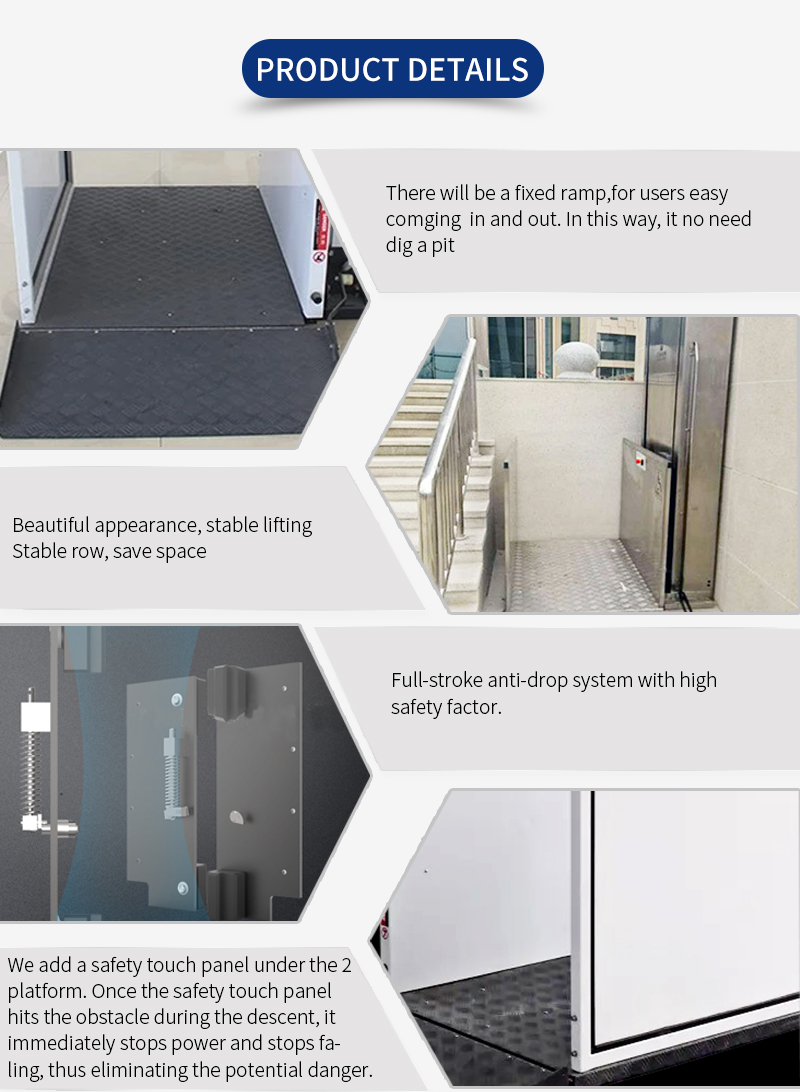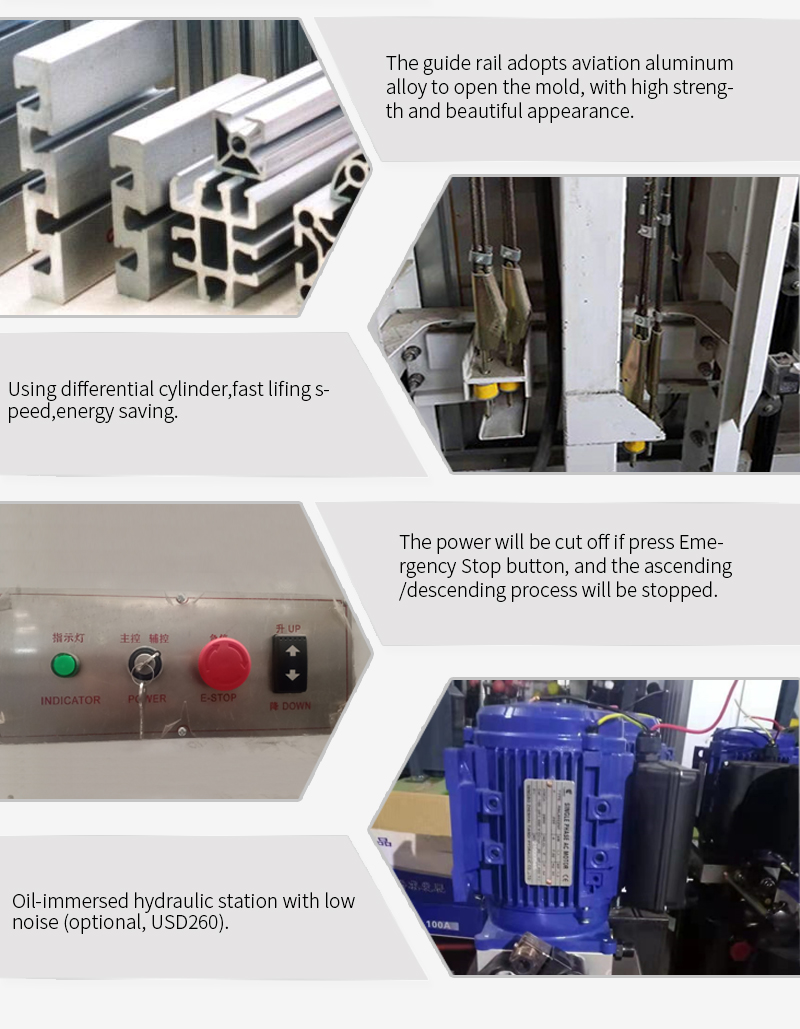 Technical data of vertical wheelchair lift:
| | |
| --- | --- |
| Attribute | Parameter |
| Power supply | 220V/50HZ/single phase or customized |
| Overall dimension | W1400 mm* D1300m* H(maximum lifting height + 1050mm) |
| Standard platform size | 1400mm (width) *1000mm (depth) |
| Maximum lifting height | 3200mm, 2 stops |
| Minimum height of lifting floor | 80mm (above the ground) |
| Installation method | installation without foundation pit (directly fixed on C30 concrete horizontal ground, with concrete thickness not less than 200mm) |
| Lifting speed | 0.2m/s (hydraulic drive) |
| Maximum load | 250&320 kg |
| Entrance&exit | 0°, 90°or 180° |
| Drive mode | hydraulic power unit drive |
| Motor power | 0. 75kw/1.5kw |
| overload protection | over current maintenance electrical control |
| Applicable environment | indoor or outdoor |
| Applicable temperatur | -20℃~ +60℃ |
Features of vertical wheelchair lift:
• Safety Sensor : The lift will be stopped immediately if the safety
edge meets obstacles when going down.
• Emergency Stop : The lift can be stopped immediately in case of
any emergency.
• Emergency Lowering : The platform can be lowered by manual
down button in case of power failure
• The landing door is equipped with electromagnetic lock. When the platform is not on the second floor, the landing door cannot be opened.
Warranty of vertical wheelchair lift
• 12 months apart from man-made faults from receiving the lift.
• All the machines will be full tested before shipment. And The spare parts can be provided for free during the warranty.
• During the warranty, if the equipment was broken due to the quality itself, we can do the free maintenance and provide the needed spare parts until it can work for normal use. If it is man-made faults, you should pay the material cost.
• We provide all-life long technical support, online and telephone service.
2. Scissor vertical wheelchair lift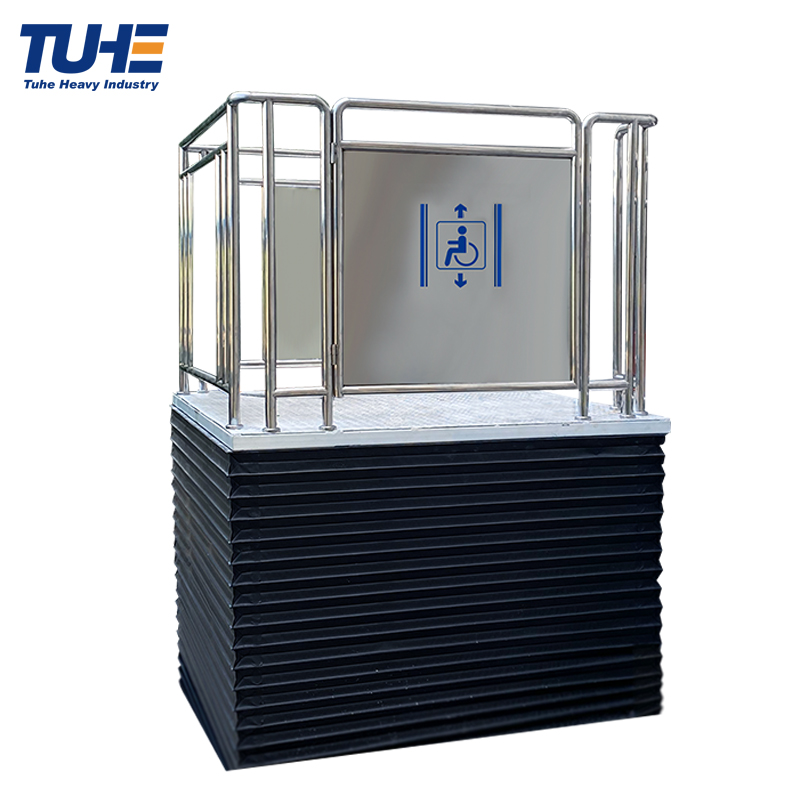 Scissor vertical wheelchair lift adopts the most classic lift structure-scissor structure, which has low cost, high cost performance, large load capacity, stable operation, simple maintenance, long service life and space saving advantages. It is equipped with organ type protective cover outside, which can increase beauty and ensure safety at the same time. The platform is equipped with 1m high protective fence and platform door, and the direction of inlet and outlet can be customized. Pit installation is required to make the table surface of vertical wheelchair lift flush with the ground, so as to facilitate the disabled to get on and off the platform. The depth of the pit varies according to the raised height. If the pump station and motor need to be placed outside, the requirements for the pit are relatively low. If the pit is deep, the pump station and motor can also be placed in the pit to save more space. The installation is also very simple. You only need to fix the equipment in the pit and connect the power supply. It can be installed indoors and outdoors. It can be customized according to the installation environment and use requirements.
❷Vertical wheelchair lift compare with chair stair lift: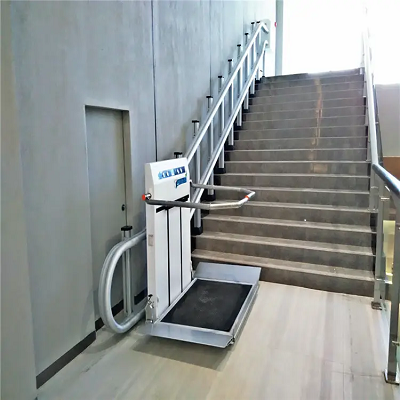 1. Advantages of chair stair lift:
Chair stair lift is an inclined and foldable lift installed on the handle of stairs. It does not need pits, hoistways, or machine room. It is suitable for places without ramps or vertical elevators.
Disadvantages of chair stair lift:
It's expensive, at least 10000 dollars.
It is difficult to install, it must be installed by a professional installation team, and the requirements for stairs and handrails are very high. If they do not meet the installation conditions, they need to be removed and rebuilt, which increases the use cost in disguise.
2. Advantages of vertical wheelchair lift:
The price is cheap, only 3000-5000 dollars, which everyone can afford.
It is already assembled in the factory in advance. The buyer only needs to fix it and use it.
The installation position is flexible, indoor and outdoor, and there is no need to change the original structure of the building. Low installation requirements, no pit and machine room required
Disadvantages of vertical wheelchair lift:
There must be an independent installation space. If there is no extra space in the room, it cannot be installed.
❸Vertical wheelchair lift compare with home lift: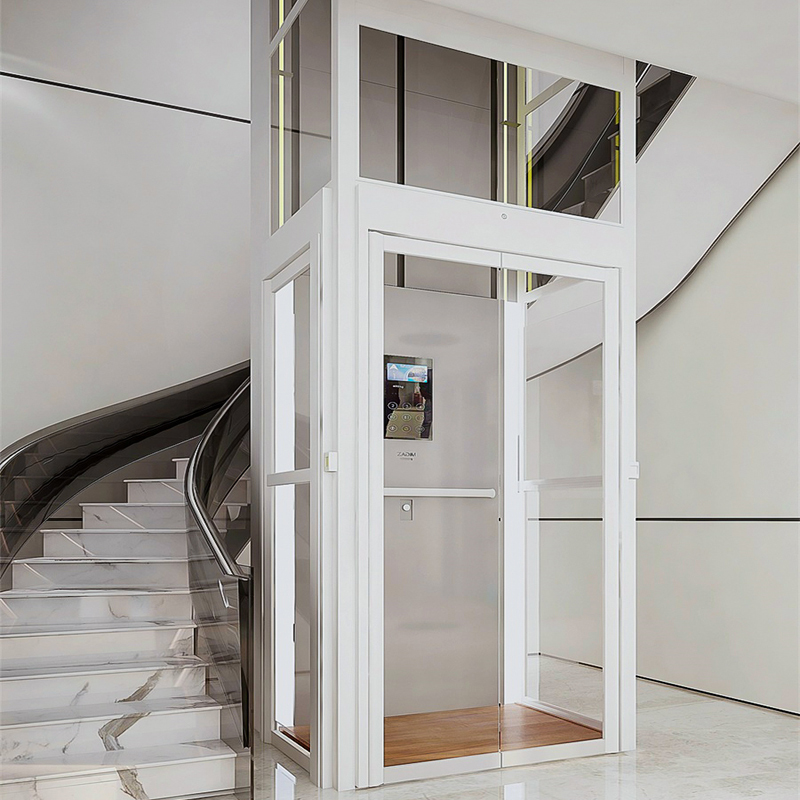 1. Advantages of home lift:
It can raise multiple floors, and the lifting height can reach more than ten meters or even tens of meters.
There are various decorative styles. The lift car can be made of glass or stainless steel, the door can be made of automatic or manual, and the outer frame can be made of steel structure or aluminum alloy.
There are various lifting forces, such as hydraulic, screw, traction and forced drive.
Disadvantages of home lift:
The price is relatively expensive, from 5500usd to 20000usd, and professional personnel are required for installation and maintenance.
2. Advantages of vertical wheelchair lift:
Automatic ramp can be installed to facilitate wheelchair access.
The price is cheap, only 3000-5000 dollars, which everyone can afford.
It is already assembled in the factory in advance. The buyer only needs to fix it and use it.
Disadvantages of vertical wheelchair lift:
The lifting height is limited, maximum 3.2m.
There is no decoration to choose from, only stainless steel, white aluminum alloy plate and black aluminum alloy plate.
❹ Vertical wheelchair lift brands
1. Bruno

Model 1: Residential VPL
750 lb Lift Capacity | 2-Year Limited Warranty
Boost home access for people in mobility devices. Sometimes called a porch lift, a Bruno vertical platform lift gives people in scooters and wheelchairs the ability to easily enter/exit their home.
Suitable for indoor or outdoor use, Bruno vertical platform lifts also provide access up to 14 feet for decks and basements.
Model 2: Commercial VPL
750 lb Lift Capacity | 2-Year Limited Warranty
Increase access for your customers. Make a church, school or public building accessible for people with mobility devices with a Bruno commercial vertical platform lift.
Let a Bruno commercial wheelchair lift expert give guidance on meeting A.D.A. codes and choosing the right vertical platform lift for your project.
2. Garaventa

Genesis OPAL - Unenclosed short rise Vertical Platform Lift
The Genesis OPAL vertical lift easily transports passengers up and down short vertical distances, for applications such as stages and porches. The platform walls, platform gate and optional automatic folding ramp travel with the platform creating a safety barrier around the passenger.
The OPAL has a weight capacity of 340kg (750lbs) and can provide access up to 1600mm (63"). Ideal for indoor and outdoor applications while providing a cost-effective accessibility solution
Highlights:
Low cost
Fast installation
Under Platform Obstruction Sensing
Ideal for Stage Access
Easy grip offset "D" handles
3. Savaria

V-1504 VERTICAL PLATFORM LIFT
Swift 20 ft/min hydraulic lift to carry a wheelchair and passenger up to 4 stops over 23' of travel (code permitting)
Often configured for use in a shaftway
Array of optional paint colors; gates available with aluminum, acrylic or glass inserts, and with automatic opener
ADA-compliant or custom platform sizes; same-side, straight-through or 90º entry and exit
Drive system is located in tower so no machine room needed; operated by constant pressure controls
For residential or commercial access; 750 lb capacity
Suitable for indoor or outdoor use; also available with enclosure and luxury glass models
4. Handi lift

The Factory Enclosed Vertical Platform Lift needs little construction for installation. This makes it easy to coordinate with other trades. The standard enclosure package meets all code requirements. These models are often used as outdoor wheelchair lifts, with plexiglass extended to a full height door and a dome on top to keep the heavy weather off the unit and the user. Since they are especially easy and quick to install in existing buildings, they are often chosen for residential applications.
5. AmeriGlide's
The AmeriGlide Nano Vertical Platform Lift is the market's slimmest and most elegant tower design, which means a more attractive look, low shipping costs and easier installation.
The attractive Nano Vertical Platform Lift has been designed, developed and manufactured to meet the highest safety and security standards in the industry with an innovated design that features:
Much Smaller Footprint
Automotive-Grade Steel
More Attractive Look
Plug-N-Play
Reversible (left or right tower)
6. Tuhe lift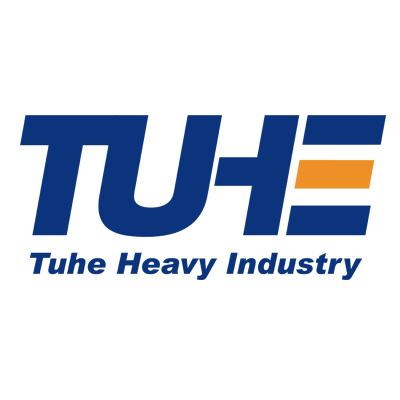 Tuhe lift's vertical wheelchair lift is famous for its high cost performance, and as the source factory, Tuhe lift can provide customized services for customers. Thwl-2 is equipped with aluminum alloy table and oil immersed silent pump station as standard, and the exclusive patented distribution box is developed. The maximum load capacity is 320kg, the maximum table size is 1400*1000mm, the remote control and cop dual control mode, the full-automatic foldable slope is convenient for wheelchairs to get up and down, and the bottom sensor is installed at the bottom of the platform, The platform will stop descending when encountering obstacles below.
Lifting Speed 4-6m/min
Entry & Exit 90°
Platform Skid proof stainless steel with auto turning plate
Surface Powder coating aluminum plate
Drive system Hydraulic power unit system
Power Single phase, 220V/50HZ(Customized)
Control Button control and remote control
Overload protection Over current relay control
Working environment Outdoor/indoor
Working temperature -20°C—60°C
Installation No need pit, directly fixed on the concrete floor, concrete thickness not less than 200mm
Emergency stop Press the emergency button
7. Atlas

VISTA Vertical Platform Lift is used for numerous applications such as interior and exterior of homes and buildings alike. It stands out due to it's compact design, rugged structure, quiet operation, and practical details.
HIGHLIGHTS
Easy to install - fast
With our qualified technicians, your platform lift can be installed quickly and safely.
The right platform lift for every application
A selections of platforms lifts and customizations are available for your unique needs.
Peace of mind
Manufactured in North-America, it meets CSA-B613 B355-15, ASME 17.1, ASME 18.1
Simple integration
Integration is quick and simple as a result of not needing a mechanical room, drain or overhead clearance.
8. Ascension

An ADA compliant, visually striking wheelchair lift for narrow spaces
Ideal for locations where space is tight, an uncluttered feeling is essential, and top quality is a must. The Ascension Clarity enclosed wheelchair lift can reach heights up to 14 feet and needs only 4 feet of clearance for installation on the existing floor. With such a small footprint and ultra-thin platform floor, the Clarity requires no access ramp or installation pit.
Vertical Travel: 34" to 168"
Capacity: 750 lbs
Lift Footprint: 48" W x 68" L
Vertical wheelchair lift is a very popular lifting facility for the disabled, which is widely used in various public places and personal residences. After years of technology accumulation and market feedback, a very mature technology and service system has been formed. If you are considering getting one, please contact us, we would like to give you our best offer We located in Jinan city, hometown of hydraulic lift platforms, have very rich experience in this field, our advantages are cost effective, easily install, customized service, and fast delivery. Our lifts are sold to more than 50 countries all over the world and have won a good reputation by good quality and service. I hope we can cooperate with you.

FAQ
Q1: What is a vertical wheelchair lift?
A1: A vertical wheelchair lift, also known as a wheelchair platform lift or wheelchair elevator, is a mechanical device designed to transport individuals in wheelchairs or mobility scooters between different levels. It moves vertically, allowing wheelchair users to access different floors or elevated spaces without the need for ramps or staircases.
Q2: Where can vertical wheelchair lifts be installed?
A2: Vertical wheelchair lifts can be installed in various settings, including homes, commercial buildings, schools, healthcare facilities, and public spaces. They are commonly used to provide wheelchair accessibility to stages, raised platforms, porches, decks, and different floors within a building.
Q3: How does a vertical wheelchair lift operate?
A3: Vertical wheelchair lifts operate using a motorized lifting mechanism. When activated, the lift's platform rises or descends vertically along a guide rail. This movement is controlled by user-friendly buttons or switches located on the lift itself or on a remote control, allowing wheelchair users to move safely between levels.
Q4: Are vertical wheelchair lifts safe to use?
A4: Yes, vertical wheelchair lifts are designed with safety in mind. They feature safety mechanisms such as guardrails, non-slip surfaces, emergency stop buttons, and under-platform sensors that detect obstructions and halt the lift's movement if necessary. Regular maintenance and safety inspections are also recommended to ensure their continued safe operation.
Q5: Are vertical wheelchair lifts customizable to different spaces?
A5: Absolutely. Vertical wheelchair lifts come in various configurations and sizes to accommodate different spaces and user needs. They can be installed indoors or outdoors and can be customized with options like enclosed shafts, weather-resistant materials, and different platform sizes to fit specific requirements.
Q6: What is the weight capacity of a typical vertical wheelchair lift?
A6: Vertical wheelchair lifts come with varying weight capacities, ranging from around 500 pounds to over 1000 pounds, depending on the specific model and design. It's important to choose a lift that can safely accommodate the weight of both the wheelchair user and the mobility device.
Q7: Are there code and compliance regulations for installing vertical wheelchair lifts?
A7: Yes, there are regulations and standards in place to ensure the safety and accessibility of vertical wheelchair lifts. Depending on the location and type of installation, these regulations may include the Americans with Disabilities Act (ADA) in the US, local building codes, and specific industry standards for accessibility.
Q8: Can vertical wheelchair lifts be used in outdoor settings?
A8: Yes, many vertical wheelchair lifts are designed to be weather-resistant and can be used in outdoor settings. These outdoor lifts are constructed with materials that can withstand various weather conditions, such as rain, snow, and UV exposure.
Q9: Are vertical wheelchair lifts energy-efficient?
A9: Many modern vertical wheelchair lifts are designed with energy-efficient features. These may include energy-saving standby modes, efficient motor systems, and LED lighting. Choosing energy-efficient models can help reduce operating costs and environmental impact.
Q10: How do I choose the right vertical wheelchair lift for my needs?
A10: To choose the right vertical wheelchair lift, consider factors such as the available space, the height you need to reach, the weight capacity required, indoor or outdoor installation, and any specific customization needs. Consulting with a professional accessibility expert can help you make an informed decision based on your unique requirements.