Articulated boom lift for sale introduction:
The height of towable articulating boom lift platform ranges from 8m to 22m (working height ranges from 10m to 24m). The load capacity is 200kg. It can be easily moved from one location to another, and works quickly for you. It is widely used in high-altitude operations, such as street lamp repair, tree trimming, and window cleaning. The power options available on our towable boom lifts include AC (power on), DC (battery power), gasoline, diesel, and "dual power" (such as battery and diesel or battery and gasoline), Toweled cherry pickers are popular because of their ease of movement and operation, can be mounted by a truck or pickup. Owning it will be your wisest choice.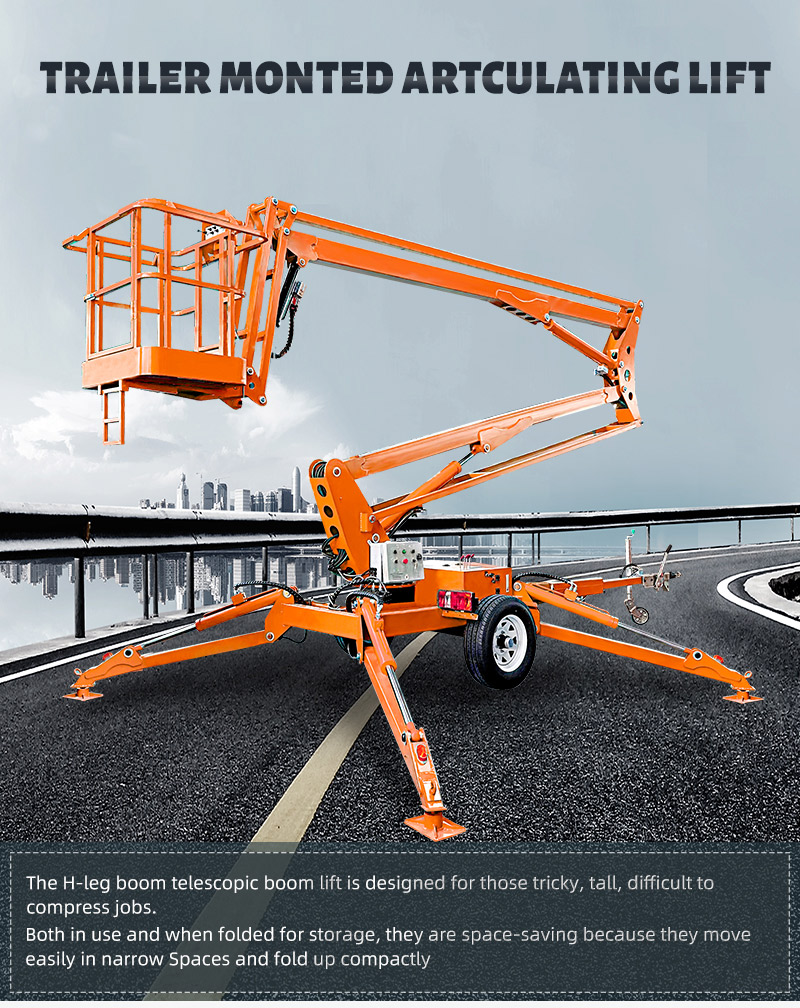 Articulated boom lift for sale has the main features:
360 degree rotation: the boom rotation depends on it, and the operation is stable.
Pneumatic tires: Pneumatic tires have a long wear life and are suitable for multi-site operations.
Platform controller: The platform controller is equipped with a waterproof and dustproof protective cover. Pneumatic tires have a long wear life and are suitable for multi-site operations.
Electric detector: to ensure the safety before hoisting. The green light indicates that the outriggers can be lifted after being opened. A red light indicates that the elevator is dangerous.
Outrigger operation: The outrigger is easy to operate, and the marked sign is obvious.
Traction bar: ALKO brand brake imported from Germany.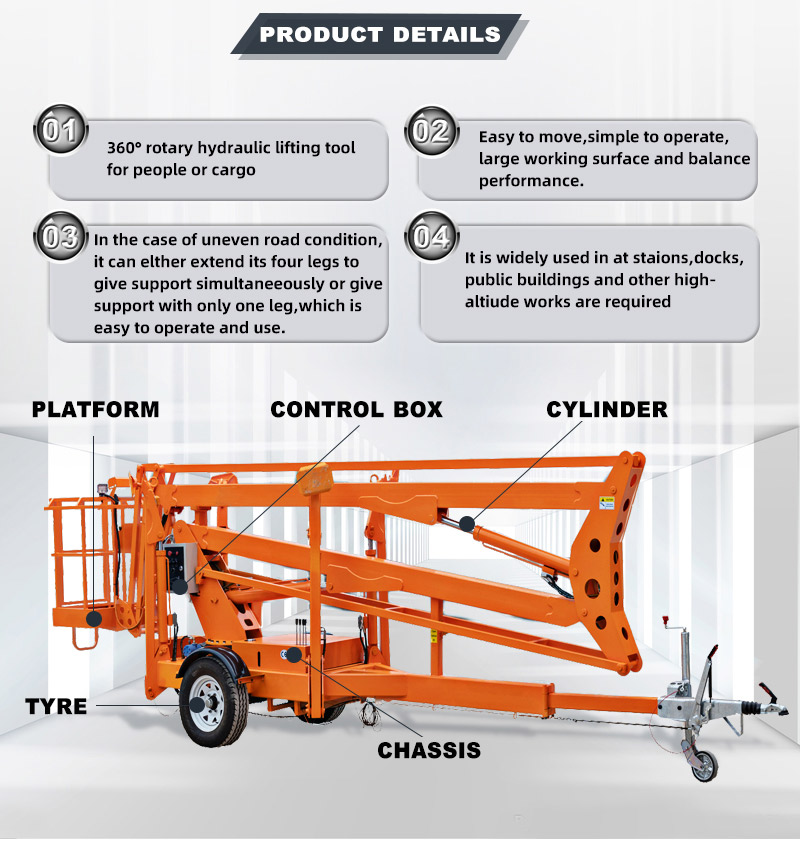 Articulated boom lift for sale quality control:
As a professional factory who supply articulated boom lift for sale in Vietnam , our articulated boom lift adopts the traction bar imported from Germany, which can bear greater traction. The legs are equipped with safety warning lights to ensure the safety of people around during operation. In addition, articulated boom lift for sale also equipped with speed control device to adjust the lifting speed in the later stage. The lifting oil pipe is explosion-proof and prevent excessive oil pressure in advance, Whether gasoline engine or diesel engine is selected, the brand motor is used. The gasoline engine adopts the gasoline engine of Honda in Japan which has EPA certificate.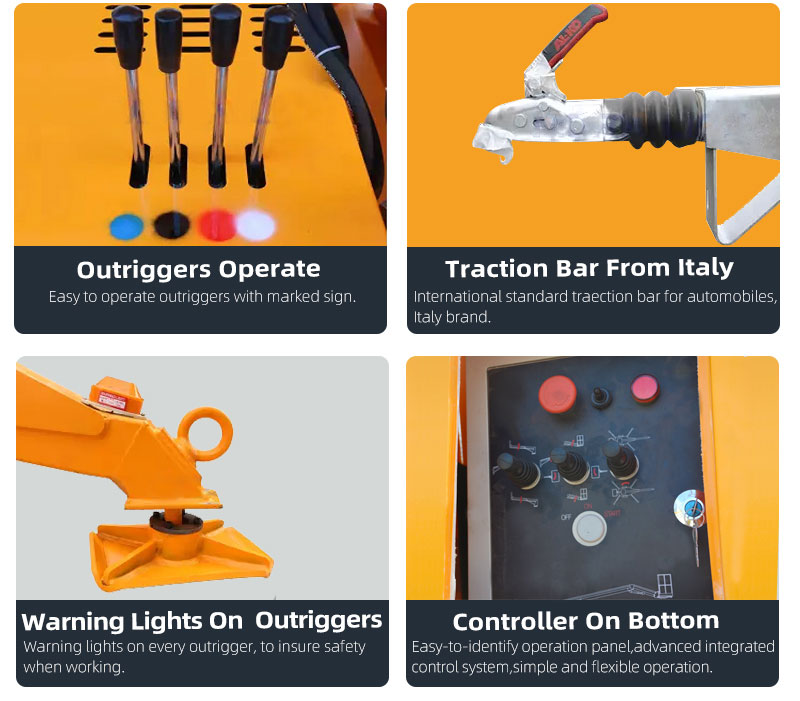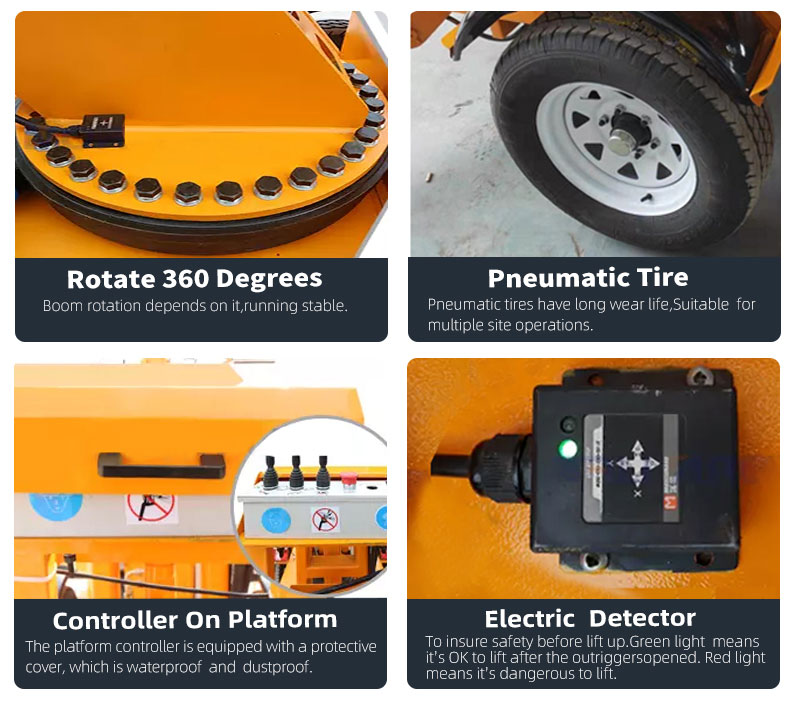 Articulated boom lift for sale just needs a 20ft container for shipping, and a 40ft container can hold 2-3 units articulated boom lifts. Besides if you purchased other goods from china we could help you coordinate them into the container for free, to make the sea cost more effective. Please leave some message to get in touch with us.