Articulating boom lift price Singapore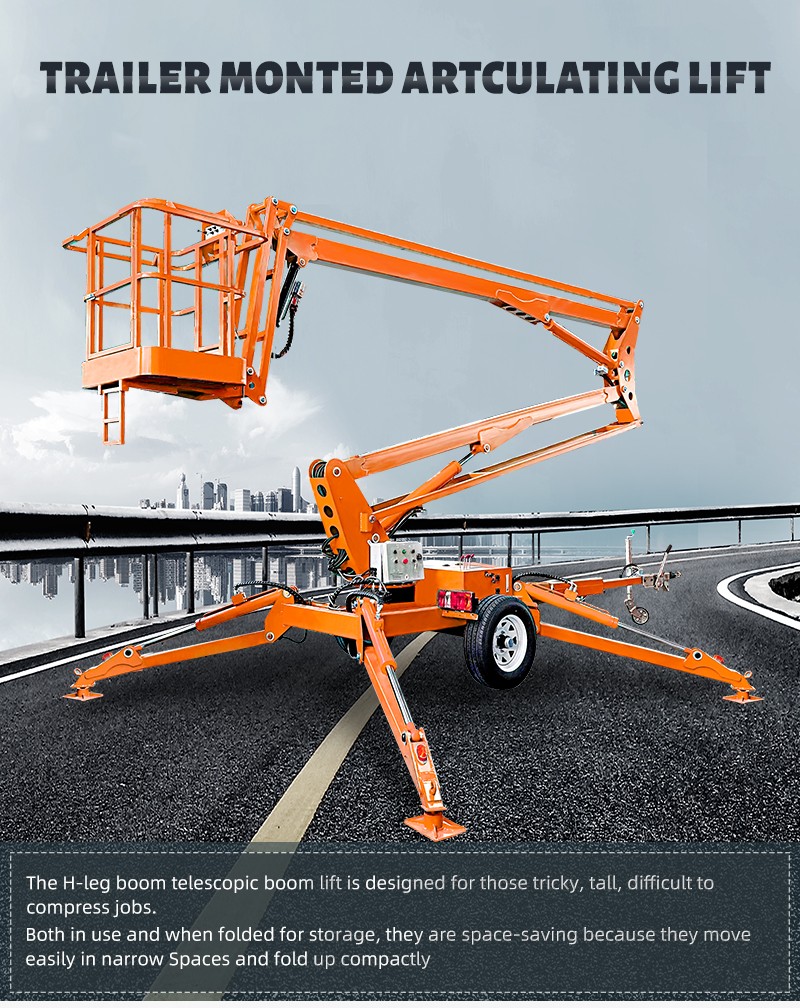 Articulating boom lift price:
Articulating Boom Lift is also called "spider boom lift". The main structure of the cantilever lift has four outriggers, the boom, the end has a work basket for carrying staff, and the bottom is a chassis with a control system. It has durable tires and trailer hooks, which can be moved in different working locations by the trailer, and the outriggers can allow it to work on uneven ground.
As a manufacturer located in China, For articulating boom lift price, customers can get the best price. In addition, we also have our freight forwarder to arrange transportation for you. We will make shopping as easy as possible.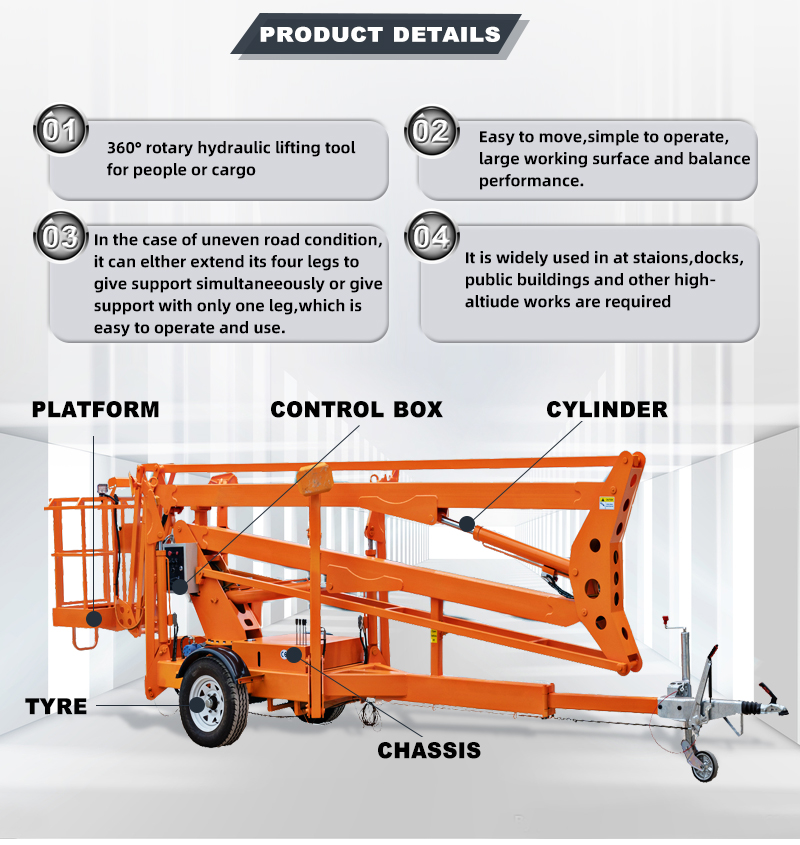 Articulating boom lift price, itself has great operation advantages and can work in many environments where other lifting platforms cannot work. Moreover, boom lift has the advantages of simple structure, easy maintenance, low maintenance cost and long service life.
Model of the best Articulating boom lift price
Model

/

THZB-10

THZB-12

THZB-14

THZB-16

THZB-18

THZB-20

Maximum working height

m

12

14

16

18

20

22

Maximum platform height

m

10

12

14

16

18

20

Maximum load

kg

200

200

200

200

200

200

Maximum working radius

m

5.5

6.5

8.5

10.5

11

12.5

Platform size (l * w * h)

m

0.9×0.7×1.1

0.9×0.7×1.1

0.9×0.7×1.1

0.9×0.7×1.1

0.9×0.7×1.1

0.9×0.7×1.1

Turntable rotation Angle (continuous)

°

360°

360°

360°

360°

360°

360°

Traction speed

km/h

≤100

≤100

≤100

≤100

≤100

≤100

Total weight

kg

1700

2000

2530

2600

4350

4500

Control

Electric proportional control

Power

Petrol/AC/Diesel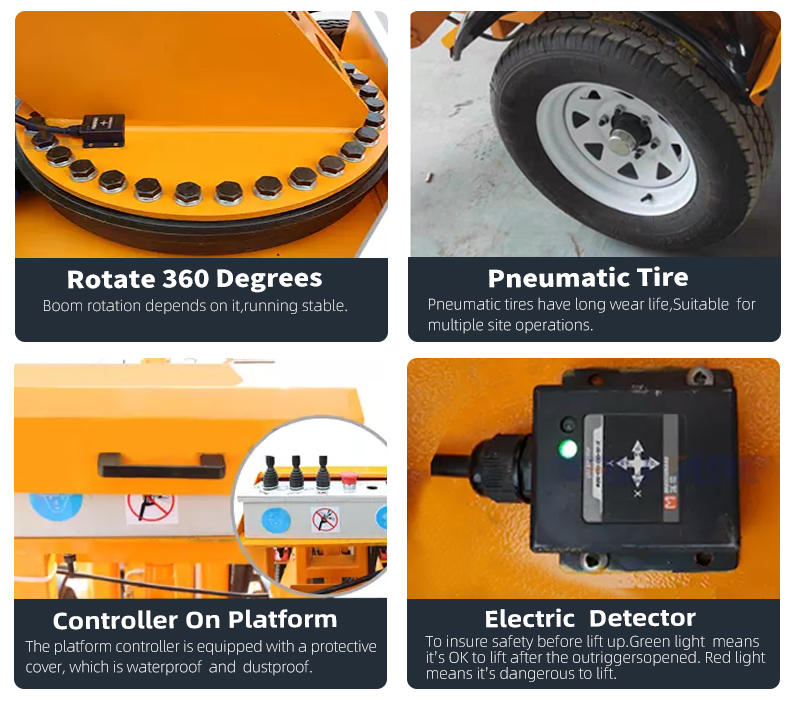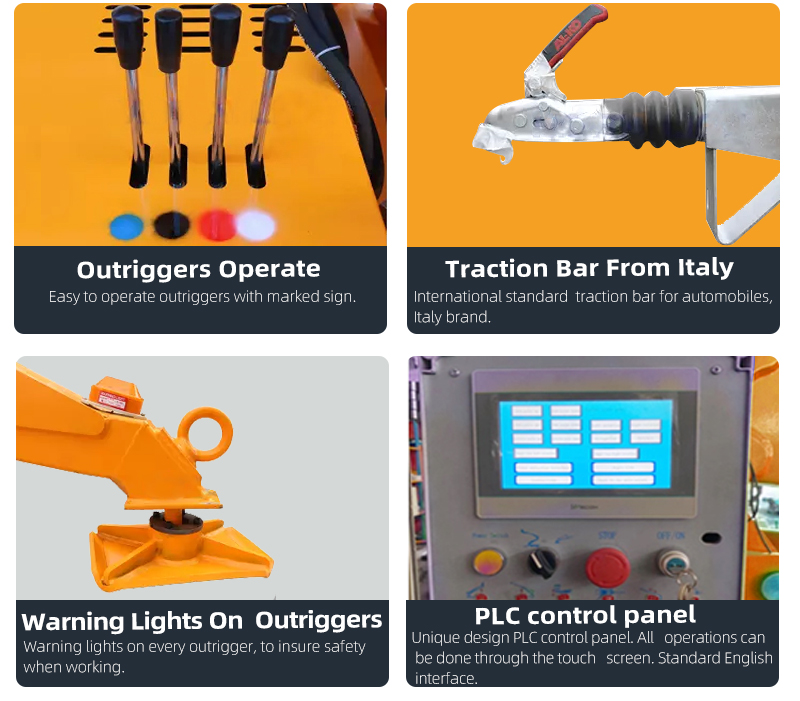 Details for Articulating boom lift price
The 360 degree rotatable platform greatly increases the working range of lift, and greatly improves the operability of the machine itself.
There are two sets of control systems. At the bottom, there is a set of control cabinet with PLC touch panel, which is used for the control of the whole machine, easy to adjust the machine body and adapt to the work site. Platform control system, the staff can also control the lift on the platform to control the lifting and rotation of the lift. So that the operators can adjust the lift in time according to the operation needs.
Trailer hitch imported from Italy. The international universal and high-quality trailer hitch is convenient for you to move and adjust the lift.
Power for Articulating boom lift price
As a manufacturer, we can provide you with customized services, including color, voltage and power.
AC / DC / Diesel / gasoline, single power or two power can be selected together.
For Articulating boom lift price, Different power also corresponds to different prices. According to your requirements, we produce for you.
For more details about Articulating boom lift price , welcome to contact us!