Our Factory price Cargo lift for Malaysia
Are you seeking efficient and reliable cargo lift solutions for your business in Malaysia? Look no further. We are cargo lift manufacturer and our cargo lift offerings are designed to streamline your material handling processes, enhance productivity, and provide excellent value. Discover the benefits of our factory price cargo lift options tailored to meet your unique needs:
1. Vertical Cargo Lifts
Our vertical cargo lifts are engineered to efficiently transport goods and materials vertically between different levels. With customizable features, advanced safety measures, and a competitive factory price, these lifts are a cost-effective solution for optimizing your material handling operations.
2. Scissor Cargo Lifts
The scissor cargo lift design offers versatility and robust lifting capabilities. Whether you need to move heavy loads within your warehouse, distribution center, or manufacturing facility, our scissor cargo lifts provide efficient vertical transportation at an affordable factory price.
3. Hydraulic Lifts
Our hydraulic lifts combine durability and smooth operation, making them an ideal choice for various industries in Malaysia. With factory pricing that offers exceptional value, these lifts are an investment in improving your facility's efficiency and workflow.
4. Customized Solutions
We understand that every business has unique requirements. Our team specializes in crafting customized cargo lift solutions tailored to your specific needs. From load capacity to platform size and control options, we work closely with you to deliver a lift that matches your operational demands.
5. Factory-Direct Pricing
Our commitment to providing competitive factory prices ensures that you receive the best value for your investment. By eliminating intermediaries, we pass on cost savings directly to you, allowing you to acquire a high-quality cargo lift solution without compromising on quality.
6. Compliance and Safety
Our cargo lifts adhere to stringent safety standards and regulations in Malaysia. You can trust that our lifts are designed with safety as a top priority, ensuring the protection of operators and goods during lifting operations.
7. After-Sales Support
Our comprehensive after-sales support includes installation, training, maintenance, and technical assistance. We stand by our products and services, ensuring that your cargo lift continues to perform reliably over the long term.
Elevate your material handling processes with our factory price cargo lift solutions in Malaysia. Whether you're looking to optimize warehouse operations, improve distribution efficiency, or enhance overall productivity, our cargo lifts provide a versatile and cost-effective solution. Contact us today to discuss your requirements, request a quote, and embark on a journey to elevate your business's material handling capabilities.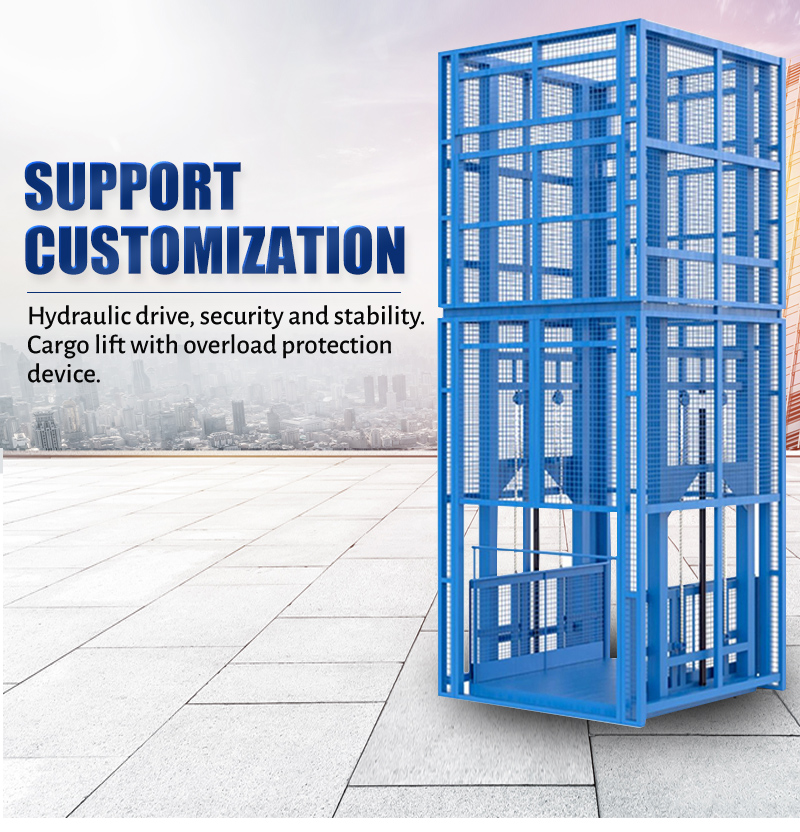 Details of Cargo lift Malaysia
| | |
| --- | --- |
| Lifting height | 1-12m or customized |
| Platform size | 2000*2000mm or customized |
| Load | 1-20ton or customized |
| Installation | Indoor or outdoor |
Cargo lift Malaysia, it uses hydraulic cylinder as the main power and is driven by heavy chain and steel wire rope to ensure the absolute safety of the machine. There is no pit and machine room, which is especially suitable for basement, warehouse transformation, new shelves, etc. because of its simple structure, Cargo lift Malaysia, it is easy to install, the safety is greatly improved, the failure rate is low, it is easy to maintain, and the use cost is greatly reduced.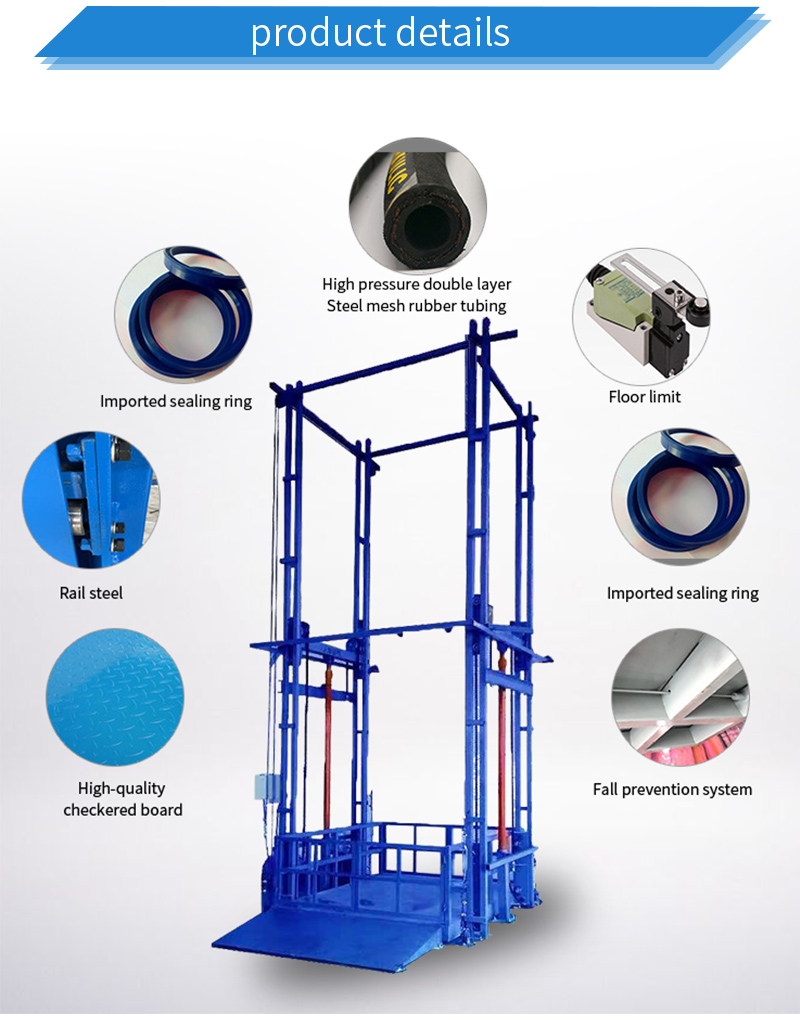 Cargo lift Malaysia Manufacturer, Safety measures:
1. Overflow valve: Prevent excessive system pressure during upward movement.
2. Emergency manual valve: When the power fails, the platform can be lowered to the nearest floor to open the door.
3. Hand pump: When the system fails, the manual pump can be operated to pump high-pressure oil to make the platform rise to the nearest floor position.
4. Pipeline rupture valve: When the hydraulic system pipeline is broken and the platform stalls and descends, it can automatically cut off the oil circuit to stop the descending.
5. Fuel tank oil temperature protection: When the oil temperature in the oil tank exceeds the standard setting value, the oil temperature protection device will generate a signal to suspend the use of the elevator, and the lift can only be started when the oil temperature drops.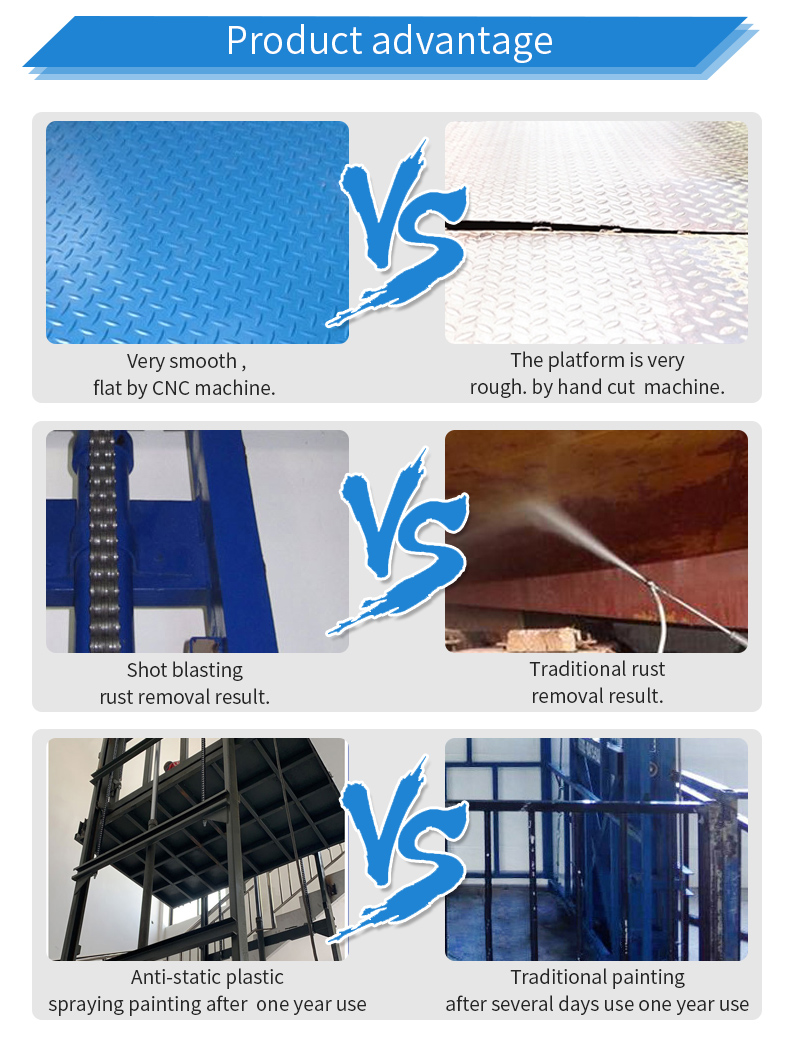 Secure Packaging for Our Factory Price Cargo Lifts in Malaysia
Ensuring the safe and damage-free delivery of our factory price cargo lifts to our valued customers in Malaysia is a top priority for us. Our meticulous packaging process guarantees that your cargo lift systems arrive in pristine condition and ready for installation. Here's an overview of our secure packaging methods:
1. Protective Wrapping
Each component of the cargo lift is carefully wrapped with protective materials to prevent scratches, abrasions, and any potential damage during transit.
2. Foam Padding
Fragile and sensitive parts are further safeguarded with foam padding. This additional layer of protection absorbs impact and provides cushioning against potential shocks.
3. Wooden Crates or Boxes
The cargo lift components are placed in sturdy wooden crates or boxes designed to withstand the rigors of transportation. These crates are custom-sized to fit the components snugly, reducing movement during transit.
4. Sealing and Reinforcement
To ensure the cargo lifts are securely contained, the crates or boxes are sealed and reinforced with strapping or bands. This prevents shifting, movement, or accidental opening during handling and shipping.
5. Clear Labeling
Each package is clearly labeled with essential information, including handling instructions, shipping details, and product identification. This assists our logistics partners in managing and transporting the cargo lifts accurately.
6. Documentation
A detailed packing list and assembly instructions are included with the shipment. This documentation guides the installation process and ensures that all components are accounted for upon arrival.
7. Quality Assurance Checks
Before shipment, each cargo lift system undergoes a thorough quality assurance check. This inspection verifies that all components are properly packed and ready for transport.
Our commitment to secure packaging reflects our dedication to delivering cargo lift solutions that meet your expectations and arrive in optimal condition. Whether it's a vertical cargo lift, scissor lift, hydraulic lift, or any customized solution, you can trust that our packaging safeguards your investment and sets the stage for a smooth and successful installation process in Malaysia.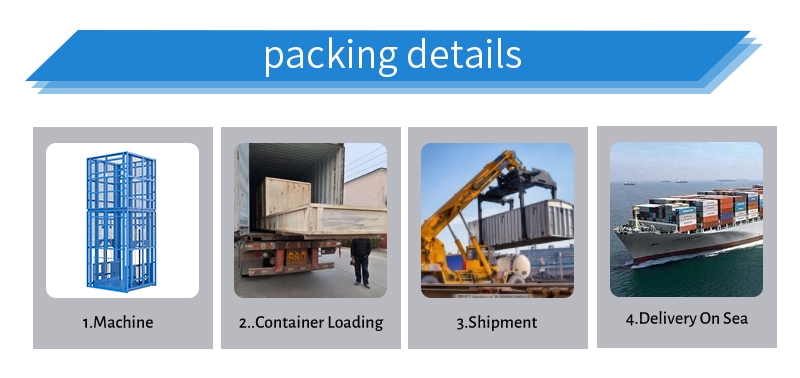 For more details about Cargo lift Malaysia, welcome to contact us!
FAQ
1. What type of cargo lifts do you manufacture and supply to Malaysia?
We specialize in manufacturing and supplying a wide range of cargo lift solutions for various industries in Malaysia. Our offerings include vertical cargo lifts, scissor cargo lifts, hydraulic lifts, and customized solutions tailored to meet specific requirements.
2. How can a cargo lift benefit my business in Malaysia?
A cargo lift streamlines material handling, reduces manual labor, and enhances efficiency within your facility. It allows you to move goods, equipment, and materials vertically, optimizing workflow and contributing to increased productivity.
3. Why should I choose your cargo lifts over others on the market?
Our cargo lifts stand out due to their superior quality, advanced safety features, and competitive factory pricing. We prioritize durability, safety, and customized solutions to ensure that our cargo lifts meet your exact needs and provide excellent value.
4. Are your cargo lifts compliant with safety regulations in Malaysia?
Absolutely. Our cargo lifts are designed, manufactured, and tested to meet or exceed safety standards and regulations in Malaysia. We prioritize the safety of operators and goods during lifting operations.
5. Can you provide custom cargo lift solutions for specific requirements?
Yes, we offer custom cargo lift solutions tailored to your specific needs and facility layout. Our team works closely with you to design and manufacture cargo lifts that match your unique operational requirements.
6. What is the pricing structure for your cargo lifts in Malaysia?
We provide competitive factory prices for our cargo lifts. Pricing may vary depending on factors such as lift type, load capacity, customization, and additional features. Please contact our sales team to get detailed pricing information.
7. How do I request a quote or place an order for a cargo lift?
To request a quote or place an order, simply reach out to our sales team via phone or email. We'll guide you through the process, gather the necessary information, and provide you with a comprehensive quote based on your requirements.
8. Do you offer after-sales support and maintenance services in Malaysia?
Yes, we provide comprehensive after-sales support, including installation, training, maintenance, and technical assistance for our cargo lifts in Malaysia. Our goal is to ensure the continued performance and safety of your lift system.
9. How long does it take to install a cargo lift in Malaysia?
The installation timeline depends on the type of cargo lift, its specifications, and the site's conditions. Our experienced installation team strives to complete the process efficiently, minimizing any disruption to your operations.
10. Can I visit your manufacturing facility to learn more about your cargo lifts?
Certainly, we welcome you to visit our manufacturing facility to learn more about our cargo lifts and see our production process firsthand. Please contact us to schedule a visit and discuss your requirements in detail.
For further inquiries, detailed specifications, or to request a quote, please contact our sales team. We are dedicated to providing reliable and efficient cargo lift solutions to businesses in Malaysia at competitive factory prices.