Factory price Towable Articulating Boom Lift for sale
Towable Articulating Boom Lift
Towable Articulating Boom Lift is also called "spider boom lift". The main structure of the cantilever lift has four outriggers, the boom, the end has a work basket for carrying staff, and the bottom is a chassis with a control system. It has durable tires and trailer hooks, which can be moved in different working locations by the trailer, and the outriggers can allow it to work on uneven ground.
Boom lift itself has great operation advantages and can work in many environments where other lifting platforms cannot work. Moreover, boom lift has the advantages of simple structure, easy maintenance, low maintenance cost and long service life.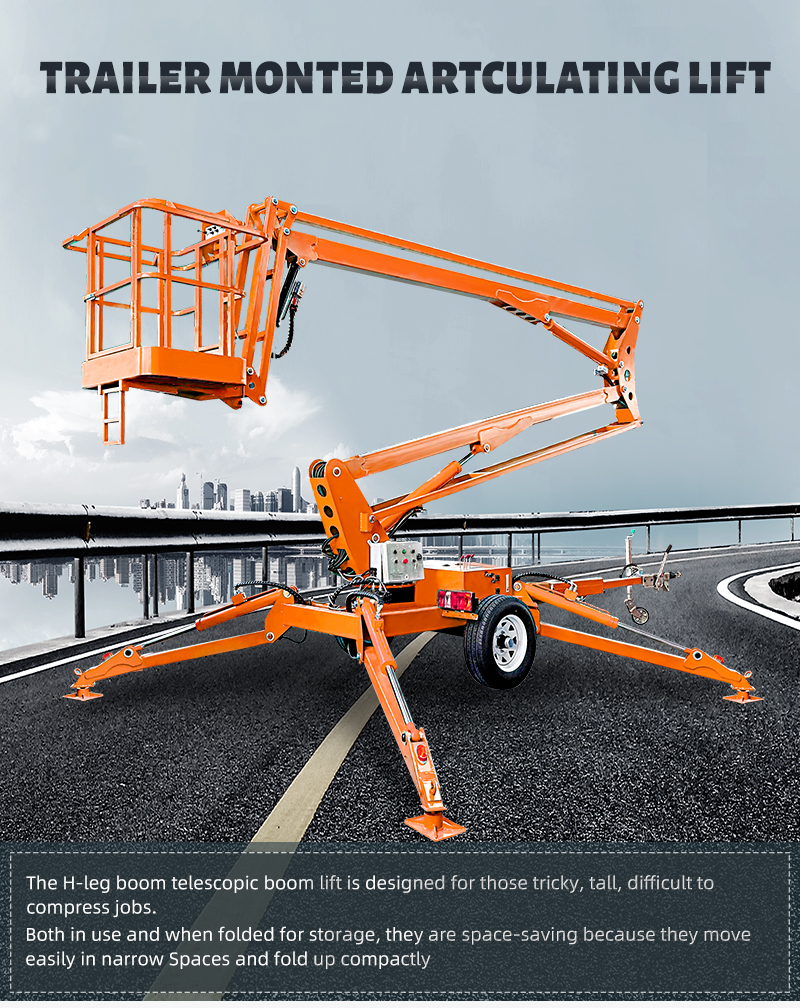 The mobility of boom makes boom lift have excellent working radius, so it can work across obstacles. This is not possible with ordinary lift.
In addition, the load of 200kg basket can make two operators, or one operator can carry tools to realize the operation.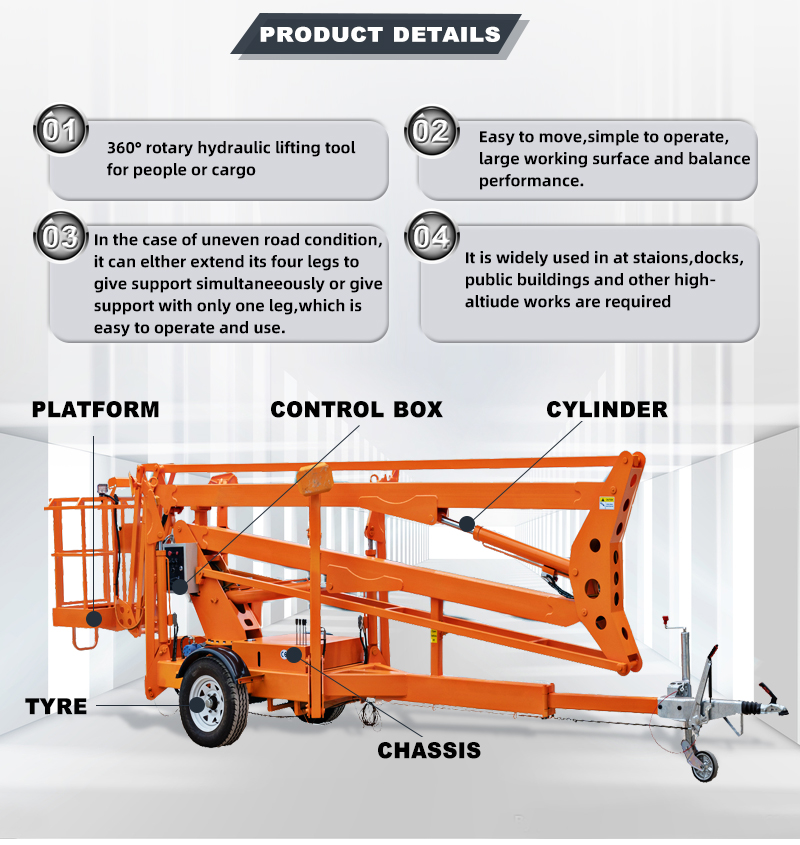 Model

/

THZB-10

THZB-12

THZB-14

THZB-16

THZB-18

THZB-20

Maximum working height

m

12

14

16

18

20

22

Maximum platform height

m

10

12

14

16

18

20

Maximum load

kg

200

200

200

200

200

200

Maximum working radius

m

5.5

6.5

8.5

10.5

11

12.5

Platform size (l * w * h)

m

0.9×0.7×1.1

0.9×0.7×1.1

0.9×0.7×1.1

0.9×0.7×1.1

0.9×0.7×1.1

0.9×0.7×1.1

Turntable rotation Angle (continuous)

°

360°

360°

360°

360°

360°

360°

Traction speed

km/h

≤100

≤100

≤100

≤100

≤100

≤100

Total weight

kg

1700

2000

2530

2600

4350

4500

Control

Electric proportional control

Power

Petrol/AC/Diesel
Features of Towable Articulating Boom Lift for sale
Ø Rotate 360 Degrees: Boom rotation depends on it, running stable.
Ø Pneumatic Tire: Pneumatic tires have long wear life, suitable for multiple site operations.
Ø Controller On Platform: The platform controller is equipped with a protective cover, which is waterproof and dustproof. Pneumatic tires have long wear life, Suitable for multiple site operations.
Ø Electric Detector: To insure safety before lift up. Green light means it's OK to lift after the outriggers opened. Red light means it's dangerous to lift.
Ø Outriggers Operate: Easy to operate outriggers with marked sign.
Ø Traction Bar: Germany imported ALKO Brand Brakes.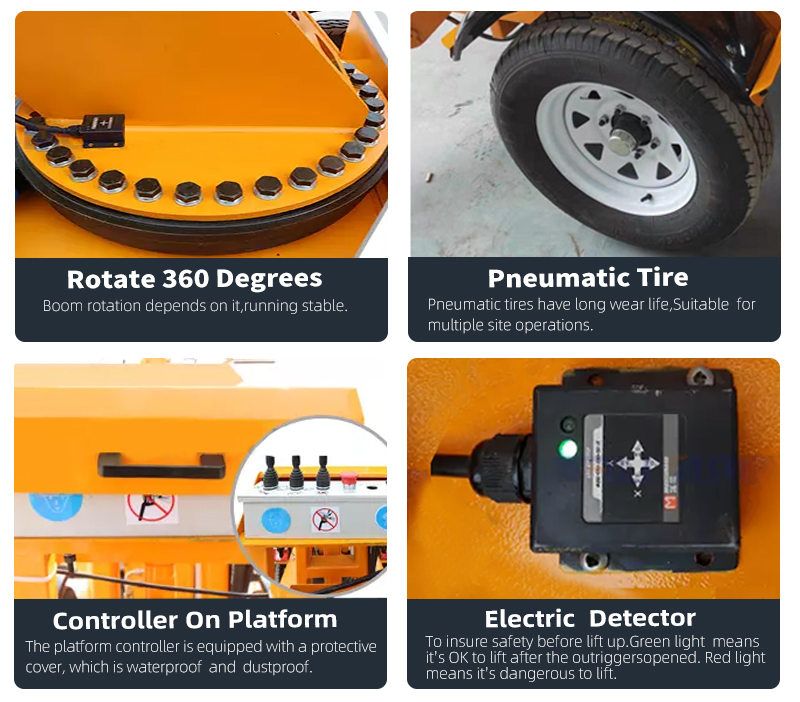 Ø Charging Socket: Anti-vibration, shock, collision, leakage as per requests.
Ø Limited Switch: DELIXI limited switch for safety precaution.
Ø Speed controller: Speed controller, actively adjust the lifting speed.
Ø Galvanized axle pin: Galvanized axle pin, anti-rust and anti-wear
Ø Hydraulic pump station: Equipped with special lit pump station which has good stability and long service life.
Ø Oil tube: Double layer high pressure explosion proof hydraulic special oil pipe.
Ø Manhole: Manhole for easy maintenance
Ø Telescopic arm: Telescopic Boom for 14m 16m model types
Ø Safety lock: Safety lock of basket prevent shake when tow the basket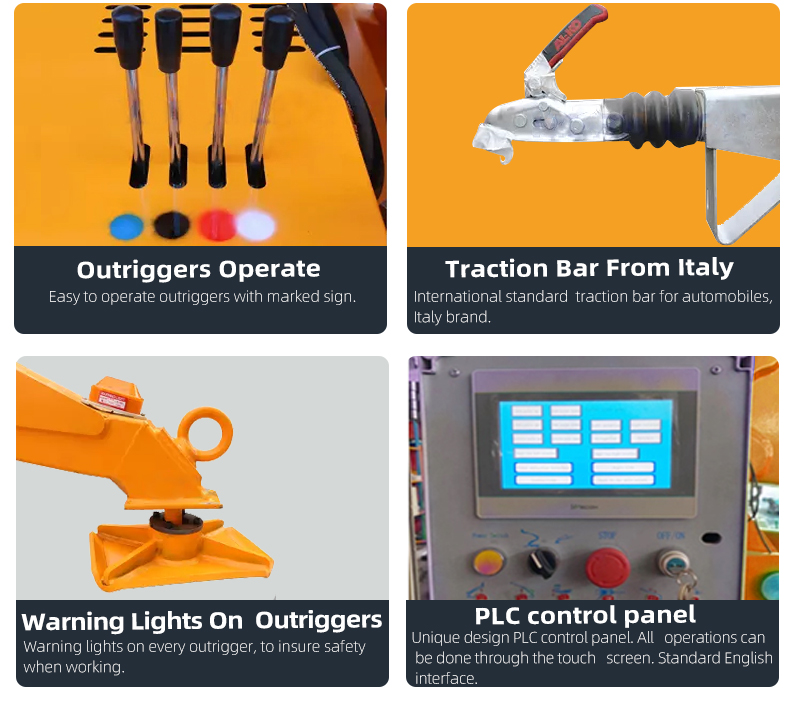 Towable Articulating Boom Lift' control panel
New design of PLC control panel
Our current boom lift control system has been updated and now has a new control panel.
The main options of the panel include power selection, operation instructions, and control interface, which can understand the lift operation in a comprehensive and timely manner.
Lift itself has upper control and the bottom control. You can control the operation of the whole machine on the ground, or you can control the operation in the basket.
For more details, welcome to contact us!