Factory small cargo lift Australia
The small cargo lift is a hydraulic lifting mechanical equipment used for lifting goods. It uses hydraulic cylinders as the main power and is driven by heavy chains and wire ropes to ensure the absolute safety of the machine. There is no need for pits and machine rooms, and it is especially suitable for basements, warehouse transformations, new shelves, etc. It has convenient installation and maintenance, beautiful appearance, safety, and convenient operation. It is produced according to the actual environment on site.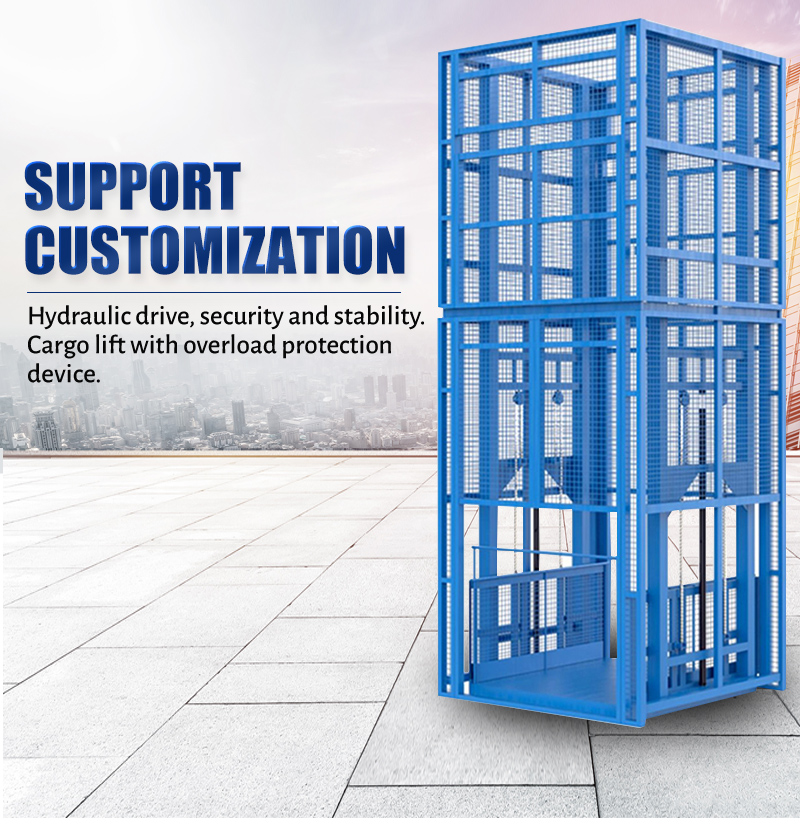 Factory small cargo lift Australia Safety measures:
1. Overflow valve: Prevent excessive system pressure during upward movement.
2. Emergency manual valve: When the power fails, the platform can be lowered to the nearest floor to open the door.
3. Hand pump: When the system fails, the manual pump can be operated to pump high-pressure oil to make the platform rise to the nearest floor position.
4. Pipeline rupture valve: When the hydraulic system pipeline is broken and the platform stalls and descends, it can automatically cut off the oil circuit to stop the descending.
5. Fuel tank oil temperature protection: When the oil temperature in the oil tank exceeds the standard setting value, the oil temperature protection device will generate a signal to suspend the use of the elevator, and the lift can only be started when the oil temperature drops.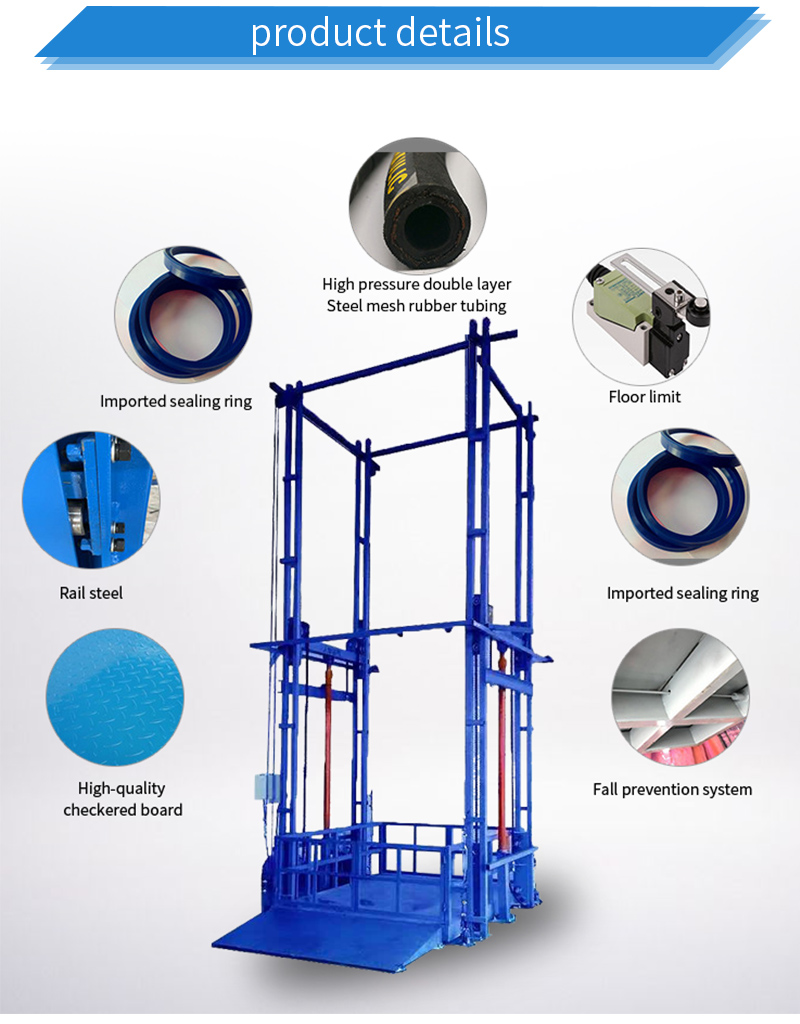 Factory small cargo lift Australia features
1. We use checkered board to make the plaform skidproof and stable.
2. Q345 high quality steel is used to make the guide rail, to make sure the main structure is durable and stable.
3. Imported seal ring to avoid oil leakage.
4. Double layer steel mesh tubing guarantee the oil presure is under control, and no explosion will happen.
5. Hydraulic lift specialized limit switch.
6. Falling protection system, if something bad happens, the platform will be locked down immediately.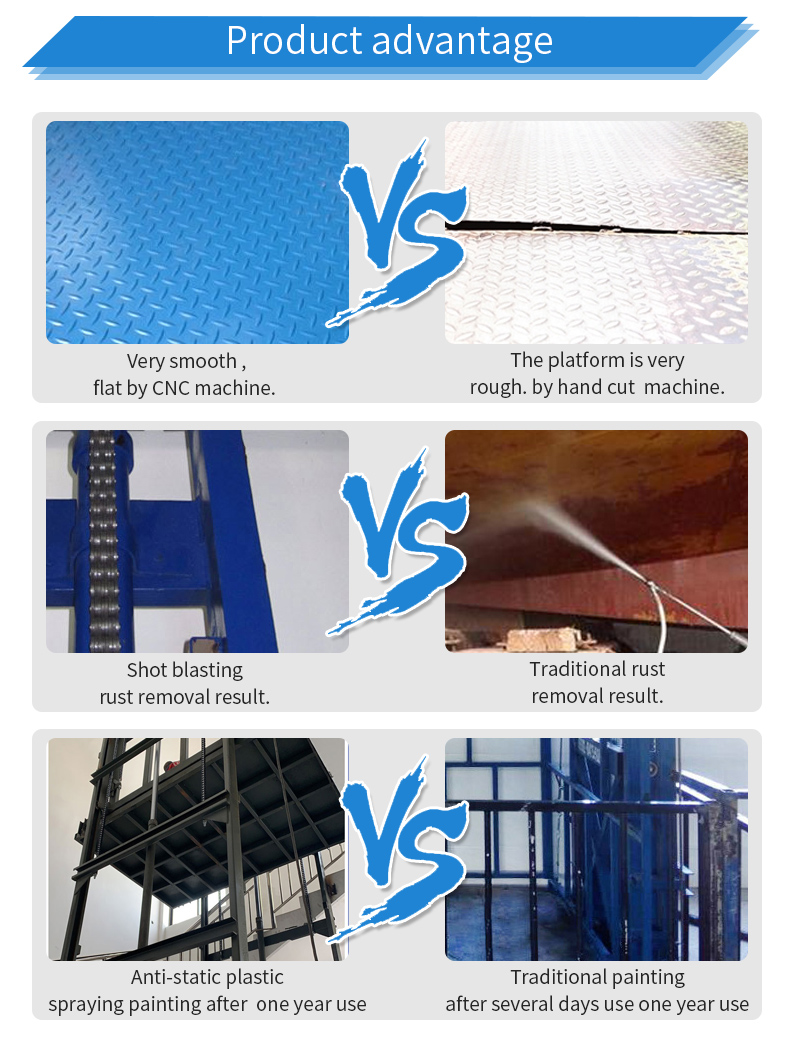 Factory small cargo lift Australia difference:
As a manufacturer, with better materials and structures, we first ensure the safety and reliability of small cargo lift and the service life of products.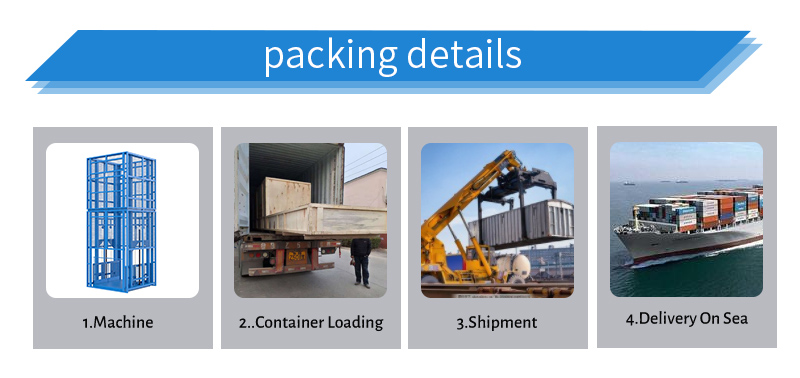 Packing of Factory small cargo lift Australia
We take great care in ensuring that your small cargo lift arrives in excellent condition and is ready for installation. Our packing process is designed to provide optimal protection and convenience:
1.

Pre-Assembly and Testing

To streamline the installation process and ensure the lift's functionality, we pre-assemble and thoroughly test each unit in our factory. This rigorous testing guarantees that your small cargo lift is in perfect working order before it leaves our facility.
2. Wooden Case Packaging
Each main component of the small cargo lift is meticulously packed into separate wooden cases. This packaging method provides individual protection for critical parts, preventing any damage during transit.
3. Installation Manuals
We understand the importance of clear instructions during installation. Therefore, we provide detailed installation manuals with step-by-step guidance. These manuals make the installation process straightforward and efficient, ensuring that your small cargo lift is set up correctly.
4. Additional Protection
To safeguard against handling and transportation-related impacts, we implement additional padding and cushioning within the wooden cases. This provides an extra layer of protection to prevent any potential damage during transit.
5. Customized Packaging
We tailor our packaging to suit the specific components and design of your small cargo lift. This personalized approach ensures that each part is secured and protected during the journey to your Australian location.
6. Identification and Labeling
Each package is clearly labeled and identified to ensure easy identification of components during unpacking and installation. This labeling system minimizes confusion and expedites the assembly process.
7. Secure Transportation
We partner with trusted transportation providers to ensure that your small cargo lift is transported safely and efficiently to your Australian factory. Our packaging is designed to withstand the rigors of transit, safeguarding the integrity of your equipment.
Rest assured that our meticulous packaging process is aimed at delivering your small cargo lift in optimal condition and ready for seamless installation. Should you have any questions or require further information about our packaging procedures, please do not hesitate to contact us. We are dedicated to ensuring that your experience with our products is of the highest quality from start to finish.
FAQ
1. What is a small cargo lift for factories, and how can it benefit my Australian business?
A small cargo lift for factories is a versatile vertical transportation system designed to move goods, materials, and equipment between different levels within a factory setting. It streamlines material handling processes, improves efficiency, and reduces manual labor, making it an essential tool for enhancing productivity in Australian industries.
2. Are your small cargo lifts suitable for Australian safety and regulatory standards?
Absolutely. Our small cargo lifts are designed and manufactured to meet Australian safety and regulatory requirements. We prioritize safety compliance to ensure that your operations adhere to local standards and regulations.
3. How can a small cargo lift improve efficiency in my Australian factory?
A small cargo lift optimizes material flow within your factory, reducing the time and effort required for manual transportation. This leads to streamlined operations, faster production cycles, and improved overall efficiency.
4. Can the small cargo lift be customized to fit the layout of my Australian factory?
Yes, we offer customization options to tailor the small cargo lift to your factory's unique layout and needs. This includes lift capacity, platform dimensions, lifting height, and additional features.
5. What safety features are included with your small cargo lifts?
Our small cargo lifts are equipped with a range of safety features, including limit switches, safety barriers, emergency stop buttons, and anti-drop mechanisms. These safety measures ensure secure transportation of goods and protect workers from potential hazards.
6. Are the small cargo lifts energy-efficient and environmentally friendly?
Yes, our small cargo lifts are designed with energy efficiency in mind. We utilize advanced hydraulic systems and energy-efficient components to minimize energy consumption and reduce environmental impact.
7. How do I inquire about the pricing and specifications of your small cargo lifts in Australia?
You can easily inquire about pricing, specifications, and other details by reaching out to our dedicated sales team. We'll provide you with comprehensive information to help you make an informed decision.
8. How long does it typically take to install a small cargo lift in an Australian factory?
The installation timeline varies depending on factors such as lift specifications, customization, and site preparation. Our team will provide you with a clear estimate of the installation timeline based on your specific requirements.
9. Can your small cargo lifts be integrated into existing factory operations in Australia?
Yes, our small cargo lifts are designed for seamless integration into existing factory layouts. We work closely with you to understand your operational needs, ensuring a smooth integration process.
10. Do you provide after-sales support and maintenance services in Australia?
Yes, we offer comprehensive after-sales support, including installation, training, maintenance, and technical assistance in Australia. Our goal is to ensure the continued performance and safety of your small cargo lift.
For additional inquiries, detailed specifications, or to request a quote, please feel free to contact our sales team. We're committed to providing you with a small cargo lift solution that enhances your Australian factory's operations and contributes to your business's success.
For more details about small cargo lift, welcome to contact us!