Factory small cargo lift Australia
The small cargo lift is a hydraulic lifting mechanical equipment used for lifting goods. It uses hydraulic cylinders as the main power and is driven by heavy chains and wire ropes to ensure the absolute safety of the machine. There is no need for pits and machine rooms, and it is especially suitable for basements, warehouse transformations, new shelves, etc. It has convenient installation and maintenance, beautiful appearance, safety, and convenient operation. It is produced according to the actual environment on site.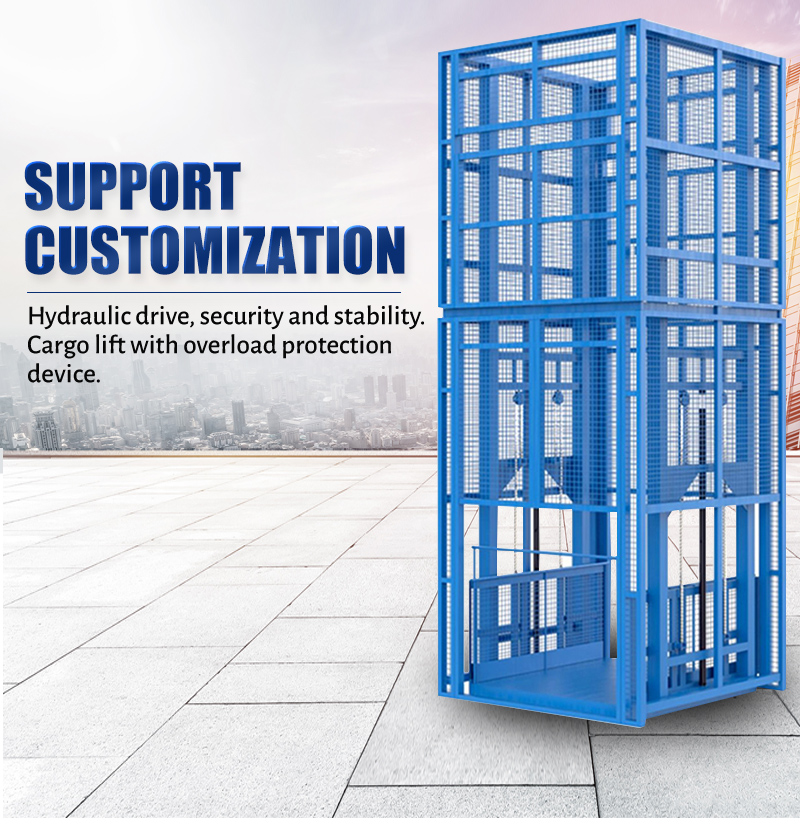 Small cargo lift Safety measures:
1. Overflow valve: Prevent excessive system pressure during upward movement.
2. Emergency manual valve: When the power fails, the platform can be lowered to the nearest floor to open the door.
3. Hand pump: When the system fails, the manual pump can be operated to pump high-pressure oil to make the platform rise to the nearest floor position.
4. Pipeline rupture valve: When the hydraulic system pipeline is broken and the platform stalls and descends, it can automatically cut off the oil circuit to stop the descending.
5. Fuel tank oil temperature protection: When the oil temperature in the oil tank exceeds the standard setting value, the oil temperature protection device will generate a signal to suspend the use of the elevator, and the lift can only be started when the oil temperature drops.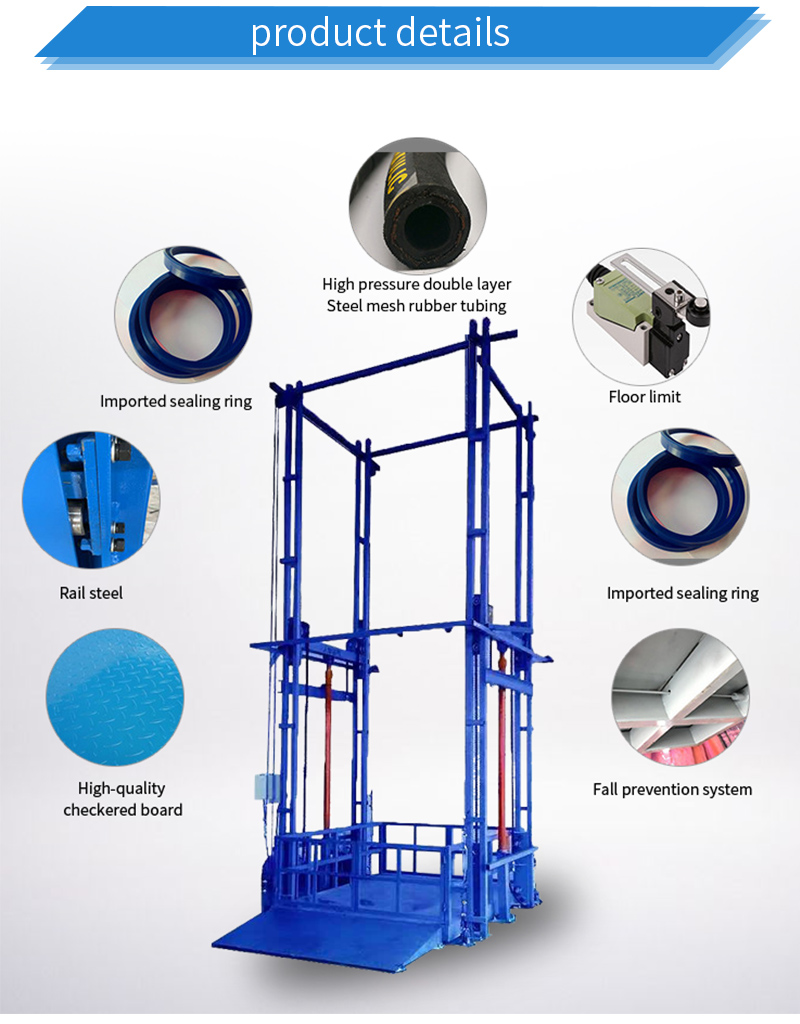 Small cargo lift features
1. We use checkered board to make the plaform skidproof and stable.
2. Q345 high quality steel is used to make the guide rail, to make sure the main structure is durable and stable.
3. Imported seal ring to avoid oil leakage.
4. Double layer steel mesh tubing guarantee the oil presure is under control, and no explosion will happen.
5. Hydraulic lift specialized limit switch.
6. Falling protection system, if something bad happens, the platform will be locked down immediately.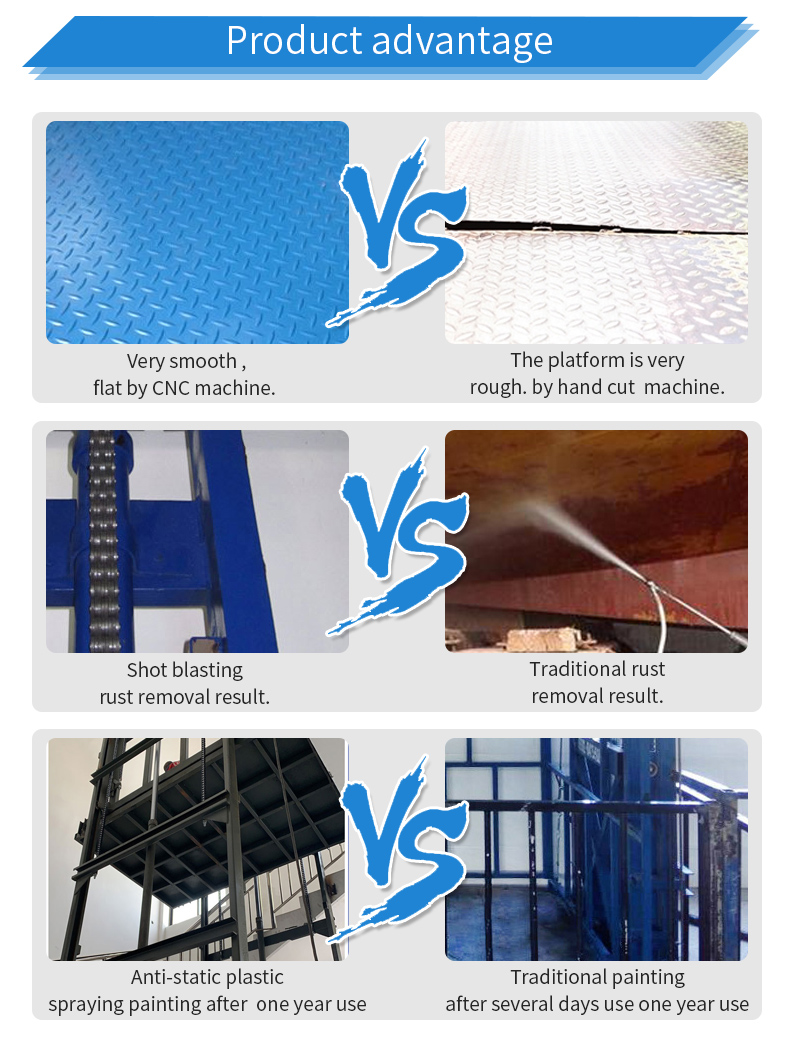 small cargo lift difference:
As a manufacturer, with better materials and structures, we first ensure the safety and reliability of small cargo lift and the service life of products.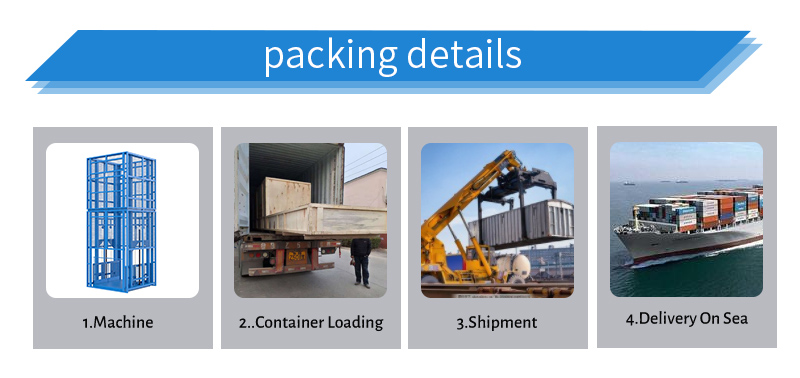 Packing of small cargo lift:
Small cargo lift, In order to facilitate installation, we will assemble and test for you in the factory in advance, and then pack them into wooden cases according to each main part, with installation manuals attached.
For more details about small cargo lift, welcome to contact us!