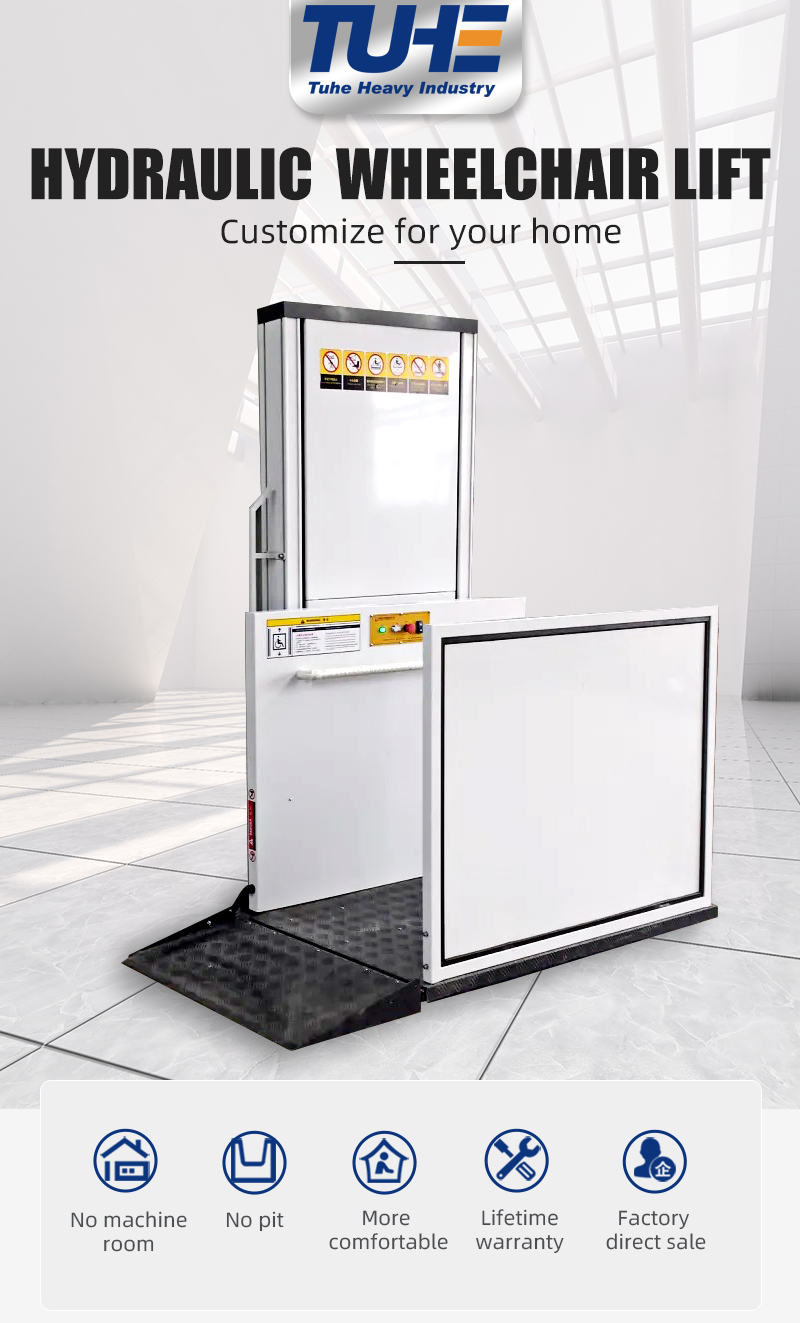 Exterior vertical platform lift introduction
Exterior vertical platform lift is used for the disabled and the old to go upstaris and downstairs, it's convenient and safe. Hydraulic wheelchair lift can be installed indoors or outdoors, it moves vertically up and down. Double controller of platform control and remote control make the vertical platform lift easy to operate.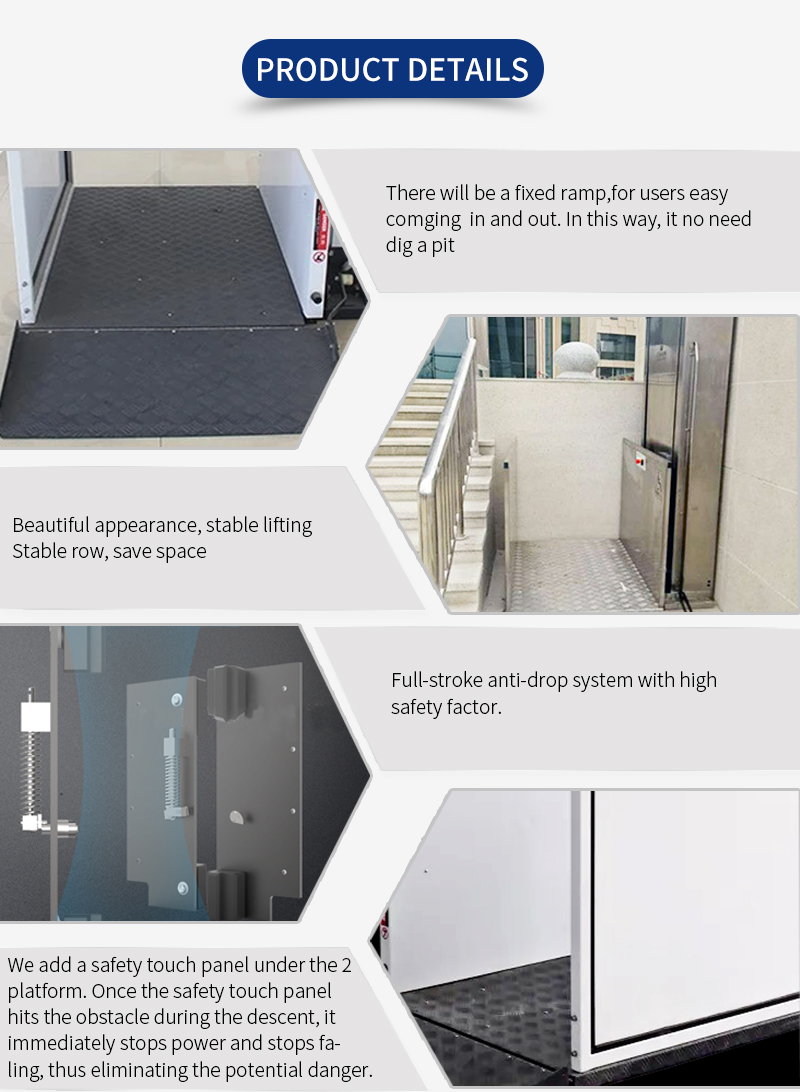 Exterior vertical platform lift details
1. Fixed or automatic ramp to help wheelchairs get in and out easily.
2. Antiskid platform to keep the wheechair stable during lifting and lowering.
3. Safety interlock, if something bad happens, the platform will be locked immediately.
4. Bottom sensor, if there's any obstacle under the platform, the lift will stop once the obstacle touches the bottom.
5. Emergency stop, there's an emergency stop button.
6. Manual lowering valve, if powr failure, you can use this valve to lower the lift manually.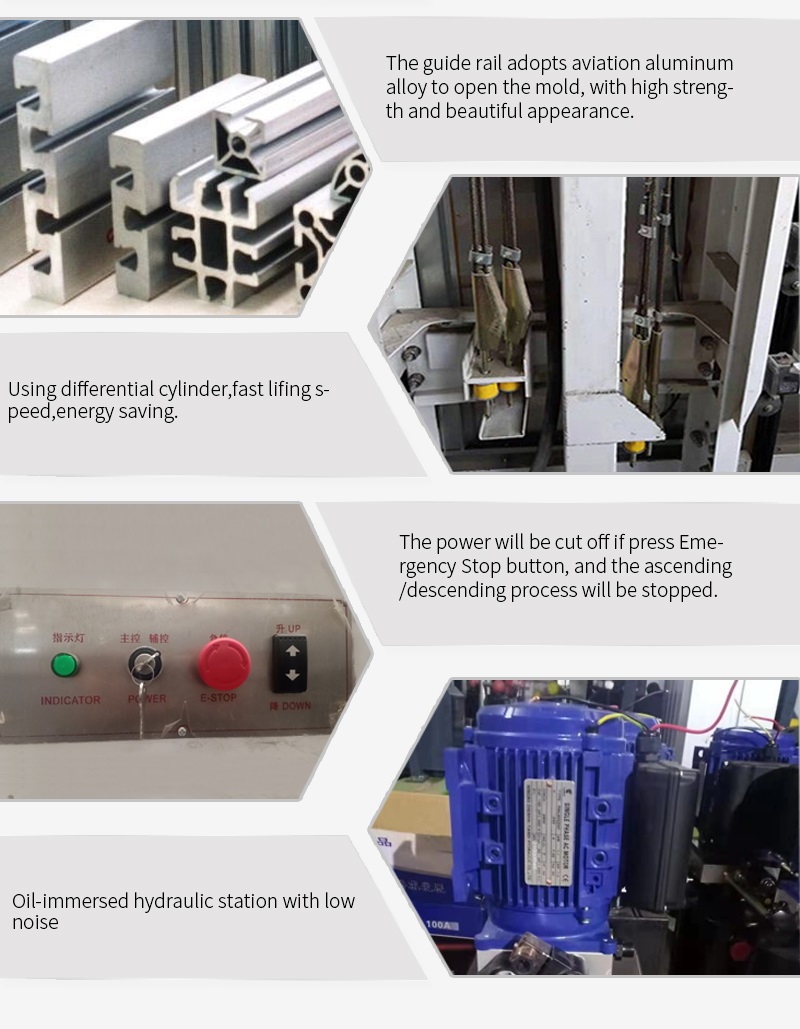 Exterior vertical platform lift specialized parts
1. Aviation grade aluminum, to make sure the stability and durability of the whole lift.
2. Heavy duty chain and explosion-proof high-pressure tubing, to make sure the platform won't fall or oil leak.
3. Easy-to-operate buttons with clear informations.
4. Specialized mute pumping station, silence and powerful.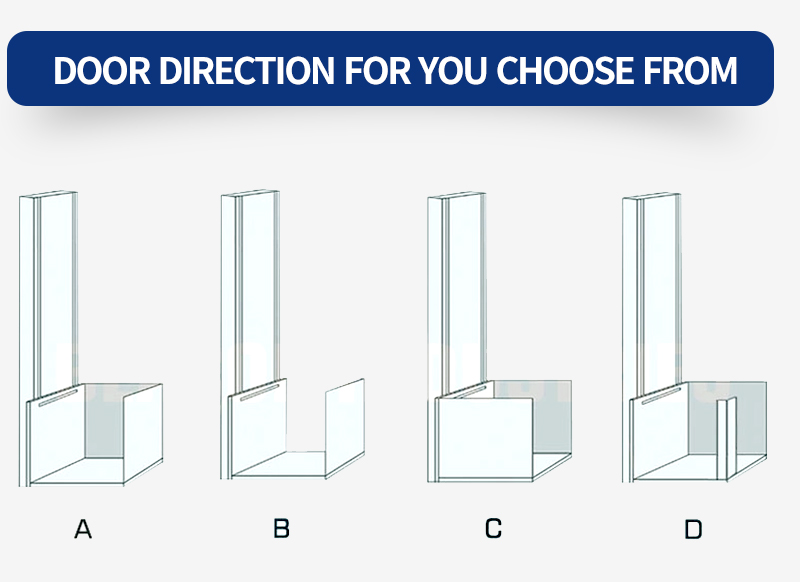 Exterior vertical platform lift different models
There are three different models of hydraulic wheelchair lift, the standard model, the cabin model and the enclosure frame model. And, there are four different door directions, like 0°, 90°, 180° or full open platform.
You can choose your favourite model and we will manufacture the wheelchair lift according to your detailed requirements.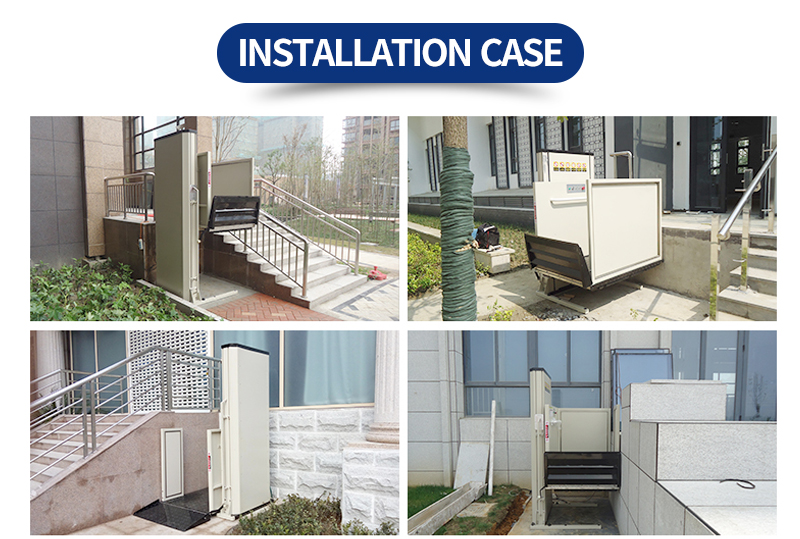 Exterior vertical platform lift actual cases
As a professional manufacturer specializing in wheelchair lift, we will provide you a product with the best price and quality assurance.
FAQ
1. What is a hydraulic wheelchair lift exterior vertical platform lift?
A hydraulic wheelchair lift exterior vertical platform lift is a mechanical device designed to transport individuals in wheelchairs or with mobility challenges between different levels of a building or outdoor space. It provides accessibility and convenience for wheelchair users.
2. Where is the hydraulic wheelchair lift exterior vertical platform lift commonly used?
This type of lift is often used in outdoor settings, such as ramps leading to buildings, elevated decks, porches, or stages, where individuals with mobility impairments need to access elevated surfaces.
3. How does a hydraulic wheelchair lift work?
The lift operates using hydraulic power, which allows for smooth and controlled vertical movement. When activated, the platform rises or descends to the desired level, allowing wheelchair users to board or disembark.
4. What is the weight capacity of a hydraulic wheelchair lift exterior vertical platform lift?
The weight capacity varies depending on the specific model and manufacturer but is typically designed to accommodate wheelchair users and their chairs, with capacities ranging from 500 to 1,000 pounds or more.
5. Is this type of lift suitable for outdoor use?
Yes, hydraulic wheelchair lift exterior vertical platform lifts are designed for outdoor use. They are constructed with weather-resistant materials and finishes to withstand exposure to the elements.
6. What safety features are typically included in these lifts?
Safety features may include safety railings or gates around the platform, emergency stop buttons, non-slip surfaces, and obstruction sensors to prevent accidents.
7. Are these lifts compliant with accessibility regulations and standards?
We ensure that their hydraulic wheelchair lifts comply with relevant accessibility regulations, such as the Americans with Disabilities Act (ADA) in the United States, to ensure accessibility and safety.
8. Can these lifts be customized to fit specific outdoor spaces?
We offer customization options to tailor the lift's size, platform shape, and finish to match the unique requirements and aesthetics of the installation site.
9. How often does a hydraulic wheelchair lift exterior vertical platform lift require maintenance?
Regular maintenance is essential to ensure safe and reliable operation. Maintenance intervals may vary, but it's typically recommended to have the lift inspected and serviced annually by a qualified technician.
10. Can these lifts be operated independently by the user in a wheelchair?
Many models are designed for independent operation, allowing users in wheelchairs to control the lift themselves using user-friendly controls.
For more details about this product, welcome to contact us!