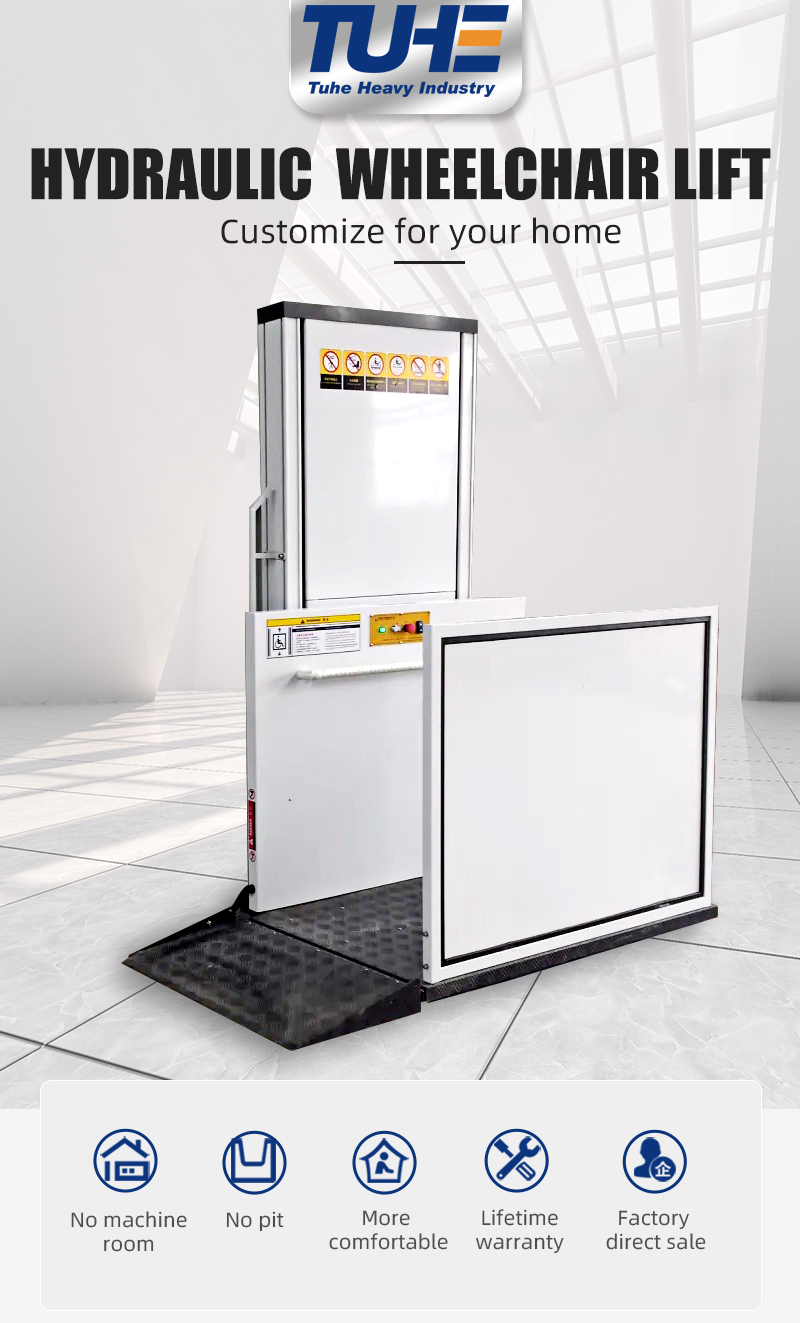 Wheelchair platform lift australia introduction
Wheelchair lift is also called vertical platform lift or handicapped lift, this product used to help the old and the disabled to go up and down stairs.It's a vertical lift so it can only move vertically from the ground to the floor. As a professional manufacturer, we TUHE company not only have standard size wheelchair lift, but also can customize your personal size. The pit is not necessary for our wheelchair platform lift, and the different voltage is not a problem either. You can always find the most suitable wheelchair lift for you from TUHE.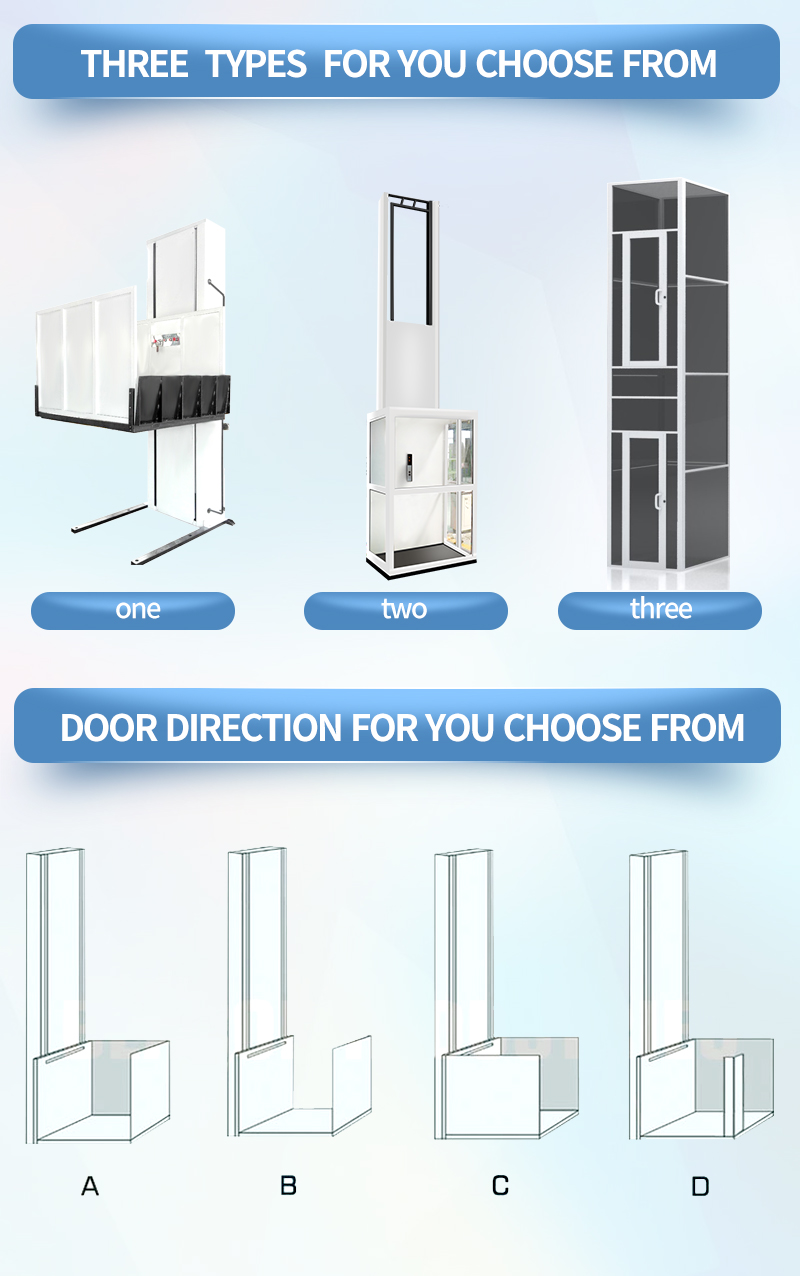 Wheelchair platform lift australia models
There are three main models of wheelchair platform lift australia:
1. Standard wheelchair lift, this model has a standard platform with guardrails, the entry can be automatic ramp or half door. It has button control on the lift platform and remote control as standard control, also a control column as an option.
2. Wheelchair lift with acabin, model has a cabin instead of the platform, the cabin wall can be made of glass or stainless steel, and, there are many options for the ceiling LED light, floor pattern and backboard. The door can be manual folding door or a light curtain, if there is anything blocks the light curtain, the lift will stop moving immediately.
3. Enclosure frame wheelchair platform lift, this model has a frame that is made of aluminium alloy and tempered glass to protect the lift from dust and danger. We also offer the landing doors together with the frame, the lift can only move when the landing doors are well closed, so it is very safe during using. We have 7 colors for the frame and landing door for your choice, I'm sure you will find your favorite color!
The directions of the wheelchair platform australia door
We can make the entry and exit for the wheelchair lift as your requirement, like only one direction, 90°direction, 180°direction or a fully open platform. No matter you want to get in and get out of the wheelchair platform lift in which direction, we can totally meet your requirements.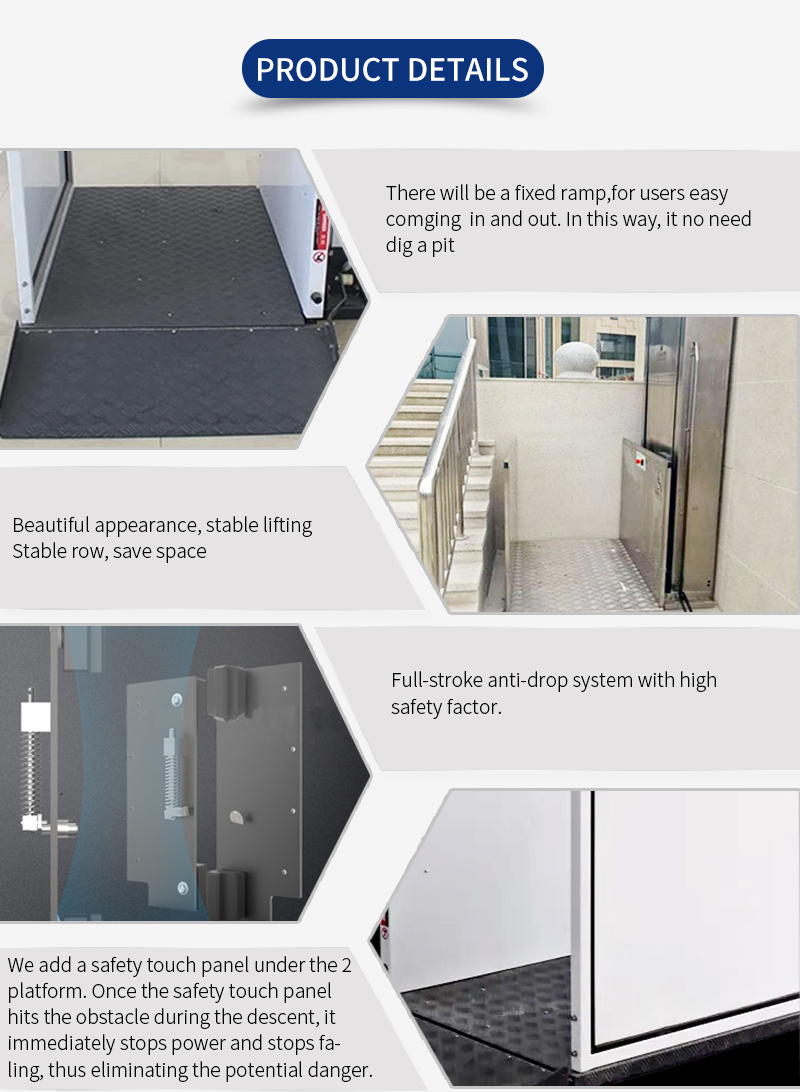 Wheelchair platform lift australia details
1. How to get in wheelchair lift platform? If you could make a small pit for wheelchair lift then we can offer a manual door or an open entry for wheelchairs. If you couldn't make a pit, then we can provide a stationary ramp or an automatic ramp to help wheelchairs get in the wheelchair platform lift.
2. We have two different material models for wheelchair platform lift australia one is powder coating aluminium plate and the other one is stainless steel. Relatively stainless steel is cheaper, but powder coating aluminium plate is safer. Both materials are rust-proof, but neither can be left in the rain for a long time.
3. Safety device hydraulic lock, many customers ask what is the safety device for wheelchair lift? As you can see, there's an automatic lock inside of wheelchair lift, if something bad happens, this lock will lock the wheelchair lift immediately and stop the platform from falling.
4. Touch sensor. We add a professional sensor at the bottom of the platform, if there is any obstacle or people under the wheelchair lift, once they touch this sensor, the wheelchair lift will stop immediately to protect the passenger on the platform and the obstacle or people under the platform.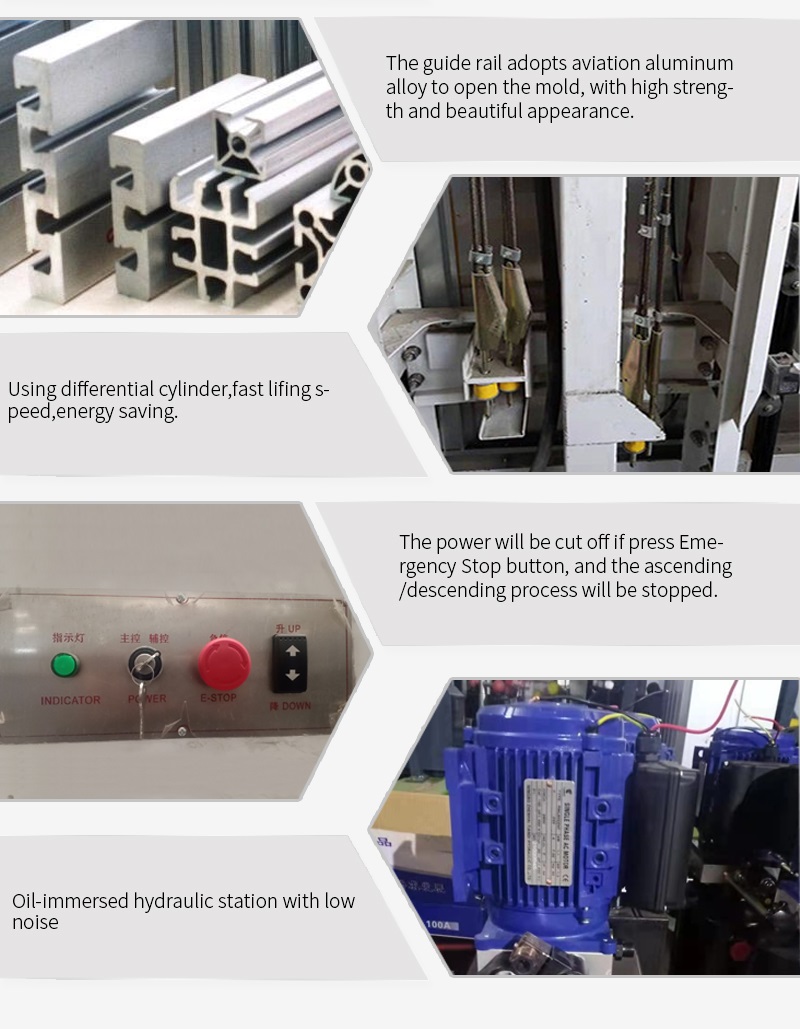 5. Specialized materials for wheelchair platform lift australia. We use high strength specialized materias, they are durable and stable. All materials are fully tested before they are accepted by us.
6. Anti-falling wire rope, there are two wire ropes to protect the wheelchair lift platform from falling when something bad happens, each of them can hold 10T weight.
7. Button control, the standard control methods are buttons on platform and remote control. And we provide the control column as an option. Each of the control methods has an emergency stop button that can stop the lift moving immediately.
8. Mute pump motor, we adopt specialized mute motor for wheelchair platform lift australia, the sound when lift is working is only less than 30db. Our lift would not influence your work or life.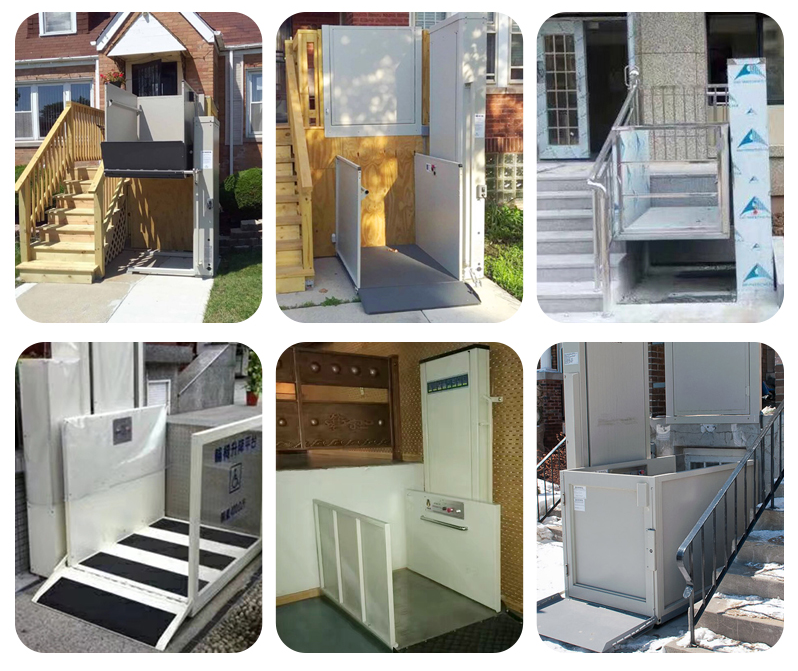 Wheelchair platform lift australia installation
With the development of society, travel for people with disabilits is being taken more and more seriously. TUHE wheelchair platform lift can be used indoors or outdoors, this product is widely used in personal house, community, station and other public place. With the help of hydraulic wheelchair lift, the disabled and the old can go upstairs and go downstairs easily.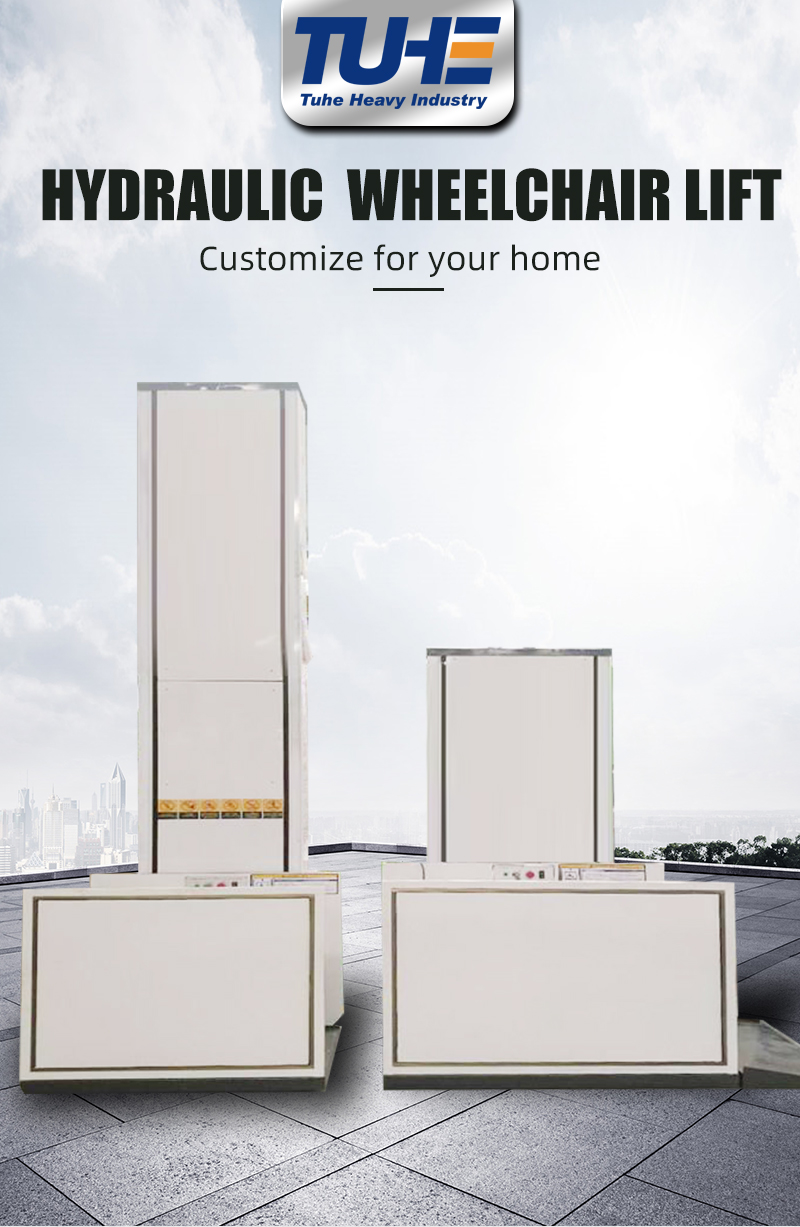 How to use wheelchair platform lift australia
Because this wheelchair lift is used for the handicaped and the old, so it is very easy to operate.
1. There are three control options: platform button, remote control and control column. Before you get in the platform, please confirm if the wheelchair lift is at the same floor with you, if not, please use controls to call the lift come to you.
2. Please remember to get in the platform when the wheelchair lift stops steady,please don't be at the bottom of the platform or push the button too hard while the lift is moving.
3. After you get platform,please push the control button to go up or go down according to your requirement. Please don't shake or stick your body out of the wheelchair lift while it is running.
4. Please remember to get out of the platform when the wheelchair lift stops steady.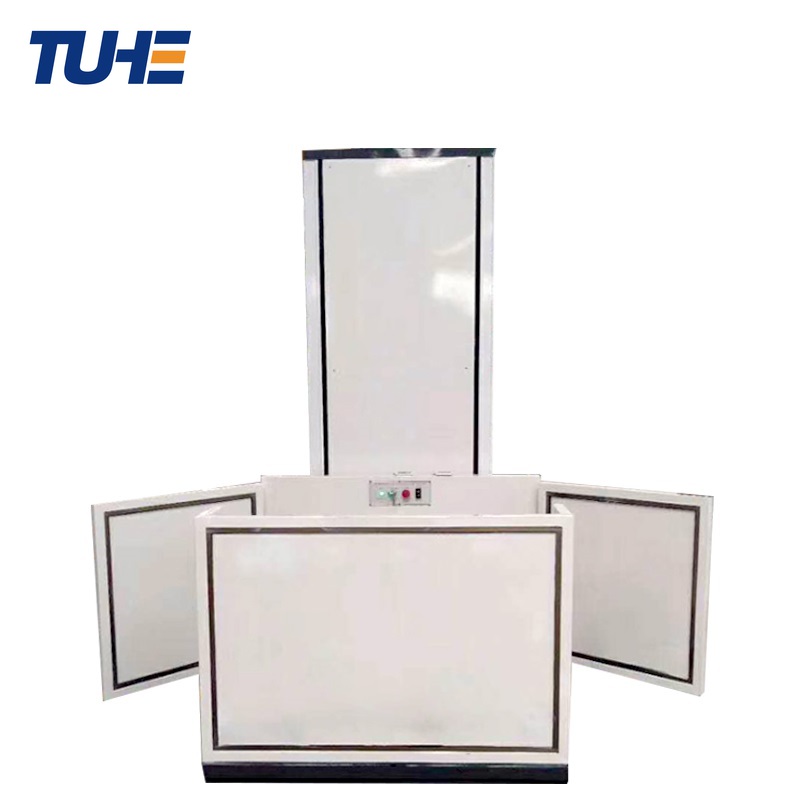 Wheelchair platform lift australia maintainence
1. Change the hydraulic oil after half of a year since you first use the lift then change it every 1-2 years depending on frequency of use.
2. Regularly check whether there is a strange noise or jam during the use of the wheelchair platform lift.
3. If there is any strange noise or any strange performance from the wheelchair lift, please stop using it immediately, and contact us to help you fix it, or fix it yourself according to the operation manual.
If you have any interest about our wheelchair platform lift australia, welcome to contact us!